Melbourne Cup 2017 betting
THE Melbourne Cup is the pinnacle of racing in Australia and one of the most popular race for punters around the world
Considered to be "the race that stops a nation" the Melbourne Cup is held on the first Tuesday of each November and attracts, not only the biggest racing crowd each year, but also the most money bet on one race.
The latest running of the Melbourne Cup was taken out by Almandin, trained by Robert Hickmott, and ridden by top hoop Kerrin McEvoy.
When all our recommended bookmakers offer free bets for the Melbourne Cup, it's no wonder people get excited and there are countless promotions on offer in the months leading up to the 3200-metre feature at Flemington.
The Melbourne Cup is the richest race in Australia with the biggest betting pools, so don't miss out on this year's edition where the pools are set to reach extremely high levels.
The Melbourne Cup
The Melbourne Cup is Australia's major thoroughbred horse race, not only because of the stake money involved, but it's a day where even those who have never punted in their life have a little flutter with the bookmakers.
The 3200-metre race is one of the longest flat races in Australia and carries a current prize purse of A$6.2 million with the winner being paid $3.3 million.
The prize money has steadily grown over the past 10 years due to its increase in popularity with punters. It's punters money that drives the horse racing business and increases have seen its total prize pool shoot from $5 million in 2005 to $6.4 million in 2014.
The race is run at Flemington, Victoria's premier race track, and the current sponsor is Emirates Airlines which supplies the winning trophies, valued at around $125,000.
For Australians, the Melbourne Cup is a public holiday which saves them from making an excuse at work. It is also a popular race in New Zealand, Europe and Asia as those three contingents usually have runners in the Melbourne Cup itself.
2017 Melbourne Cup betting
Red Cardinal
$15.00 | $4.40
Francis of Assisi
$17.00 | $5.00
Thomas Hobson
$21.00 | $6.00
Admire Deus
$26.00 | $7.00
Order Of St George
$31.00 | $8.50
Crocodile Rock
$31.00 | $8.50
Ventura Storm
$31.00 | $8.50
Bondi Beach
$31.00 | $8.50
Oceanographer
$31.00 | $8.50
The United States
$31.00 | $8.50
Kilimanjaro
$34.00 | $9.00
Sir Isaac Newton
$41.00 | $11.00
Sacred Master
$41.00 | $11.00
Highland Reel
$51.00 | $13.00
Mackintosh
$51.00 | $13.00
Tom Melbourne
$51.00 | $13.00
Prized Icon
$51.00 | $13.00
Antonio Giuseppe
$51.00 | $13.00
Beautiful Romance
$51.00 | $13.00
Wicklow Brave
$51.00 | $13.00
Second Wave
$51.00 | $13.00
Raw Impulse
$51.00 | $13.00
Yankee Rose
$51.00 | $13.00
Who Shot Thebarman
$61.00 | $16.00
Sacred Elixir
$61.00 | $16.00
Vengeur Masque
$61.00 | $16.00
Good Standing
$61.00 | $16.00
Lasqueti Spirit
$67.00 | $17.00
Pentathlon
$71.00 | $18.00
Harlow Gold
$81.00 | $21.00
Omei Sword
$81.00 | $21.00
De Little Engine
$81.00 | $21.00
Grand Marshal
$101.00 | $26.00
Xtravagant
$101.00 | $26.00
He Or She
$101.00 | $26.00
Tiamo Grace
$101.00 | $26.00
Black Heart Bart
$101.00 | $26.00
Skylight Glow
$101.00 | $26.00
Excess Knowledge
$101.00 | $26.00
Real Love
$101.00 | $26.00
Tosen Stardom
$101.00 | $26.00
Secret Number
$101.00 | $26.00
Preferment
$101.00 | $26.00
Howard Be Thy Name
$101.00 | $26.00
Curren Mirotic
$101.00 | $26.00
Pemberley
$151.00 | $34.00
Heavens Above
$151.00 | $34.00
Rising Romance
$151.00 | $34.00
Its Somewhat
$151.00 | $34.00
Happy Clapper
$151.00 | $34.00
Arab Dawn
$151.00 | $34.00
Whispering Brook
$151.00 | $34.00
Big Memory
$151.00 | $34.00
Retaliation
$151.00 | $34.00
Divine Prophet
$151.00 | $34.00
Thames Court
$151.00 | $34.00
The Bandit
$201.00 | $51.00
Evacuation
$201.00 | $51.00
Sly Romance
$201.00 | $51.00
Rose Of Virginia
$301.00 | $71.00
Dandy Gent
$301.00 | $71.00
Miss Rose De Lago
$301.00 | $71.00
Sold For Song
$301.00 | $71.00
White Dollar Sign
$301.00 | $71.00
Recent runnings of the Melbourne Cup
2016: Almandin offered punters plenty of value despite getting plenty of attention in the days leading up to the Cup. Trained by Robert Hickmott, a former Melbourne footballer, and ridden by Kerrin McEvoy, the six year old gelding sat midfield for most of the race before joining a wall of challengers. Pre-race favourite Hartnell hit the front on the straight, but Almandin powered home to beat Irish stayer Heartbreak City. Read a full report here.
2016 Melbourne Cup result
1st – Almandin – $11.80
2nd – Heartbreak City – $6.20
3rd – Hartnell – $2.80
Quinella – $119.80
Trifecta – $1232.70
First Four – $26,487.10
2016 Melbourne Cup finishing order
1. Almandin
2. Heartbreak City
3. Hartnell
4. Qewy
5. Who Shot Thebarman
6. Almoonqith
7. Beautiful Romance
8. Exospheric
9. Pentathlon
10. Big Orange
11. Grand Marshal
12. Oceanographer
13. Bondi Beach
14. Grey Lion
15. Jameka
16. Excess Knowledge
17. Our Ivanhowe
18. Sir John Hawkwood
19. Assign
20. Gallante
21. Secret Number
22. Wicklow Brave
23. Curren Mirotic
24. Rose Of Virginia
Melbourne Cup history
The Melbourne Cup was first run in 1861 when it was won by Archer. The six-year-old trained by Etienne de Mestre came back the following year and won it again. Unfortunately, Archer was scratched in the 1863 Melbourne Cup due to a technicality when its acceptance papers didn't arrive in time.
Archer was unable to complete the hat-trick and was retired and returned to its owners where it had been foaled.
Archer set the standard for horses wanting to win the Melbourne Cup and there have been a couple that have won consecutive Melbourne Cups (Think Big 1974/75 and Rain Lover 1968/69), but not even the great Phar Lap was able to achieve what Archer had done.
There has been one horse in recent history that has surpassed what Archer paved the way for back in the late 1900s, and that was when the feel-good story Makybe Diva won three consecutive Melbourne Cups, starting in 2003 and ending in 2005.
The Lee Freedman-trained mare was ridden by Glen Boss in all three starts and it gave the group of owners, in which the horse was named after, a great thrill. In winning three consecutive Melbourne Cups, Makybe Diva elapsed New Zealand's Sunline as the highest grossing horse in Australian racing history.
Melbourne Cup historical timeline
There have been plenty of changes over the course of history in the Melbourne Cup carnival. Listed below are the majors changes which have shaped the race we all love a punt on.
* 1869 – Four day Spring Racing carnival was introduced (encompassing Derby Day, Oaks, Emirate Stakes and Melbourne Cup).
* 1876 – Peter St. Albans was the youngest jockey to win the Cup (12 years, 11 months and 23 days.)
* 1882 – The first bookmakers were licensed at Flemington. (Now punters can bet either at Flemington, or in the comfort of their own home with the many off-course bookmakers we recommend).
* 1896 – The Melbourne Cup was first filmed. The race was won by Newhaven.
* 1958 – The first Cup to be run using starting stalls
* 1987 – First female jockey to ride in the Cup was Maree Lyndon.
* 2003 – First Australian female rider to ride was Clair Lindop aboard Debben.
* 2005 – Makybe Diva become the first horse to win it three times.
* 2010 – Americain became the first French-trained horse to win.
Advantages to betting on the Melbourne Cup
Betting on a normal days racing isn't even comparable to those who punt on the Melbourne Cup.
The atmosphere, even sitting at home, is unlike anything else and Australians embrace the day like no other. For adults in Australia its as hotly looked forward to as Christmas Day.
From a punting perspective, there are a large majority of us that just like to have a runner in the office sweepstakes, but there's nothing better than punting your hard-earned cash on your Melbourne Cup fancy.
There are multiple reasons to have a bet in the Melbourne Cup:
Firstly, the size of the pools are massive — bigger than any other pool for any other race in Australia and around the world.
What does this mean for you? Even if you're betting only $1 in the Melbourne Cup, that $1 has already increased in value because the bigger the pool, the better your horse will pay with bookmakers.
If the pool was small, there would be less money to divided between the winning bets, but the Melbourne Cup pools exceed into the millions and this is where Melbourne Cup punters take full advantage.
Secondly, because the pools are so high, the possible payouts for players of Quaddies, Trifectas, Quinellas, Trebles and Doubles are very rewarding.
The Quaddie involving the Melbourne Cup gets into the millions and even if all four favourites win, the payouts are still profitable.
* The favourites have a 23% winning record in the Melbourne Cup. Just 34 of 150 favourites have won.
Lastly, our recommended bookmakers have a wide range of Melbourne Cup specials and promotions. Many of them offer sign up bonuses which give new punters a free bet on the Melbourne Cup.
They also offer refund specials, so if your selected horse doesn't win, you can still get your money back, along with plenty more rewarding promotions.
Melbourne Cup results and records
Listed below are some of the credited records and results over the years for the Melbourne Cup. These feature most wins, winning time and the longest odds paid by a winner.
Most wins by a horse:
3 – Makybe Diva (2003, 2004, 2005)
2 – Think Big (1974, 1975)
2 – Rain Lover (1968, 1969)
2 – Peter Pan (1932, 1934)
2 – Archer (1861, 1862)
Most wins by a jockey:
4 – Bobby Lewis (1902, 1915, 1919, 1927)
4 – Harry White (1974, 1975, 1978, 1979)
Most wins by a trainer: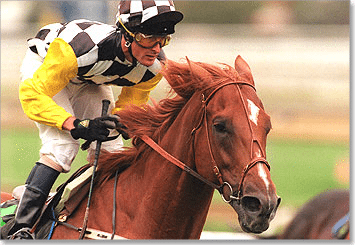 12 – Bart Cummings (1965, 66′, 67′, 74′, 75′, 77′, 79′, 90′, 91′, 96′, 99′, 2008)
Bart Cummings is the godfather of Australian Cups racing with 12 Melbourne Cup wins. Starting with Light Fingers ridden by the great Roy Higgins in 1965, Cummings has made the Melbourne Cup his own.
His most recent win came with outsider Viewed which paid a massive price of $41, but his most memorable wins came with Saintly (1996), Let's Elope (1991) and Think Big's back-to-back victories in the mid-70s.
5 – Etienne de Mestre (1861, 1862, 1867, 1877, 1878)
5 – Lee Freedman (1989, 1992, 1995, 2004, 2005) – David Hall trained Makybe Diva for its 2003 Melbourne Cup win.
Most wins by an owner:
5 – Lloyd Williams
4 – John Tait
4 – Eitenne de Mestre
4 – Dato Tan Chin Nam (most notably with Saintly in 1996 and Viewed in 2008)
Lloyd Williams is a perennial Melbourne Cup supporter and there's rarely a Melbourne Cup run without one of his horses lining up.
His first success came in 1981 with Just a Dash which was trained by the legendary T J Smith (Gai Waterhouse's father). He didn't wait long for this second success which came in 1985 with What A Nuisance.
Twenty-two years later Williams was back in winning action at Flemington when the Graeme Rogerson-trained Efficient scored the win as a four-year-old.
Just five years later, the now retired Green Moon scored as a six-year-old with Brett Prebble in the saddle.
Williams scored his fifth Melbourne Cup win in 2016 with European import Almandin. That gave the famous owner the Melbourne Cup record of most wins by an owner.
Other Melbourne Cup records – In short
* Record winning time – 3.16.30 Kingston Rule (1990)
* Widest winning margin – eight lengths by Archer in 1862 and Rain Lover in 1968
* Heaviest weight carried by winner – Carbine (66kg) and Makybe Diva holds the record for a mare with 58kg in 2005. Phar Lap carried the heaviest weight of all time in 1931 where it finished eighth. That now equates to 68kg.
* Longest odds winners – Three horses have won paying $100. The Pearl (1871), Wotan (1936) and Old Rowley in 1940.
* Shortest odds winners – Phar Lap at 8/11 ($1.73) in 1930.
* Fewest runners – 7 (1863)
* Most runners – 39 (1890). Fields are now limited to a maximum of 24 runners for safety concerns.
* Highest on-course attendance – 122,736 people in 2003 where Makybe Diva won its first of three Melbourne Cups.