Anyone who considers themselves a full-blooded Australian knows that not only is the Melbourne Cup one of the most popular races in the country, but an event that is ingrained in our DNA.
The history of the Melbourne Cup means different things to different people. Many of us grew up watching Vintage Crop become the first-ever overseas horse to win the big one back in 1993, while others will fondly look back at Makybe Diva's domination of the race that stops a nation across three years.
Whichever way you look at it, the Melbourne Cup defines us as a nation and is without question our most important sporting event each year.
There is over 160 years of tradition and history that has built the race's prestige, this coupled with the the personalities and the equine athletes involved, is a recipe we'll never forget.
---
Horses to have won the Melbourne Cup multiple times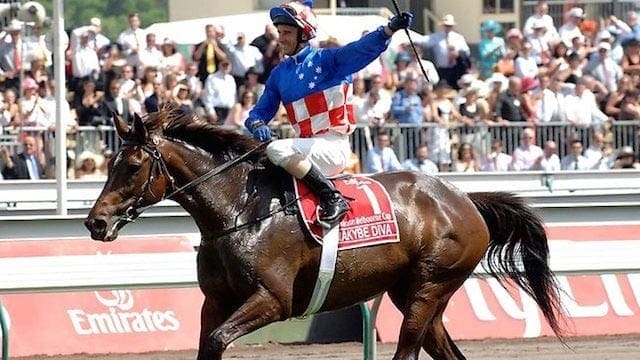 Winning the Melbourne Cup once is considered one of the toughest tasks in thoroughbred racing around the world, so it stands to reason that a very select group of horses have saluted in the race that stops a nation more than once.
In more than 150 years of racing, just five horses have won the Cup more than once.
Makybe Diva is the only horse to win the race three times, capturing the Melbourne Cup in 2004, 2005 and 2006.
The magical mare's three wins were the first time in almost 30 years that a horse had won the race more than once.
Bart Cummings' gelding Think Big did the double in 1974 and 1975, Rain Lover went back-to-back in 1968 and 1969, Peter Pan saluted in both 1933 and 1934 while Archer – the inaugural winner of the Melbourne Cup – went on to defend its title a year later in 1862.
---
Caulfield Cup and Cox Plate winners that went on to win the Melbourne Cup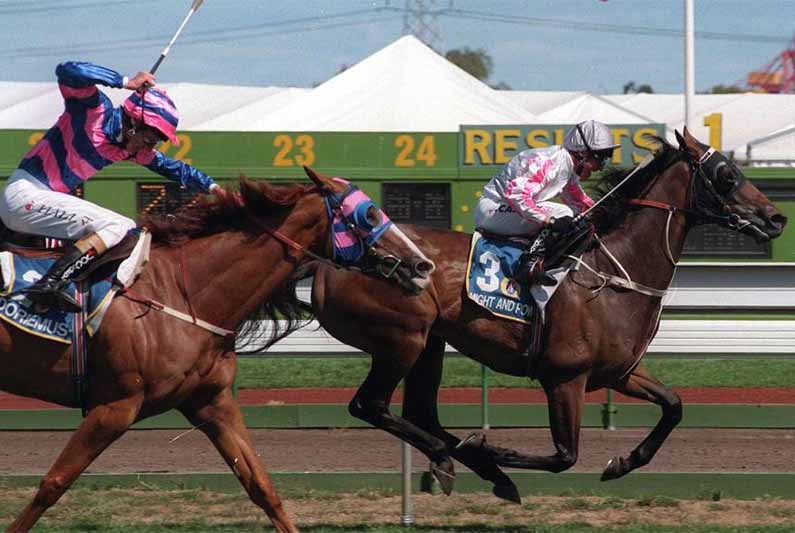 The Caulfield Cup is one of Australia's best Group 1 races and is a typical lead-in race to the Melbourne Cup. The 11 winners of the Melbourne Cup/Caulfield Cup double are Poseidon in 1906, The Trump in 1937, Rivette in 1939, Rising Fast in 1954, Even Stevens in 1962, Galilee in 1966, Gurner's Lane in 1982, Let's Elope in 1991, Doriemus in 1995, Might and Power in 1997, and Ethereal in 2001.
The Cox Plate is run and won just over a week prior to the Cup and just seven runners have completed the Melbourne Cup/Cox Plate double. Makybe Diva (2005), Might and Power (1998), Saintly (1996), Rising Fast (1954), Delta (1950), Phar Lap (1930) and Nightmarch (1929) have all delivered the goods in the Cox and Melbourne Cup in the same year.

Our Top Melbourne Cup Bookmakers
---
Winning International horses in the Melbourne Cup
It may be hard to believe for punters these days, but the Melbourne Cup was once an exclusively Australian and New Zealand affair in terms of winners.
That all changed in 1993 when the Dermot Weld-trained Irish superstar Vintage Crop came over and stunned the locals by taking out the race that stops a nation.
The win changed the course of the Melbourne Cup forever.
Weld would return just shy of 10 years later to guide Media Puzzle to a win in 2002, while Japan's superstar Delta Blues became the first-ever Japanese-trained Melbourne Cup winner four years later in 2006.
From then on it is more often than not that an overseas horse takes out the Melbourne Cup.
Americain (2010), Dunaden (2011), Green Moon (2012) Fiorente (2013), Protectionist (2014) and Almandin (2016) were all overseas raiders or horses purchased by Australian trainers that were bred internationally for staying success.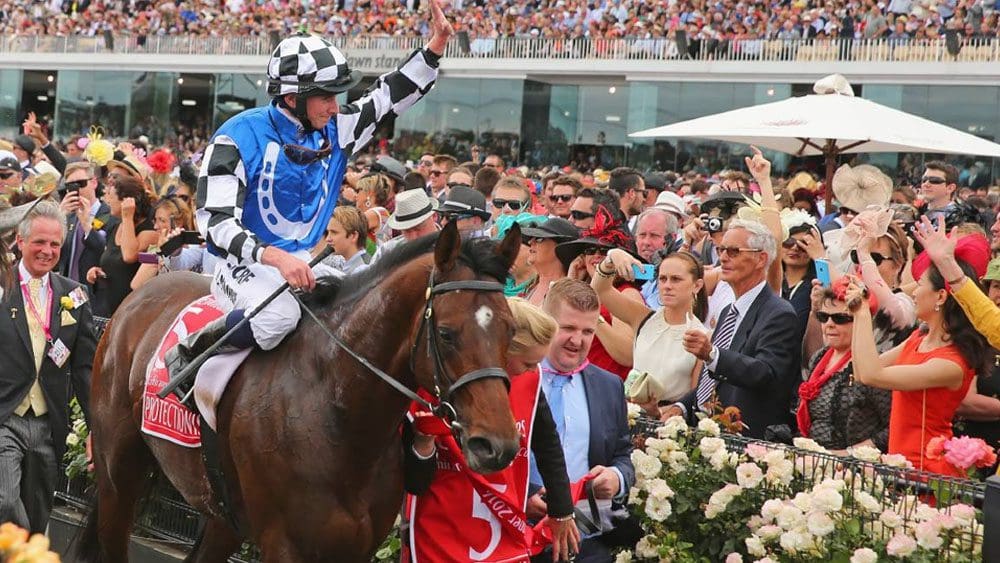 In 2017, Rekindling became the first UK-trained winner of the Melbourne Cup. Trained by Joseph O'Brien, the three-year-old was heavily supported in the betting and after getting a good run along the inside of runners, it was able to run down Johannes Vermeer.
The Brits went even better in 2018. Not only did Cross Counter win it for trainer Charlie Appleby, but Marmelo, Prince of Arran and Finche rounded out an all-UK first four – the first time that has ever happened at the Melbourne Cup.
While the Australian scored a win back for the locals in 2019 with Vow And Declare, the Melbourne Cup internationals were right back stealing our greatest race in 2020 with Twilight Payment winning for Irish trainer Joseph O'Brien.
In 2021 though, Australasia struck back with New Zealand-bred and Australian owned mare Verry Elleegant for Australia trainer Chris Waller.
In 2022, Gold Trip again won the Melbourne Cup for the overseas raiders, after finding himself with Ciaron Maher and David Eustace stable in the lead-up to the race. He will again be among the key international horses in the 2023 Melbourne Cup.
---
More Melbourne Cup Guides
---
Notable winning odds in the Melbourne Cup
Four horses have won the Melbourne Cup at odds of $100 or more.
The Pearl was the first to do it in 1871 with Wotan doing it just over 60 years later in 1936. Old Rowley did it again four years later, while the Darren Weir-trained Prince Of Penzance stunned race fans in 2015 to win under Michelle Payne.
On the other end of the spectrum there has been a number of runners that have saluted as short-priced favourites.
The shortest priced winners in the Cup are Archer 2-1 (1862), Tim Whiffler 5-2 (1867), Revenue 7-4 (1901), Phar Lap 8-11 (1930), Even Stevens 3-1 (1962), Let's Elope 3-1 (1991) and Makybe Diva at 5-2 in 2004.
But it's without a doubt, Prince of Penzance's win that has stuck in peoples memories, with the Payne story made into a movie, called Ride Like A Girl, featuring Teresa Palmer.
WATCH BELOW: Prince Of Penzance wins the 2015 Melbourne Cup at triple figure odds
---
Most successful trainers in Melbourne Cup history
It is no surprise to see the immortal Bart Cummings, known as the stands alone at the top of the most wins by a trainer in the Melbourne Cup.
Two other trainers are locked on five cup wins apiece, but it is hard to ever see Bart's record ever being matched, with his place in Melbourne Cup history assured forever.
Bart Cummings
12 Wins
1965, 1966, 1967, 1974, 1975, 1977, 1979, 1990, 1991, 1996, 1999, 2008
Etienne de Mestre
5 Wins
1861, 1862, 1867, 1877, 1878
Lee Freedman
5 Wins
1989, 1992, 1995, 2004, 2005
---
Most successful jockeys in Melbourne Cup history
Two jockeys from yesteryear hold the record for the most wins in the Melbourne Cup by a jockey, but Harry White is the only man to go back-to-back twice in the history of the race.
Glen Boss can thank Makybe Diva that he features on this list, while the evergreen Damien Oliver could top this list by the time his career is complete.
Kerrin McEvoy joined the greats when saluted on Cross Counter in 2018, having also won aboard Brew in 2000 and Almandin in 2016.
Bobbie Lewis
4 Wins
1902, 1915, 1919, 1927
Harry White
4 Wins
1974 1975, 1978, 1979
Glen Boss
3 Wins
2003, 2004, 2005
Damien Oliver
3 Wins
1995, 2002, 2013
Kerrin McEvoy
3 Wins
2000, 2016, 2018
---
Bet on this year's Melbourne Cup
History can be one of the greatest guides to successfully wagering on the Melbourne Cup, with it constantly repeating itself.
If you think you have unlocked the successful formula to pick the 2023 Melbourne Cup winner, check out these Melbourne Cup betting sites.
---
Melbourne Cup live odds comparison
Odds for the 2022 Melbourne Cup 


Flemington - Race 7
Lexus Melbourne Cup
Status: Open
Track Rating: Soft7
Weather: Rain
AUS

3200m

03:00pm - Tue 1st Nov