The top five horses that couldn't live up to expectations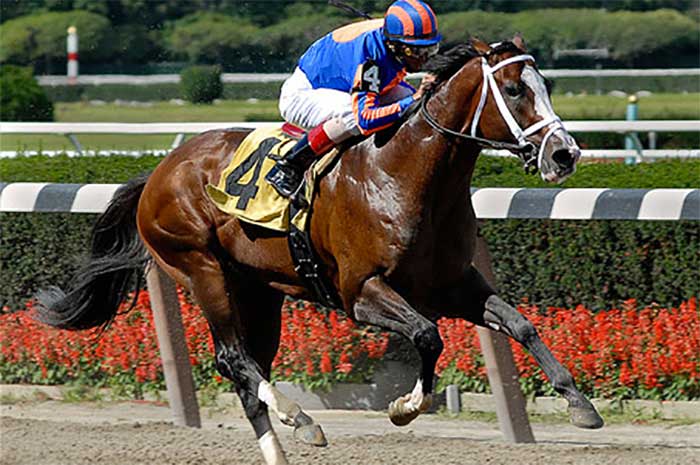 IN all sport, there's an inescapable beauty in seeing a young prodigy become the champion he or she was always destined to be.
The thrill of the win is what sustains us, and we love nothing more than to live vicariously through our favourite athletes, team owners, jockeys or trainers as they go on to achieve success.
Unfortunately, not everyone gets to bite into the fruit of success – no other sporting industry in the world displays that as unashamedly as horse racing.
Bloodlines can be a terrific indication of what is to come in any sport, especially in the horse racing world.
The old adage 'success breeds success' is no more apt than it is within the thoroughbred paradigm, however, sometimes even those who looked preordained for superstardom can succumb to a myriad of issues that can negatively impact their career.
We have compiled a list of the top five race horses which failed to deliver on what should have been spectacular careers, be pre-warned though, some of the fiscal figures that were blown on these duds could genuinely make your eyes water.

Sport Table
The Green Monkey
When it comes to horses that do not deliver on potential, it is hard to go past the bust that was The Green Monkey.
A descendant of legendary horses Northern Dancer and Triple Crown winner Secretariat, The Green Monkey was sold in 2006 as a two-year-old colt for the highest price ever paid at auction for a Thoroughbred, $16,000,000 USD.
To say its racing career did not live up to the pedigree of the horses that proceeded it would be the understatement of the century.
The Green Monkey raced just three times in his career, failing to place in its opening two starts before finishing an underwhelming third.
The horse went on to retire in late 2008 without ever registering a win.
That's right, a horse that shared the bloodlines of both Northern Dancer and Secretariat retired after failing to break its maiden over three starts, earning a paltry $10,000 USD over the course of his career.
Meydan City
Whilst not on the level of disappointment of The Green Monkey, it is fair to say American bred galloper Meydan City's career did not live up to the lofty expectations it probably should have.
The Emir of Dubai purchased this colt at public auction in 2006 for $11.7 million, making him the second most expensive yearling ever sold at the time.
Out of the sire Kingmambo and the dam Crown of Crimson and raced in the famous Godolphin blue, Meydan City finished third on debut before breaking his maiden at Newmarket in 2008 under superstar jockey Frankie Dettori.
That was just the first of two career victories for Meydan City. In his seven-start career he was retired with career earnings of $51,035.

Snaafi Dancer
There have been so astronomical figures thrown around already, but the amount paid for Snaafi Dancer is absolutely mind-blowing.
Then when you read about what happens next, you may reconsider any ambitions you once had to enter racehorse ownership.
Back in 1983 Snaafi Dancer – Northern Dancer and the dam My Bupers – became the first ever yearling to be sold for in excess of $10 million USD by Sheikh Mohammed's Aston Upthorpe Stud.
To put that in contemporary terms, that would be the equivalent of paying $32.8 million AUD in 2016.
Absolutely unthinkable, but Aston Upthorpe Stud were certain they purchased an animal capable of launching their stable to the next level.
What they got though was an embarrassment of epic proportions.
Snaafi Dancer never left the trial grounds for a competitive race. That's right, he never raced.
Connections at the time reportedly said it would be 'embarrassing' to run him in public due to how 'slow' he was and the horse was immediately retired to stud.
But wait, there's more! The horse encountered fertility problems from the get-go.
From two years of breeding, Snaafi sired just four foals, three of which raced with very limited success.
If punters are looking to enter a new phrase into their horse racing vernacular, we suggest adding "doing a Snaafi Dancer" as a replacement for putting all your eggs in one basket.
Rockstardom
You would think that a horse which was bred out of Galileo and the legendary Makybe Diva would be destined for a long and distinguished career on the track right?
Have you learned nothing so far?
Danny O'Brien Racing purchased the amazingly named Rockstardom for $1.5 million but when the colt failed to place in his first three starts at maiden level question marks began to emerge on what kind of career he would have.
He went on to break his maiden but finished his career with just $29,015 to his name after recording two wins from 12 starts, the last of which being a dead-last finish in a field of 12 at Bendigo.
It was an inauspicious finish for such a purported prodigious talent.
Jimmy
Chances are if you do not recognise the name 'Jimmy' straight off the bat, the summation of the situation will almost certainly ring a bell.
Jimmy was the stable name given to the half-brother of superstar sprinter Black Caviar.
Jimmy was purchased by the notorious Bill Vlahos back in 2013 on behalf of the now defunct racing group BC3 Thoroughbreds for $5 million AUD.
At the time he was Australia's most expensive young thoroughbred, but unfortunately he never made it out onto a racetrack.
After an incredibly sad set of circumstances the horse had to be euthanised later in 2013 after succumbing to a spider bite in the stables.