Best online bookmakers for horse racing
The best Australian online bookmakers for horse racing are all regulated and licensed to do business. These legal online bookmakers range from household names like Bet365 and Ladbrokes, to smaller competitors like Palmerbet and PlayUp. The top racing bookmakers in Australia also boast some of the best betting apps, great promotions offers and cater extensively to the AUD. The best online bookmakers in Australia are among the top sites in the world, with people here betting more per head than anywhere else on the planet. We believe the following Australian online bookmakers are the best for horse betting:

Best Horse Racing Bookmakers
The above online betting sites are all regulated in either one or multiple Australian states, with most of them boasting the NT Government seal of approval. They all also cater to mobile punters to varying degrees, with most having both Android and iOS apps available.
Best Australian online bookmakers in 2022
The best online bookmaker might not be the same today, as it is tomorrow. What we mean by this is often one online betting site will have a promotion, or boosted odds surrounding a meeting, while another will have nothing. Your bankroll can really be boosted by shopping around at the different online bookmakers each betting session you have. Remember to gamble responsibly and keep your head and really think about the strategy you are using to pick your horses.
Neds.com.au
Neds.com.au is the new player on the bookmaker scene in Australia and has wasted no time in making a big splash with punters. The brainchild of former Ladbrokes CEO Dean Shannon, Neds boasts comprehensive markets in racing, greyhounds, harness and all of Australia's most popular sports, both at home and abroad.
Neds runs daily bonuses on racing for specific meetings, almost every single day of the week and will be a big player when it comes to the Spring Racing Carnival. some of the best online bookmakers also boast betting referral codes.
Screenshot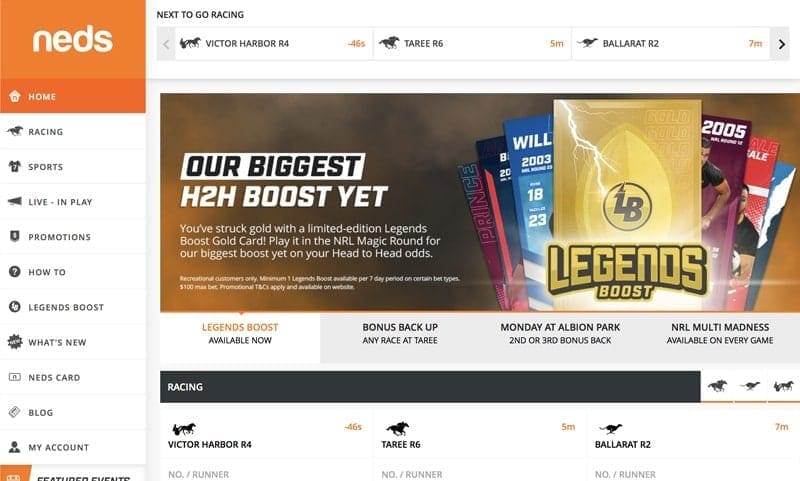 Visit Neds
---
---

Unibet.com.au
Unibet is an underrated online bookmaker based out of Fanny Bay in the Northern Territory. Licensed by the NT Gambling Commission, Unibet has a great array of outstanding horse racing offerings. This includes betting markets on every Australian and New Zealand TAB meeting, plus all of the most important race meetings from around the world.
In terms of promotions, Unibet Australia definitely attempts to attract the horse racing dollar with weekly Racing Cash Boosts, where every Monday, Tuesday and Wednesday nights punters receive a 25% cash boost (up to $50) on top of their winnings. Unibet also runs some one-off promotions surrounding the bigger meetings, or events, taking place in the Australian thoroughbred industry. Al-in-all Unibet is among the best online bookmakers in Australia.
---
Bet365.com.au
One of the biggest gambling companies in the world, Bet365 is licensed to operate in Australia, and has a huge foothold down under. The company is known in Australia for its big budget advertising campaigns, and of course their outstanding sports and racing product.
Available on both Android and iOS, the Bet365 app is also available in Australia, although because of local laws, the online gambling component of both their website and apps is not available. Having said this if you are looking for an online bookmaker with a great reputation to bet on horses in both Australia and overseas this is for you. In-particular the online bookmaker's strong affiliate in the UK, where it was founded, means they do overseas racing better than most.
Another huge positive of this company is they accept punters from many countries where it can be tricky to find racing markets.
---
Ladbrokes.com.au
One of the most well-known betting brands in horse racing in Australia, Ladbrokes has an outstanding reputation among punters. Offering some great promotions on both weekday and weekend racing meetings, Ladbrokes sits comfortably among the top online bookmakers in Australia.
The fact the Ladbrokes has enhanced odds as part of its racing produce, plus one of the easiest, most dynamic, websites to use, makes them a no-brainer to have an account at. We have heard mixed reports in 2019 about whether they take on the big punters, but for most the betting limits should be enough.
---

Betfair.com.au
Betfair Australia offers a betting exchange service, which is how it differentiates itself from the saturated sports betting industry. Basically instead of backing a horse to win or place, you can "lay" a horse which means you can take on somebody's bet on the runner. This is a great way to bet if you think you have spotted out a favourite that is far too short.
While Betfair does not have as many bonus and promotional offers, the service they do provide is top notch, with the website being very functional and the customer service first-rate. Don't fall into the trick of assuming a betting exchange is in the too hard basket, instead learn about it, because there is money to be made.
Visit Betfair
---
Palmerbet.com.au
The Palmer name is synonymous the New South Wales racing industry. Ted Palmer was a legend of the Sydney betting rings, and now his grandsons, Andrew and Grant, have brought the family business into the 21st century.
Palmerbet.com.au is one of precious few online bookmakers that are 100% Australian owned and operated. These guys are all about horse racing, but there is also a wide selection of betting options for greyhounds, trots, and all manner of local and international sport.
Palmerbet is renowned for its attractive, easy-to-use betting interface and first-class customer service. The NSW-based bookie is also an industry leader when it comes to horse racing promotions, as customers can enjoy a vast array of daily betting specials and exclusive bonus offers..
---

PlayUp.com.au
PlayUp originally launched as a fantasy betting operator. In 2019, it absorbed the TopBetta, MadBookie and ClassicBet brands and was transformed into one of Australia's most exciting new online bookmakers.
What separates PlayUp.com.au from other online bookies is the fantasy betting element, which promotes a more social, laidback gambling experience. If you are all about traditional punting, however, you need not worry – this is a serious bookmaker that ticks all the boxes for Australian and international horse racing.
If you like modern, innovative betting sites that get the basics rights while offering something a little bit different from the competition, PlayUp is well worth a look. We are comfortable promoting Playup as one of the top horse betting bookmakers in 2022.
---
What online bookmaker has the best horse racing odds
The racing scene in Australia is big business, with it worth hundreds of millions of dollars annually. The money bet on horse racing is how it generates its profits and millions of Australians use online bookmakers to punt on the gallops. We often get poised the question: "what online bookmaker has the best odds?". And like many things the answer to this question is hard to answer and changes from day to day, or even race to race.
Because each betting company sets their own markets for each race, there is often discrepancies in the odds. For instance, i'm writing this article on a Wednesday, and there is a meeting at Warwick Farm. In the fourth race, the favourite is paying $3.70 with one online bookmaker, which is the best price, while at five other bookmakers have varying prices, all the way down to $3.40. Then you also have to take into consideration that some online betting sites have services that boost your odds, on selected runners or several times a day.
Our best bit of advice when deciding which online bookmaker has the best horse racing odds is to hold multiple accounts and use odds comparison services, as part of your punting practice. By this we mean scour the live updating odds from multiple Australian betting sites prior to the jump of each race and making your bets at the one with the best price. It's a no-brainer really.
---
New Australian bookmakers 2022
There has been a proliferation of new Australian bookmakers in 2021 and 2022 with this largely brought about because of the covid pandemic, which forced many rails bookies to launch websites. This essentially let them still make money, despite crowds being barred from the races in many Australian states and let them keep servicing their existing clientele.
While not all the new online bookmakers in Australia are massive, there is definitely more selection these days, than there has been in the past. For instance, several years ago this scribe dove deep into the new bookmakers available and we basically found the only new operators were Neds.com.au and Topbetta. This has now grown to include many different brands including:
WinnersBet
Boombet
PickleBet
Rob Waterhouse
PlayUp
BetRight
BetDeluxe
NB: Horsebetting Australia is still in the process of vetting these new Australian online bookmakers, but in time we will have bookmaker reviews and further articles on each of these brands.
---
Deposit and withdrawal options at AU online bookmaker sites
Our recommended online bookmakers offer various ways of deposits and withdrawals. To make a deposit at any of our bookmakers, sign up and click on the "make a deposit" button.
Depositing can be done by various methods and each of our betting sites support the following options:
Credit and debit cards (Mastercard, Visa or other)
The easiest way to deposit money into your betting account. Money is credited into your account immediately and withdrawals can be received usually within the next business day (withdrawals to debit cards might not be supported). There are alternative banking types if you have no credit or debit card.
Bank transfer
The best online bookmakers offer bank transfer payments with these usually credited to your bookie account the following work day and withdrawals are received in 2-4 days from processing.
E-Wallets (Neteller, PayPal)
Deposits are made instantly with this popular option. Withdrawals can take up to 2-3 working days to process.
POLi
Bank deposits can be made via POLi, Australia's privately owned online payment company.
BPAY
BPAY deposits take up to 1-2 days and only Australian customers are eligible to use this method.
---
Mobile apps for betting on horses
All our online bookmakers offer multiple platforms to use for betting on horse racing. These include laptop, PC (personal computer), tablets and mobile phones (iPhone and iPad included).
All bookmakers in Australia have developed betting apps (applications) which make it easier to bet on the run. Punters have full access to either the main website or the app version, which allows users to gain access to all the information available to those using a computer.
There are even great promotions available to mobile and tablet users which include download and first bet bonuses.
---
What Australian bookies stream horse racing?
Many Australian bookies stream Victorian horse racing to users mobile phones, under a vision agreement with Racing Victoria. This means for free of charge you can watch any race on your handset. Several online bookmakers, such as Ladbrokes and the TAB, have got the Sky Racing stream available via their website and betting apps. This means you can watch all Australian races for free
The following bookies have live horse racing streaming available:
Ladbrokes
Racing available: Victorian horse racing
Other: Football, basketball
Stipulations: Must be logged into your Ladbrokes account.
Minimum bet limits for online bookmakers
In years gone by, corporate bookies had a reputation for turning away winners. Things started to change in 2014, when Racing NSW introduced rules that ensured punters could bet to win up to $2,000 on metro horse races and up to $1,000 on country races at any licensed betting operator. All of HB's featured online bookmakers adhere to minimum bet limits in Australia, which now apply in five states and the ACT.
Why betting with online bookmakers is better than the tote
Online bookmakers have revolutionised sports betting in Australia and horse racing has been no exception. For many years if you wanted to bet on the horses you would do it in the flesh at a TAB, but now it's much more common place to wager with an online betting company.
Horse racing has become a very diverse industry with a wide range of online bookmakers offering markets and odds for racing all around the world. These betting sites, on top of their Australian horse racing, also have markets on most thoroughbred meetings from around the world.
Here at Horsebetting.com.au, we're all about finding the best value with these bookmakers and ensuring your betting experience is a positive one. Our recommended bookmakers are all giants in the horse racing bookmaking industry as they not only provide the best odds available, but they are trusted and easy to use websites.
Depositing and withdrawing funds is a breeze with multiple options available to all AUD customers, for those with big spending limits and the average punter.
The best online bookmakers are always moving forward with brand new promotions, deals and website functions that make placing a bet on the horses all the more enjoyable. Remember, before signing up at an online bookmaker, do your research, read betting site reviews and find a bookie that suits you.
Best International horse racing bookmakers
While Horsebetting.com.au is primarily servicing an Australian audience, we do have a significant readership overseas. In this section of our top racing bookmakers guide, we examine the best betting options for punters from various parts of the world.
Betway.com: A UK and Malta licensed horse racing bookmaker, Betway.com has wagering on various horse racing from all over the globe. Betway also has some great racing promotions, which can pad our your bankroll nicely. If you are in the UK or many European countries, Betway is a great bookmaker to bet on racing. Betway review.
888Sport: An exceptionally well-know betting company right across the globe, 888Sport has a good horse racing selection and sits comfortably among our top online bookmakers based out of the United Kingdom. 888Sport has a strong reputation for competitive odds, outstanding bonus offers, easy payment options and quick cashouts. This online bookmaker also has good apps, with these being available for iOS and Android smartphones and tablets. 888Sport review.
WilliamHill.com: William Hill is one of the most well-known bookmakers in the world and they have a great emphasis on horse racing. William Hill generally has markets available on all Australian horse racing meetings, while they also cover meetings in places like Hong Kong, the United Kingdom (where they are based) and the USA, where they also operate. William Hill really does sit comfortably among the best online bookmakers for horse racing. William Hill review.
Pinnacle.com: An exceptionally popular online bookmaker in Europe, Pinnacle is one of the oldest digital betting sites on the web. Pinnacle have only made they announcement they are offering horse racing odds in 2022, however we expect big things from them, given how well they do other parts of online betting. Pinnacle has got downloadable betting apps available for both Android and iOS smartphones and their lack of free bets and bonuses is masked by outstanding odds. Pinnacle review.