Pinnacle horse racing review & promotions 2022
Pinnacle.com horse racing is just in its infancy and expected to go live in the second half of 2022. Pinnacle the sports betting giant however, is an outstanding online betting operator with tentacles through Europe and Asia. Pinnacle is among a select few online betting sites that focus on great odds, rather than an abundance of gimmicky bonus offers or promotions. It is worth noting though, that when Pinnacle horse racing promotions are live, it's worth taking a look. In our Pinnacle review, we will take an in-depth look at all angles, including mobile betting, sports betting, horse racing, deposit options and the history of this well-established bookmaker.
---
What does Pinnacle.com offer to bettors?
Pinnacle is located on the island of Curacao and it operates with licences issued by the Government of Curacao and the Malta Gaming Authority. It presently doesn't hold a UK Gambling Commission licence so it cannot have bettors from the United Kingdom (best UK horse betting sites) at present.
Pinnacle had a huge impact on the sports betting industry by slashing the conventional bookmaker model which other brands followed. This means that the odds they offered were better than other online bookmakers. while the profit cap for each was smaller, the higher turnover volume gave them a viable business.
Pinnacle is one of the foremost betting sites for esports wagering. It was the first established bookmaker to open markets on esports events in 2010, and Pinnacle stated that the esports market is now seventh largest in terms of betting volume-surpassing both golf and rugby.
---
Pinnacle review
For years now, Pinnacle has remained focused amid strong competition as the founding host of esports. Like other online bookmakers, Esports is listed as conventional sports, but on Pinnacle, it has a dedicated tab right in the middle of the Pinnacle websites, right next to the live Casino part. Within the esports arena, you can also find a part on their websites that offers information about upcoming competition and tips for bettors.
The impact of this sports betting site is huge, and alongside MLB, and the English Premier League, it is displayed on the homepage as one six main betting options. You can't lookaway from esports even if you try avoiding it.
Pinnacle provides a huge audience and more evasive games when it comes to the number of Esports on the market that other online bookmakers do not even offer yet. Big events like Counter-Strike, Global Offensive, Leagues of Legends, and Starcraft 2 are all on Pinnacle market. League of Legends is the most famous esports game in the world.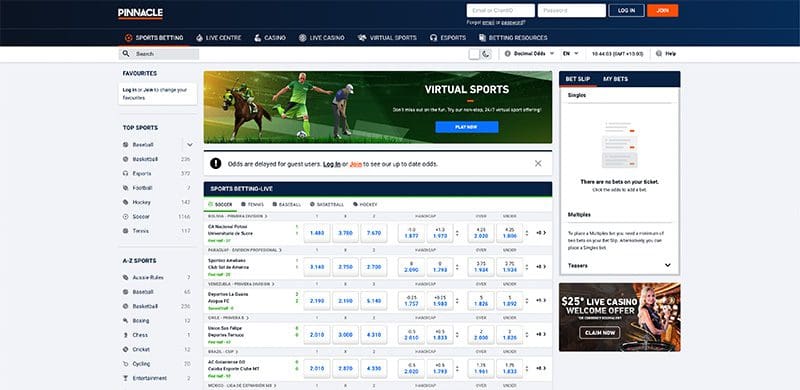 ---
Pinnacle horse racing review
Pinnacle has announced they will be beefing up their horse racing betting section. This is expected to be rolled out in the second-half of 2022. We will update our Pinnace horse racing review when more information comes to light.
Pinnacle is relatively new to the horse racing space, but they can see the giant benefit of adding this sport. There are few sports that rae played for wagering and racing is one of them.
The newness of Pinnacle horse racing could give an explanation as to why the Pinnacle horse racing markets are few. It can be seen that Pinnacle only have major horse race available to its audiences. And most of these events are seasonal, it is ideal for those who like to wager seasonally on Grand National but not a good experience for those looking to bet on various races going on each day globally.
One good thing about Pinnacle horse racing is if when you see a race to wage on the odds will be highly competitive. Pinnacle is well known for providing good odds and huge payouts.
But the unavailability of horse racing makes it hard for bettors to gain from these odds. Without horse racing on their markets, it's hard to rate any offer from Pinnacle when it comes to horse racing and it seems Pinnacle are more focused towards other sports.
---
Pinnacle Sports Betting
Whatever disadvantage Pinnacle may have, its sport betting markets is not one of them. It's the one major part Pinnacle is doing well in areas of selection. It permits one to bet on several types of sports, spanning from European leagues like the English Premier league, Champions leagues, La Liga to American leagues like NBA and the NFL.
If sports wagering is what you like, then Pinnacle sports is home for you, as you will really love and enjoy all their sport selections. Pinnacle now offer over 100 different sports you can bet on. Pinnacle has added all main sports, together with more rare to find games as well.
Top sports you can bet on at Pinnacle.com include:
Football
eSports
Volleyball
Aussie rules
Formula 1
Boxing
Baseball
Basketball
MMA
Rugby
Golf
Soccer
Tennis
Crossfit
Pinnacle only list a sport if the sport is currently in season or if a bets on the sports are already open. If the sport mentioned above doesn't include the sport selection you looking for, when the season for that sport begin, you can check their website again.
The Pinnacle Soccer section is fascinating to bettors. There are also some exceptional selections like eSports and CrossFit, and you can wager on some unique upcoming events as well.
Pinnacle isn't quite just a big bookmaker taking notable risks. They're the ones who are modifying betting markets globally.
It's the world's keen sportsbook, betting short lines will save much for bettors, but it's not easy to go by them this is because their markets are so organized. If you begin to win big at Pinnacle, your account will not be banned.
Pinnacle has good and trusted general security structure that protects your funds and personal information. They hold their customers in high regard.
Pinnacle processes their payouts faster than most bookmakers. If you are lover of NFL then pay close attention as their odds are almost unbeatable.
---
Pinnacle Mobile and App Review
Pinnacle bookmaker has betting apps that offer easy betting on the go. The Pinnacle iOS app and the Pinnacle Android versions are best options to using the Pinnacle websites. The apps are free to download, and they have user-friendly, therefore, customers won't find any difficulties when using the app. With the Pinnacle mobile apps, bettors can gain access all the betting options, with the live betting feature, depositing and withdrawing of funds can also be done with ease, contact customer support can talked to on the app.
One of the good parts of the Pinnacle app is that it permits customers to set alarm that will inform them when the odds are suitable for them. Instead of just betting when the odds are not suitable, bettors can set an alarm and get alerted when the odds goes high and meet their set targets. The Pinnacle apps are made available in lite version that takes less storage spaces on their mobile devices and runs smoothly.
The Pinnacle android app is adaptable only with smartphones and tablets running with the Android operating system. It can download via the websites using the download link displayed on the website after you have opened a new account. But to make it run on their gadgets, customer will have to change their phone settings to permit installation from unknown sources.

The Pinnacle iOS app can be downloaded via the Apple App Store or by just following a download link on the website. It is important to note, the iOS app can only be downloaded from Canada, Sweden, Finland and the Ukraine. The Pinnacle android app can be downloaded globally.
Generally, the Pinnacle mobile website is well designed. The main menus and sub menus are sharply laid out. When you press on a particular sport, the menu just increases/expands, so you can redirect your selection down to the leagues of the game you want.
The landing page is a little peculiar. If there is no live action, all they do is promote its betting packages with many banners informing you why you should bet with them. Placing bets is easy on the website. Overall they have an excellent website that is well built and designed.
---
Pinnacle licensing
Pinnacle operates under a license issued by the government of Curaçao. All personal and banking information shared on the site is encrypted in accordance with PCI security standards. Pinnacle was established in 1998 and holds licenses in Malta and Curacao.
Pinnacle obtained its operating licence from the Government of Curacao, and also Maltese licence. Curaçao in the Caribbean and is licensed by the Government of Curaçao. In March 2015 Pinnacle attained a Gaming Licence with the Malta Gaming Authority (MGA) in addition to its licence in Curaçao.
They don't have a United Kingdom Gambling Licence, so they are operational in the United Kingdom.
---
Pinnacle Deposit Options
The Pinnacle website and mobile betting apps permit customers to make deposits and make withdrawals using the acceptable payment gateways approved by the bookmaker. Pinnacle allows several methods of payment, making it easy to find a bookie deposit option that is available:
Pinnacle allows the following deposit options:
Bank Transfers
Entropay
iDebit
Ecopayz
Instadebit
Qiwi wallet
Skrill
Neosurf
Boleto.
Pinnacle History
Established in 1998, the company initially launched under the name Pinnacle Sports before rebranding to Pinnacle.
Pinnacle's headquarters are located on the island of Curaçao of the Kingdom of the Netherlands, and the group is completely licensed and regulated by the Government of the Netherlands Antilles (license number: 8048/JAZ2013-013).
In 2015 Pinnacle was issued another Gaming Licence from the Malta Gaming Authority (MGA). The brand is a truly an international sportsbook, boasting customers from over 100 countries.
---
Pinnacle review conclusion
Pinnacle is a exceptional European online bookmaker worth checking out. We loive that Pinnacle does not offer bonuses and misleading promotional adverts, it instead offers great odds. Some of the reasons people bet with Pinnacle are they accept big bets and they have fast payouts. In our experiences there is nothing more frustrating than then attempting to put a few thousand on an event, only for the bet to be declined. Another huge plus is that Pinnacle is very reliable at paying out their customers quickly, which is important when dealign with large sums of money.