Visa betting sites 2023 – How to bet on racing with Visa card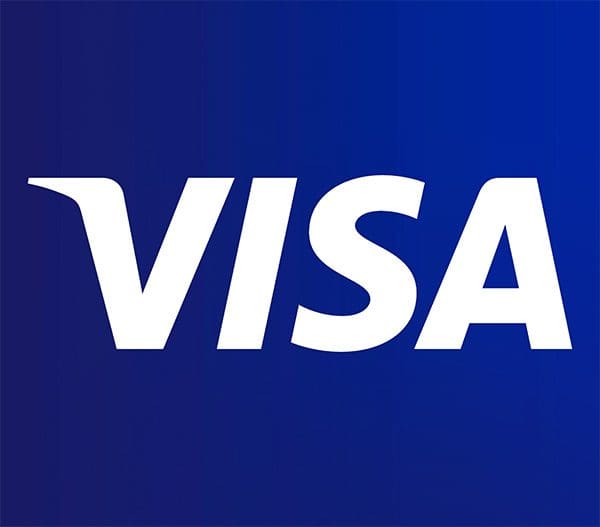 Australian punters can easily participate in betting on horse racing with a Visa card. There are numerous bookies that accept this payment method, which is one of the most popular ways of funding AU bookmakers. Some of the pros of using a Visa card at online bookmakers include instant deposits, no fees, and advanced security measures. If you're considering using this bookie payment method to place bets on horse racing, keep reading to discover more about Visa betting, Visa pros and cons, and the best Visa betting sites in Australia.

Top Visa Betting Sites
Top Visa horse betting sites
You might be wondering what Australian bookmakers accept Visa cards. The good news is that you can make Visa payments at AU betting sites, since the card is widely accepted at most online bookies, so you shouldn't struggle to find a reputable operator. We've rounded up the five best Visa betting sites that you can check out below:
Ladbrokes
One of the most recognised names in the industry, Ladbrokes offers a comprehensive horse betting platform that accepts Visa cards. Ladbrokes is licensed by Australia's Northern Territory Government and is known for paying out winning bets quickly, incorporating a "Pay on Interim Dividends" policy for horse racing.
Additionally, Ladbrokes offers an ATM card that allows you to link your Visa card and withdraw your winnings instantly from any Visa-accepting ATM. The minimum deposit is AUD10, and there is no minimum withdrawal. Ladbrokes betting review.
Sportsbet
Sportsbet is regarded as one of Australia's first online bookies. It holds a license with Australia's Northern Territory Government and offers horse racing, live betting, free live streams of all Victorian races, as well as attractive promotions.
Sportsbet accepts Visa payments, stating a minimum deposit of AUD5. There is no minimum withdrawal, and no fees are charged by the operator either. Withdrawals generally take one to two working days, while deposits are instant. Sportsbet betting review.
Neds
This is one of Australia's newest bookies that's looking to shake things up a little. Neds features lightning-fast payouts on horse racing, bet boosters, and bet builders. It's also licensed by Australia's Northern Territory Government, which means it's a legitimate bookmaker.
At Neds, you can conduct transactions using your Visa card. The minimum deposit is AUD10, and the minimum withdrawal is also AUD10. You can expect to wait between one to three working days for a withdrawal to reflect, while deposits are instant. Additionally, there are no fees charged by the operator. Neds betting review.
Bet365
Bet365 is a well-known brand across the globe, and in 2012 it obtained a license from Australia's Northern Territory Government to operate in Australia. It offers some of the best odds on horse racing, along with live-streaming and live betting.
Bet365 allows deposits and withdrawals through Visa, with a minimum deposit of AUD10 as well as a minimum withdrawal of AUD5. Deposits reflect immediately in your betting account, and withdrawals are processed within five working days. Bet365 betting review.

Unibet
This operator features an abundance of horse racing markets and some of the best tote odds on Australian thoroughbred racing. Additionally, it offers live-streaming and a variety of enticing promotions to boost your earning potential.
You can fund your betting account at Unibet using a Visa card. A Visa deposit reflects instantly, while a withdrawal can take one to two working days. The minimum amount you can deposit is AUD10, and there is no minimum withdrawal. Unibet betting review.
---
How to Make a Horse Racing Bet with a Visa
If you want to fund your Australian bookmaker account with a Visa card, you'll be pleased to hear that it's a quick and painless process. Once you've registered with a reputable operator, follow these steps to conduct a deposit with a Visa card:
Visit the bookie's site and log in to your betting account.
Navigate to the banking section.
Click "deposit."
Select Visa as your preferred payment method
Enter your details as requested by the prompts.
Click "Deposit."
Once these steps are complete, your funds will be credited to your account immediately, and you can begin to place bets on horse racing events. Usually, bookmakers don't charge any fees on deposits or withdrawals, but your bank might – so keep an eye out for this possibility and check the T&Cs.
Your card details will automatically be saved, so the next time you want to make a Visa payment at Australian betting sites, you can skip re-entering all of your information.
How to Make a Withdrawal at an Online Bookie After Winning a Horse Racing Bet with a Visa Card
The great thing about using a Visa card as a deposit method at an online bookmaker is that it's accepted as a withdrawal method, as well. Visa withdrawals at betting sites generally take a few days to reflect in your account due to processing times and security measures that are in place to prevent money laundering and other financial fraud.
To ensure your withdrawal goes smoothly, it's highly recommended that you verify your betting account as soon as you sign up with an operator. The verification process requires you to submit a copy of your government-issued ID, which can be in the form of a driver's licence or passport. If you don't complete the relevant identity checks, you won't be able to request a withdrawal.
Additionally, it's vital to use the same deposit and withdrawal method to avoid any hassles.
Now, let's take a look at how to make a withdrawal. If you win a horse racing bet, or any other sports bet, you can request a withdrawal from the bookie by following these steps:
Visit the operator's site and log in to your betting account.
Navigate to the banking section.
Click "withdraw."
Select your preferred withdrawal method, which in this case, is Visa.
Enter the amount you want to withdraw.
Click "Done."
After this, you will have a window of opportunity to cancel your withdrawal, which ranges from two hours to seven days, depending on the bookmaker. Once this window lapses, you can't cancel the withdrawal request, and it will be processed and reflected in your account according to the bookie's stipulated time frames.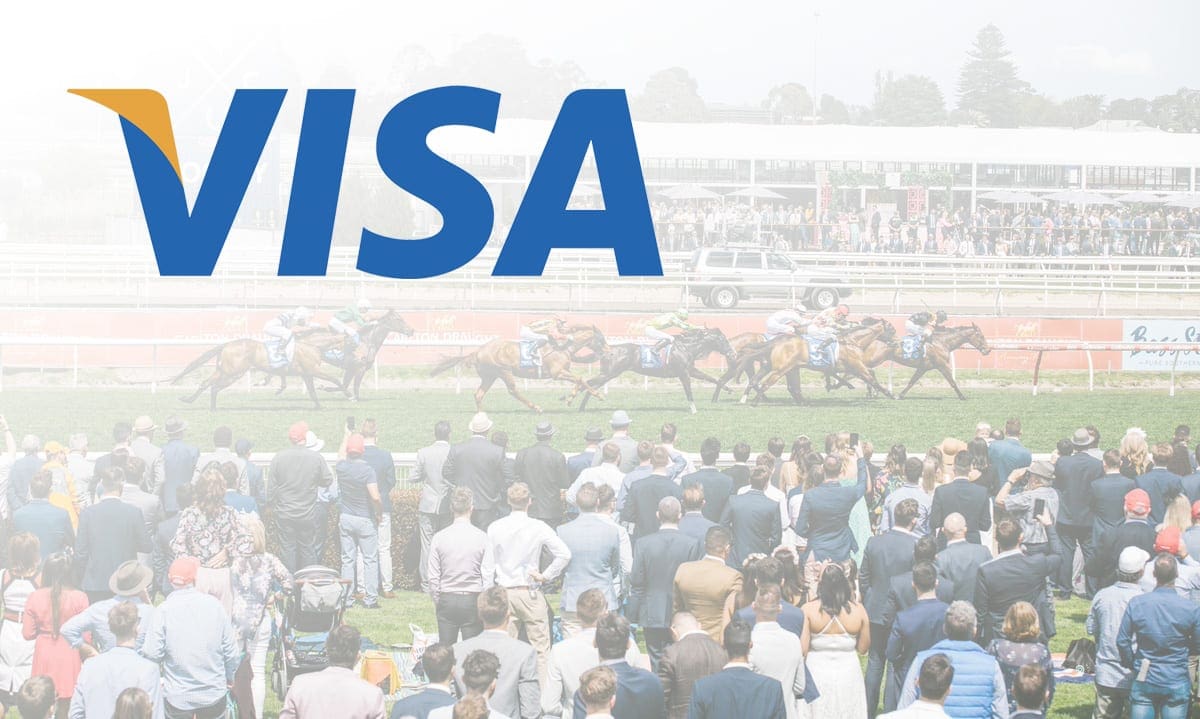 Visa bookmaker cons
Although there are several benefits to betting with a Visa card on horse racing and other sports betting markets, there are also some setbacks to take into consideration.
The first setback is security. Since many bookmakers store your credit card information to allow quick cash top-ups, you need to know your details are secure. This means you have to choose a safe and legitimate betting operator that you can trust with your funds. Additionally, the bookie needs to have advanced security measures to prevent any malpractice and unauthorised access.
The second setback is that, when you deposit funds at an international bookmaker, your card issuer may charge a transaction fee.
Lastly, there's a certain amount of risk that exists for punters who bet on horse racing and other sports with a Visa credit card. This risk comes in the form of overspending the funds available on the card, essentially entering into debt. However, you can overcome this setback by sticking to a strict budget and keeping track of your winnings separately.
Visa betting deposit fees
Overall, online bookies don't usually impose transaction fees on Visa deposits or withdrawals, although the odd exception exists. Essentially, Visa bookmaker deposit fees, along with withdrawal fees, will depend on the bank that issued your card.
The best thing to do is to check your bank's policy, so you're prepared for any additional costs, but if you are an Australian bank account holder you will not have any trouble depositing to a legal Visa betting site. You can learn more about bookmaker deposit fees in our detailed guide to online betting deposit options.
Visa betting sites – Pros for horse racing punters
Visa payments at Australian betting sites remain the most popular payment choice, and there are a few reasons why:
Visa is a Recognised Brand

Visa is a globally recognised brand, and Visa cards are accepted in over 200 countries. This means you can make Visa deposits and withdrawals confidently at any operator that allows this payment method, and virtually every bookie accepts it.
Advanced Security Measures

Visa incorporates an exceptionally high level of security that protects your banking details and allows for secure transactions. This means you never have to worry about your financial information getting into the wrong hands, and you can bet on horse racing with peace of mind.

Instant Payments

Deposits made with a Visa card reflect in your betting account immediately after the transaction is complete, so you don't need to wait to start betting. Withdrawals take a little longer to process, with an average turnaround time of two days, but this is primarily due to the verification checks that need to happen.

No Fees

Another perk of using Visa is that online bookies don't tend to charge fees on deposits or withdrawals. However, your bank might impose a transaction fee, so check the relevant T&Cs first.
Visa horse racing betting FAQ
Below, you can find answers to some of the most frequently asked questions about betting on racing with Visa.
Is it legal to make horse racing bets with a Visa card?
Yes, it's 100% legal for players in Australia to make online bets using a Visa credit or debit card.
Do I have to pay extra fees when making a Visa deposit or withdrawal at online bookmakers?
It depends on the operator and bank you choose to use. Most operators don't charge any additional fees on deposits or withdrawals, but your bank might.
How long does a betting site deposit with a Visa card take to reflect?
If you make a deposit using Visa, your funds will reflect in your betting account instantly.
How long does a Visa bookmaker withdrawal take?
This depends on the bookie you choose, but the average waiting period is one to three working days.
Is Visa a safe payment option at online bookmakers?
Yes, it is. Visa utilises state-of-the-art security and encryption measures to protect your funds and banking information.