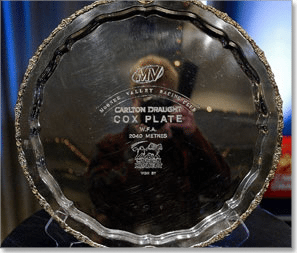 THE W.S Cox Plate is held at the Moonee Valley Racing Club every October and it is widely considered the toughest weight-for-age race in the world.
Punters love a bet on the Cox Plate as the Moonee Valley track provides a great amphitheatre for on-course and off-course bettors.
It is also one of the most even races in Australia and has started to attract international interest, therefore punters from all around the world can have a punt on the Group 1 feature.
Betting for the Cox Plate is available all year round as markets are opened at some bookmakers immediately following the running, so the value is always on tap.
2017 Cox Plate result
1st – Winx
2nd – Humidor
3rd – Folkswood
2016 Cox Plate result and finishing order
1. Winx – $1.80
2. Hartnell – $1.60
3. Yankee Rose – $2
4. Vadamos
5. Awesome Rock
6. Happy Clapper
7. Lucia Valentina
8. Hauraki
9. Black Heart Bart
10. Happy Trails
Cox Plate facts and figures
The Cox Plate is Australia's richest weight-for-age race with a current purse of AUD$3 million. The Group 1 is run over the unique distance of 2040 metres around a tight-turning Moonee Valley track in Melbourne, Victoria.
The race is named in honour of W.S Cox, the Moonee Valley Racing Club's founder, and between 1999-2005 the race was included in the Emirates World Series Racing Championship. This series included races from England, Japan, Dubai, Hong Kong, U.S.A, Canada, France and Ireland.
The Cox Plate was first introduced in 1922 when it was won by Violoncello at odds of 2-1. In the early stages of the race, there were doubts about whether a younger horse could win (it is restricted to horses three-years-old and up), but the hot favourite Manfred won as a three-year-old in 1925 and it paved the way for many young champions to follow.
The race is a part of the Melbourne Spring Carnival with it now including a two-day Moonee Valley card featuring a Friday night meeting with another Group 1 – The Manikato Stakes – which has been won by names like Hay List, Sunline and Lankan Rupee on the honour board.
The Cox Plate is one of the main betting attractions for punters because of the favourite's record in the race. The bookmakers favourite for the Cox Plate has a 41 per cent win rate and favourites starting at less than $2 have an amazing 70 per cent winning strike rate.
For any punter who likes to bet on even-money horses, or even blackjack and roulette players, then the Cox Plate is the best suited to that style.
Phar Lap was the shortest priced winner in history — winning in 1931 at an unbackable price of $1.07.
In 2016, champion mare Winx created history by winning the Cox Plate by a record eight lengths. The five-year-old was odds-on to win back-to-back Cox Plates.
The Chris Waller-trained mare defeated a quality field which included Hartnell, Vadamos and Black Heart Bart, but its rivals were no match for the champion.
Cox Plate 2017 – can the international raiders stop Winx?
It is no surprise to see Winx at the top of all Cox Plate markets to equal Kingston Town's record of three triumphs in the group one race.
Winx will be looking to repel the international invaders, which dominate the market outside of the short-priced favourite.
Godolphin superstar Ribchester, which is a Cox Plate invitee, is one of the key elects despite no confirmation from the superstable that it will make the trip down-under. The horse is the third ranked horse in the world behind Arrogate and Winx, which means if confirmation came that the Royal Ascot conqueror will make the trip to Australia the odds will shorten significantly.
One UK galloper which is no stranger to Australian soil is Highland Reel, which currently sits second in most 2017 Cox Plate markets. The horse has previously ran well in the group one after claiming third in the 2016 edition and would return after claiming the King George IV Stakes at Royal Ascot In June.
Another highly touted runner which would inject some serious competition into the market is 2015/16 Hong Kong Horse of the Year Werther.
The New Zealand export has not raced on Australian soil since a second placing in the 2015 Queenland Derby but the horse has gone from strength-to-strength since traveling to Sha Tin and would present a worthy challenge to Winx.
Favourites record in Cox Plate
We have already stated just how well the favourites go in the Cox Plate, but how does that statistic stack up in recent history.
In the last 20 years there have been five favourites win – which gives us a rate of 25 per cent.
The most recent favourite to win was the Bart Cummings-trained So You Think in 2010. The globetrotting runner won at odds of $1.50, the shortest priced favourite since Tobin Breeze won and paid $1.17 in 1967.
Australia's own Makybe Diva paid even money ($2) to win in 2005, the same year it won its third and final Melbourne Cup.
The Fred Kersley-trained Northerly was equal favourite with Lonhro at $4 in 2002 and it was Northerly that prevailed. Northerly also won in 2001 which will go down as one of the most controversial wins in Cox Plate history.
The 2011 edition was seen as a race in three between Northerly, Viscount and Sunline, with the latter starting as the $2.75 favourite with bookmakers.
Kiwi champion mare Sunline was seeking its third consecutive Cox Plate and it looked a likely outcome heading into the straight, but Northerly and Viscount came with their runs late with Northerly running in on both runners.
The interference caused by Northerly prompted Sunline to shift out on Viscount and a three-way protest was underway.
Connections of Sunline, which finished second, lodged a protest that Northerly caused interference in the concluding stages of the race, but that was countered with another protest by Viscount whose connections claimed that both Northerly and Sunline caused interference.
Both inquires resulted in no change to the finishing order and in the process Sunline was denied becoming the first runner to win three consecutive Cox Plates since Kingston Town in 1982, but Northerly went on to win again the following year.
Sunline won as favourite in 2000 at odds of $2.38 which came two years after Might And Power won paying $1.73.
Past long shot winners of the Cox Plate
There have been plenty of long-shot winners in Cox Plate history with one of the most famous coming recently.
The Danny O'Brien-trained Shamus Award entered the 2013 Cox Plate as a maiden runner, but the three-year-old blew past its rivals to win at odds of $19.
Just two years earlier, the ill-fated Pinker Pinker caused a massive boil-over when winning at $24, just a year after So You Think won paying $1.50.
So You Think's first Cox Plate win came in 2009 when it paid a handsome $11 and Maldivian won at $9 in 2008.
One of the more popular wins came in 2006 when nine-year-old Fields Of Omagh scored its second Cox Plate win with plenty of punters getting on at $15 for the win.
The biggest long shot in recent history was when Dane Ripper won in 1997. The Bart Cummings-trained filly was partnered by jockey Damien Oliver and paid a whopping $39. The favourite was Filante at $2.38 which finished in second position.
Some future champions of the track have paid good prices in the Cox Plate. Super Impose and Kiwi gelding Surfers Paradise both paid double-figure odds which ended a long drought of long shot winners.
Surfers Paradise won in 1991 which was the first long shot winner since Family Of Man which won in 1977.
In the complete history of the Cox Plate, $49 was the most paid by any winner. This was shared by both Mosaic in 1939 and Leonard in 1946.
Notable Cox Plate winners and odds
2017 – Winx ($1.15)
2016 – Winx ($1.80)
2015 – Winx ($4)
2014 – Adelaide ($6)
2013 – Shamus Award ($19)
2010/2009 – So You Think ($1.50/$11)
2006 – Fields Of Omagh ($17)
2005 – Makybe Diva ($2)
2002/2001 – Northerly ($4/$3.50)
2000/1999 – Sunline ($2.38/$5)
1998 – Might And Power ($1.73)
1995 – Octagonal ($8.50)
1986 – Bonecrusher ($1.90)
1982,81,80 – Kingston Town
1972 – Gunsynd ($2.50)
1967/1966 – Tobin Breeze ($1.17/$1.90)
1960 – Tulloch ($3)
1931/1930 – Phar Lap ($1.07/$1.14)