Cox Plate
Group One Betting Guide
| | |
| --- | --- |
| Date: | Saturday, 22 October 2022 |
| Location: | Moonee Valley Racecourse |
| Prize Money: | $5,000,000 |
| Distance: | 2040m |
---
The W.S Cox Plate is considered the premier weight-for-age race in the world.
Known colloquially as "the greatest two minutes in sports", the Cox Plate is one of the most popular betting races in Australia.
While the Winx factor has presented the illusion that the Cox Plate is an easy betting race, it is actually one of the hardest-to-predict events on the Australian Group 1 calendar.
In 2018 the Cox Plate's prize money was boosted to $5 million, making the already coveted title that much more enticing. Not only that, but the winner of the Cox Plate gains a ballot exemption entry into that year's Group 1 Melbourne Cup.

2022 Cox Plate betting odds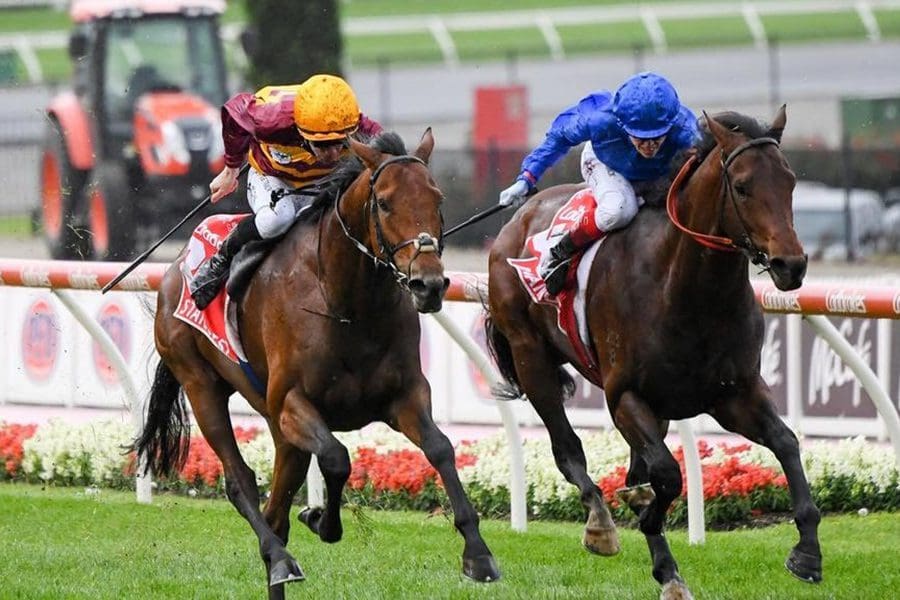 The 2022 Cox Plate odds as of May 23 look like this:
Zaaki – $5.00
State Of Rest – $8.00
Incentivise – $9.00
Hitotsu – $10.00
Anamoe – $11.00
Think It Over – $11.00
Duais – $15.00
Efforia – $15.00
Panthalassa – $15.00
Salios – $15.00
I'm Thunderstruck – $19.00
Complete Cox Plate odds available at Bet365.
Best Cox Plate bookmakers
The Cox Plate is one of the premier betting races of the Australian racing calendar and the bookmakers set their markets nice and early ahead of the Group 1 event.
Take a look at the banners below to read our comprehensive reviews on our trusted online bookmakers ahead of your wagers on the Cox Plate.

Sport Table
Cox Plate facts and figures
The Cox Plate is Australia's richest weight-for-age race with a current purse of AUD$5 million. The Group 1 is run over the unique distance of 2040 metres around a tight-turning Moonee Valley track in Melbourne, Victoria.
The race is named in honour of W.S Cox, the Moonee Valley Racing Club's founder, and between 1999-2005 the race was included in the Emirates World Series Racing Championship. This series included races from England, Japan, Dubai, Hong Kong, U.S.A, Canada, France and Ireland.
The Cox Plate was first introduced in 1922 when it was won by Violoncello at odds of 2-1. In the early stages of the race, there were doubts about whether a younger horse could win (it is restricted to horses three-years-old and up), but the hot favourite Manfred won as a three-year-old in 1925 and it paved the way for many young champions to follow.
The race is a part of the Melbourne Spring Carnival with it now including a two-day Moonee Valley card featuring a Friday night meeting with another Group 1 – The Manikato Stakes – which has been won by names like Hay List, Sunline and Lankan Rupee on the honour board.
The Cox Plate is one of the main betting attractions for punters because of the favourite's record in the race. The bookmakers favourite for the Cox Plate has a 41 per cent win rate and favourites starting at less than $2 have an amazing 70 per cent winning strike rate.
For any punter who likes to bet on even-money horses, or even blackjack and roulette players, then the Cox Plate is the best suited to that style.
Phar Lap was the shortest priced winner in history — winning in 1931 at an unbackable price of $1.07.
In 2016, champion mare Winx created history by winning the Cox Plate by a record eight lengths. The five-year-old was odds-on to win back-to-back Cox Plates.
The Chris Waller-trained mare defeated a quality field which included Hartnell, Vadamos and Black Heart Bart, but its rivals were no match for the champion.
Favourites record in Cox Plate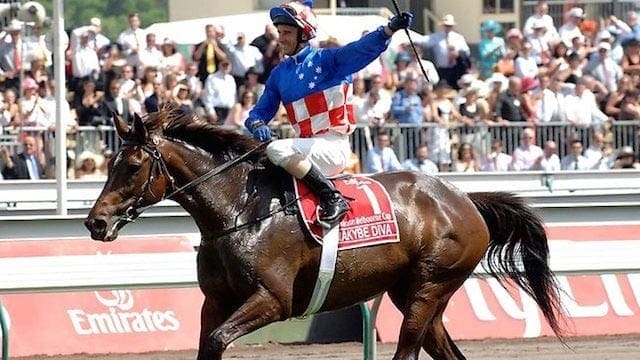 We have already stated just how well the favourites go in the Cox Plate, but how does that statistic stack up in recent history?
In the last 10 years there have been five favourites win – Lys Gracieux, Winx (2016-2018) and So You Think.
Australia's own Makybe Diva paid even money ($2) to win in 2005, the same year it won its third and final Melbourne Cup.
The Fred Kersley-trained Northerly was equal favourite with Lonhro at $4 in 2002 and it was Northerly that prevailed. Northerly also won in 2001 which will go down as one of the most controversial wins in Cox Plate history.
The 2011 edition was seen as a race in three between Northerly, Viscount and Sunline, with the latter starting as the $2.75 favourite with bookmakers.
Kiwi champion mare Sunline was seeking its third consecutive Cox Plate and it looked a likely outcome heading into the straight, but Northerly and Viscount came with their runs late with Northerly running in on both runners.
The interference caused by Northerly prompted Sunline to shift out on Viscount and a three-way protest was underway.
Connections of Sunline, which finished second, lodged a protest that Northerly caused interference in the concluding stages of the race, but that was countered with another protest by Viscount whose connections claimed that both Northerly and Sunline caused interference.
Both inquires resulted in no change to the finishing order and in the process Sunline was denied becoming the first runner to win three consecutive Cox Plates since Kingston Town in 1982, but Northerly went on to win again the following year.
Sunline won as favourite in 2000 at odds of $2.38 which came two years after Might And Power won paying $1.73.
Past long shot winners of the Cox Plate
Shamus Award broke the maiden in the Cox Plate
There have been plenty of long-shot winners in Cox Plate history with one of the most famous coming recently.
The Danny O'Brien-trained Shamus Award entered the 2013 Cox Plate as a maiden runner, but the three-year-old blew past its rivals to win at odds of $19.
Just two years earlier, the ill-fated Pinker Pinker caused a massive boil-over when winning at $24, just a year after So You Think won paying $1.50.
So You Think's first Cox Plate win came in 2009 when it paid a handsome $11 and Maldivian won at $9 in 2008.
One of the more popular wins came in 2006 when nine-year-old Fields Of Omagh scored its second Cox Plate win with plenty of punters getting on at $15 for the win.
The biggest long shot in recent history was when Dane Ripper won in 1997. The Bart Cummings-trained filly was partnered by jockey Damien Oliver and paid a whopping $39. The favourite was Filante at $2.38 which finished in second position.
Some future champions of the track have paid good prices in the Cox Plate. Super Impose and Kiwi gelding Surfers Paradise both paid double-figure odds which ended a long drought of long shot winners.
Surfers Paradise won in 1991 which was the first long shot winner since Family Of Man which won in 1977.
In the complete history of the Cox Plate, $49 was the most paid by any winner. This was shared by both Mosaic in 1939 and Leonard in 1946.
2022 Cox Plate Final Field
The Cox Plate field will be announced closer to the running date.
---
Previous Cox Plate Fields
| No. | Silks | Horse | Trainer | Jockey | Barrier | Weight |
| --- | --- | --- | --- | --- | --- | --- |
| 1 | | Zaaki | Annabel Neasham | James McDonald | 6 | 59kg |
| 2 | | Dalasan | Leon Macdonald & Andrew Gluyas | Daniel Moor | 3 | 59kg |
| 3 | | Gold Trip | Ciaron Maher & David Eustace | Damien Oliver | 2 | 59kg |
| 4 | | Callsign Mav | John Bary | Luke Nolen | 5 | 59kg |
| 5 | | Mo'unga | Hugh Bowman | Annabel Neasham | 4 | 57.5kg |
| 6 | | Verry Elleegant | Chris Waller | Damian Lane | 9 | 57kg |
| 7 | | Probabeel | Jamie Richards | Brett Prebble | 7 | 57kg |
| 8 | | State Of Rest | Joseph O'Brien | John Allen | 8 | 56.5kg |
| 9 | | Anamoe | James Cummings | Craig Williams | 10 | 49.5kg |
| 10 | | Captivant | Peter & Paul Snowden | Dean Yendall | 1 | 49.5kg |

| No. | Silks | Horse | Trainer | Jockey | Barrier | Weight |
| --- | --- | --- | --- | --- | --- | --- |
| 1 | | Kolding | Chris Waller | James McDonald | 10 | 59kg |
| 2 | | Humidor | Chris Waller | Craig Williams | 14 | 59kg |
| 3 | | Fierce Impact | Matthew Smith | Luke Currie | 12 | 59kg |
| 4 | | Master Of Wine | Michael, Wayne & John Hawkes | Michael Rodd | 1 | 59kg |
| 5 | | Mugatoo | Kris Lees | John Allen | 9 | 59 |
| 6 | | Aspetar | Roger Charlton | Damian Lane | 3 | 59kg |
| 7 | | Sir Dragonet | Ciaron Maher & David Eustace | Glen Boss | 7 | 59kg |
| 8 | | Magic Wand | Aidan O'Brien | Mark Zahra | 4 | 57kg |
| 9 | | Arcadia Queen | Grant & Alana Williams | William Pike | 8 | 57kg |
| 10 | | Nettoyer | Wendy Roche | Billy Egan | 13 | 57kg |
| 11 | | Russian Camelot | Danny O'Brien | Damien Oliver | 15 | 56.5kg |
| 12 | | Armory | Aidan O'Brien | Ben Melham | 6 | 56.5kg |
| 13 | | Probabeel | Jamie Richards | Kerrin McEvoy | 2 | 55.5kg |
| 14 | | Grandslam | Ciaron Maher & David Eustace | Jye McNeil | 5 | 49.5kg |
| 15 | | Buckhurst (1E) | Joseph O'Brien | Jamie Kah | 11 | 59kg |
2021 Cox Plate result

1st – State Of Rest ($8.00)
2nd – Anamoe ($1.45)
3rd – Verry Elleegant ($1.43)
Recent Cox Plate Runnings
Despite the favourite Zaaki being withdrawn from the race with an elevated temperature the morning of the race, all eyes were focused on Anamoe and Verry Elleegant to battle it out for the 2021 cox plate. However it was the

luck of the Irish that prevailed as State Of Rest

took the lead at the 300 metre mark and managed to fend off Anamoe in a controversial finish that was left to the stewards to decide who the victor of the 2021 Cox plate would be.

Despite all eyes being on short-priced favourite Russian Camelot, it was

Ciaron Maher & David Eustace's import Sir Dragonet who claimed the 2021 Cox Plate

. With the track a Soft 7 by the time the Cox Plate was run, the conditions were always going to suit Sir Dragonet who brought a formidable wet track formline from the UK. Having been locked away four back on the fence, he needed a perfect steer and that is exactly was Glen Boss gave him en route to claiming his fourth Cox Plate win. A run came 400m out and the import sprinted sharply to claim the likes of Russian Camelot, Armory and Mugatoo to go on and win in convincing fashion.

There was plenty of hype behind the Japanese mare and favourite backers were not disappointed when

Lys Gracieux wins the $5 million Cox Plate

, she was breathtaking when running down Castelvecchio who gave her something to chase from the 600 metre mark, but the classy Japanese mare just had too much class for this field.

Could Winx do what no other horse has ever done in Australian racing and win a fourth Cox Plate? Record crowds arrived at Moonee Valley to watch history and the mighty mare delivered in spades. In an eight-horse field, Winx jumped as a $1.22 favourite and was gunning for its 29th win on the trot. After a good jump and safe run three back and one wide, Winx hit the front at the beginning of the straight and never looked troubled, gliding through to its place in history.

The 2017 edition of the Cox Plate was all about Winx and the mighty mare delivered. In a smaller than usual field saw Winx as the unbackable favourite, but fans of the champ would have had their hearts in their mouths as Humidor loomed up as the post approached. The Weir runner couldn't cause the upset though, as Winx delivered the threepeat.

The 2016 Cox Plate was billed as a glorified match race between Winx and Hartnell, but the British raider never stood a chance. The pair broke away from the field entering the straight but the Godolphin runner was no match for the Waller gun, who sailed away to record a commanding victory.

Read full report.

Almost unthinkable when you look at what was to come, but Winx came into her first Cox Plate running as a $4.50 hope. The mare had a decent run in transit but when the field shifted out the Waller runner hugged the rail and sprinted away from the field to record a four length win ahead of Irish superstar Highland Reel.

Irish master trainer Aidan O'Brien had a number of near-misses in big Australian races, but that sequence snapped when Adelaide saluted in the Cox Plate. Adelaide had to do it the hard way, circling the field and nailing race favourite Fawkner right on the line to secure a history-defining win.

The Cox Plate has plenty of amazing stories over its close to 100 years of history but few can boost the incredible story of Danny O'Brien-trained Shamus Award. The three-year-old claimed the Cox Plate as a maiden, the first horse to do so since the race's inception. Shamus Award pinched a big break at the 200m but badly needed the line as Happy Trails stormed down the outside. Thankfully the post came as the three-year-old created history.
Past Cox Plate winners list
Cox Plate

Past Winners
Year
Horse
Jockey
Trainer
2021
State Of Rest
John Allen
Joseph O'Brien
2020
Sir Dragonet
Glen Boss
Ciaron Maher & David Eustace
2019
Lys Gracieux
Damian Lane
Yoshito Yahagi
2018
Winx
Hugh Bowman
Chris Waller
2017
Winx
Hugh Bowman
Chris Waller
2016
Winx
Hugh Bowman
Chris Waller
2015
Winx
Hugh Bowman
Chris Waller
2014
Adelaide
Ryan Moore
Aidan O'Brien
2013
Shamus Award
Chad Schofield
Danny O'Brien
2012
Ocean Park
Glen Boss
Gary Hennessy
2011
Pinker Pinker
Craig Williams
Greg Eurell
2010
So You Think
Steven Arnold
Bart Cummings
2009
So You Think
Glen Boss
Bart Cummings
2008
Maldivian
Michael Rodd
Mark Kavanagh
2007
El Segundo
Luke Nolen
Colin Little
2006
Fields Of Omagh
Craig Williams
David Hayes
2005
Makybe Diva
Glen Boss
Lee Freedman
2004
Savabeel
Chris Munce
Graeme Rogerson
2003
Fields Of Omagh
Steven King
Tony McEvoy
2002
Northerly
Patrick Payne
Fred Kersley
2001
Northerly
Damien Oliver
Fred Kersley
2000
Sunline
Greg Childs
Trevor McKee
---
Cox Plate Past Winners Pre 2000
Cox Plate

Past Winners Pre 2000
Year
Horse
1999
Sunline
1998
Might and Power
1997
Dane Ripper
1996
Saintly
1995
Octagonal
1994
Solvit
1993
The Phantom Chance
1992
Super Impose
1991
Surfers Paradise
1990
Better Loosen Up
1989
Almaarad
1988
Our Poetic Prince
1987
Rubiton
1986
Bonecrusher
1985
Rising Prince
1984
Red Anchor
1983
Strawberry Road
1982
Kingston Town
1981
Kingston Town
1980
Kingston Town
1979
Dulcify
1978
So Called
1977
Family Of Man
1976
Surround
1975
Fury's Order
1974
Battle Heights
1973
Taj Rossi
1972
Gunsynd
1971
Tauto
1970
Abdul
1969
Daryl's Joy
1968
Rajah Sahib
1967
Tobin Bronze
1966
Tobin Bronze
1965
Star Affair
1964
Sir Dane
1963
Summer Regent
1962
Aquanita
1961
Dhaulagiri
1960
Tulloch
1959
Noholme
1958
Yeman
1957
Redcraze
1956
Ray Ribbon
1955
Kingster
1954
Rising Fast
1953
Hydrogen
1952
Hydrogen
1951
Bronton
1950
Alister
1949
Delta
1948
Carbon Copy
1947
Chanak
1946
Leonard/Flight
1945
Flight
1944
Tranquil Star
1943
Amana
1942
Tranquil Star
1941
Beau Vite
1940
Beau Vite
1939
Mosaic
1938
Ajax
1937
Young Idea
1936
Young Idea
1935
Garrio
1934
Chatham
1933
Rogilla
1932
Chatham
1931
Phar Lap
1930
Phar Lap
1929
Nightmarch
1928
Highland
1927
Amounis
1926
Heroic
1925
Manfred
1924
The Night Patrol
1923
Easingwold
1922
Violoncello