Top online racing betting sites in Australia 2023
HorseBetting.com.au presents the best Australian horse racing betting sites guide for 2023. The best online betting sites are licenced by state governments and accept bets on horse racing and sports every day of the year. Australian online betting sites play a huge role in racing and pay taxes to both the sport and government, making themselves an integral part of the economy. The best racing betting sites include some of the biggest names in world gambling, with many of these operators owned overseas, but locally licensed. Our guide to Australia's top horse betting sites includes the latest promotions, best bookies, top odds and much more.
The best AU horse betting sites for 2023 are:

BEST AU horse betting sites
---
Top Australian horse betting sites
There are upwards of 15 licensed online betting sites in Australia, with most of them featuring extensive wagering on horse racing.
The best Aussie bookie sites are generally licensed by the Northern Territory Racing Commission, although each state government has its own liquor and gaming department, which regulated both land-based and online betting.
Some of the most well-known brands in Australia include Bet365, which has been operating for over 20 years; Ladbrokes Australia, arguably the most visible horse betting site; and newcomers like Neds and Pointsbet.
The TAB is also in operation in Australia and provides an online betting fixed odds experience, as well as Tote betting. A competitor to the traditional Tote emerged in recent years, but TopBetta's Global Tote concept never really took off.
Australian horse betting sites even include a betting exchange, with Betfair licensed to operate by the Tasmanian Government.
Best book makers for United States
Rank

Bookmaker

Bonus

Pros & Cons

Sign up
THINK. IS THIS A BET YOU REALLY WANT TO PLACE?
For free and confidential support call 1800 858 858 or visit gamblinghelponline.org.au
---
Ladbrokes.com.au
Ladbroke is one of Australia's leading betting site's for horse racing due to the substantial amount of markets available on each race. Ladbrokes in recent times have become competitive with the likes of Sportsbet in their push for new customers with the term "Ladbroke It" a massive hit. Considering Ladbrokes own Neds.com.au they are a company you can bet with great confidence and could quickly become an even bigger giant in the racing industry.
Neds.com.au
Neds is one of the top Australian online betting sites for horse racing, with outstanding apps and features for punters. Neds same race multis on all Australian horse racing, greyhound racing and harness racing are a definite highlight, while they also have exceptionally competitive odds. Neds is owned by the same parent company as Ladbrokes, which should fill you with confidence they are an outstanding option to wager on racing.
Screenshot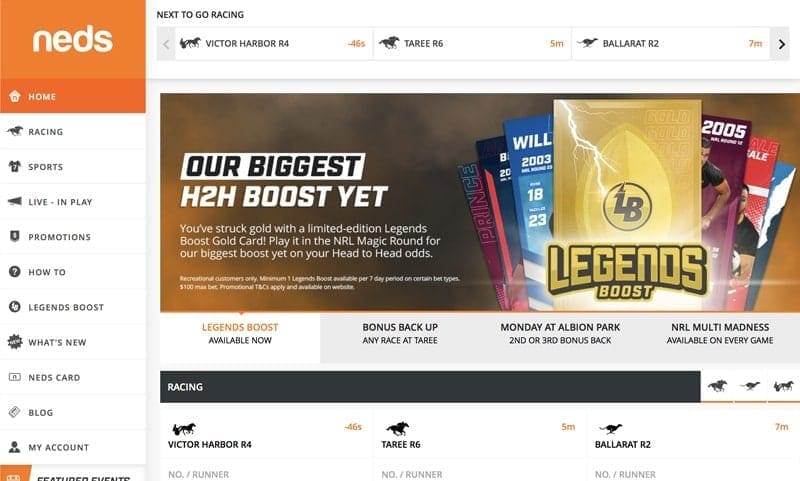 Visit Neds

PlayUp.com.au
If you like modern, innovative betting sites that get the basics rights while offering something a little bit different from the competition, PlayUp is well worth a look. Playup.com.au is one of the newest players on the block in terms of Australian online betting sites for horse racing, Playup may be more known for their sports betting, but we are comfortable promoting Playup as one of the top horse betting bookmakers in 2023.
Palmerbet.com.au
Palmerbet.com.au is one of precious few online bookmakers that are 100% Australian owned and operated. These guys are all about horse racing, but there is also a wide selection of betting options for greyhounds, trots, and all manner of local and international sport. Palmerbet is renowned for its attractive, easy-to-use betting interface and first-class customer service. The NSW-based bookie is also an industry leader when it comes to online horse racing betting, as customers can enjoy a vast array of daily betting specials and exclusive bonus offers.
Bet365.com.au
One of the biggest gambling companies in the world, Bet365 is licensed to operate in Australia, and has a huge foothold down under. The company is known in Australia for its big budget advertising campaigns, and of course their outstanding sports and racing product. Bet365 consistently have promotions relating back to horse racing betting and the 'fixed price guarantee' has been a massive success for racing fans, where if you take a fixed price, but your winner pays a bigger price on the local tote Bet365 pays you out the bigger price.

Unibet.com.au
Unibet has a great array of outstanding horse racing offerings. This includes betting markets on every Australian and New Zealand TAB meeting, plus all of the most important horse racing meetings from around the world. Unibet is one of the lesser-known online betting sites in Australia at the moment, but is gaining momentum as one of the more reliable sites available in the Australian and New Zealand markets for horse racing.

Betfair.com.au
Betfair Australia offers a betting exchange service, which is how it differentiates itself from the saturated sports betting industry. Basically instead of backing a horse to win or place, you can "lay" a horse which means you can take on somebody's bet on the runner. Betfair is highly regarded around the world, with their in-play betting a huge attraction for punters who want to see the opening stages of a race before investing. Despite offering little in terms of bonuses and promotions, with punters having the ability to take bigger odds that what is available on other betting sites, it is no surprise that Betfair is one of the most popular brands for betting on horse racing online.
---
Horse racing betting sites promotion offers
Australian racing betting sites may no longer be allowed to advertise incentives to punters as a way of getting them to open a new account, but this does not mean there are not plenty of racing promotions and daily offers.
Horse Betting Australia has our finger on the pulse when it comes to racing offers and we generally have daily articles highlighting the best promotions. These bookie bonus deals are somewhat restricted because of local laws, with sign up offers now a thing of the past, but existing customer at betting sites will be emailed or texted out to you.
While the traditional horse racing freebets are dead in the water, there has been some great offers in December, 2023. These horse betting sites with promotions are well-known in Australia, with most having different offers to their counterparts. For instance, one horse racing promo might be significantly different to another top online betting offer.
---
Best mobile betting sites Australia
Mobile betting is the most popular form of online wagering, with more than 50% of all bets placed via a smartphone or tablet. This means horse betting sites spend plenty of money making sure both their apps and mobile sites are first-class and the Australian bookmaker industry reflects this, with the quality of mobile horse racing sites the best in the world.
Downloadable horse betting apps are the most popular way to place mobile bets on the thoroughbreds, with the two most common operating systems being Android and Apple. While AU horse bet mobile sites are also, as a general rule, a mirror of the app, although they can be more stripped back. By this we mean some features might be missing, such as dynamic odds, or odds that update immediately.
If you are unsure about what mobile betting site is the best for horse racing, it's safe to assume that any of the brands we advertise on this site are heavily optimised for mobile wagering. In-fact all of them are serviceable on mobile, with many horse racing betting sites being optimised as "mobile first".
Mobile betting sites Australia are free to join but it's unlikely you will find any sign up bonuses up for grabs, largely because most forms of new account incentives are outlawed under existing laws. After you are a member though, we have seen betting sites in Australia email or text out offers to existing customers.
Another thing to be aware of when betting on horse racing via mobile is that some payment options might not be available. For instance, we have seen bookies where bank transfers or wires can only be completed via desktop.
---
Horse betting sites payment methods
Australians have a plethora of choices when it comes to depositing AUD to online betting sites, with these including popular payment methods like credit and debit cards. Australians can even use localised services like POLi and BPAY to fund their online horse betting sites.
Australian betting site payments include:
Bank transfer betting deposits
Debit card betting deposits
Credit card betting
Maestro betting
Skrill betting
---
Customer service at Australian betting sites
One of the best things about betting with Australian online betting sites, in comparison to overseas bookmakers is that they all have easy-to-reach customer service options. Almost all online betting sites in Australia have phone numbers you can call around the clock with any issues. The bigger online betting operators in Australia also have other options, like live chat or even contacting the via email. You can learn a lot more each Australian betting sites' customer service in our bookmaker reviews.
---
Are betting sites legal in Australia
Australians are spoilt for choice when it comes to online betting sites and they are they are 100% legal, it is however illegal to bet with offshore bookmakers that don't have an Australian gambling license. With upwards of 50 legal betting sites in Australia, the options are basically endless, from the big names such as Unibet, Ladbrokes and Bet365, to up and coming sites such as Palmerbet, TopSport and BlueBet.
Despite the number of online betting sites at the disposal of Australian citizens, plenty of big betting syndicates are still betting with offshore companies which is illegal in this country and can attribute a hefty fine of $1.8 million per day an offshore company offers bets to Australian punters. It is however extremely hard to police for authorities, with many of the top punters in Australia wagering offshore with little trouble. This is unlikely to stop anytime soon, with Aussie betting sites often cutting off punters who are successful, or want to place larger wagers.
Australians are subject to some extensive laws when it comes to what they are allowed to be advertised, with this ban including things like sign up bonus offers and horse racing free bets. Since about 2017, when the IGA was updated, horse betting sites promotions were restricted and now must not offer an inducement to open a new account. This has not stopped free bet offers entirely, with many customers still taking advantage of these offers after they are a customer at an online bookmaker.
---
Bet types available at horse racing betting sites
Betting on horse racing is one of Australia's oldest past times and betting sites in Australia offer plenty of different bet types to all customers on every race, every day.
Types of betting at Aussie online bookmakers
Win:
The most popular bet type in all of racing is a "win" bet and it is as simple as it sounds, you will win if your horse finishes first in the race. Known as betting "on the nose" a win bet is a bet every punter gets involved in.
Place
Place betting is another popular way of betting, with the punter traditionally receiving three chances of winning.

To win, your horse must finish in the first three runners across the line (when three place dividends are being paid), but if your horse manages to win the race you will only be paid out as a place winner.

The winning price of a place bet is substantially lesser than the horse's win price.

Each-Way
An each-way bet in horse racing is when you have a win and place bet on the same runner in the same bet slip.

The bet is often on a runner that is paying a double figure price that a punter believes can win the race, but will often "cover all bases" by taking it each-way so if it places they will get paid out that portion of the bet.

Quinella
To bet a Quinella in racing is to predict who will finish first and second in any order.

A quinella will often pay upwards of $10 in most races, with the dividend calculated by the odds of the first two runners across the line. Obviously the higher Starting Price (SP) for a runner finishing in the top two, the higher the dividend will be.

You are eligible to add more than two runners to a quinella, but the return dividend will be slashed if you do not up the amount you spend.

For example: $1 quinella will returns 100% of the official quinella dividend with two runners in your bet, whilst a $1 quinella will return 33& due to the amount of different combinations with three runners involved.

Exacta
An exacta bet in racing is very similar as to a quinella bet, as you need to pick the first two runners to finish the race.

However, with an exacta you must pick the finishing order in the correct order, which separates the exacta to a quinella.

Considering you need to pick the correct finishing order the dividend for an exacta is invariably higher than the dividend of a quinella.

Trifecta
To win a trifecta bet on horse racing, you must correctly select the first three across the finishing line in correct order.

Arguably the most popular trifecta bet is a boxed trifecta where you can select the first three to finish in any order.

Similarly to a quinella and exacta, the more horses you add to a trifecta the lesser your dividend will be.

Betting sites often offer mystery trifectas where the betting site will randomly choose three horses for the punter.

The trifecta is generally the big one you want to get, outside of the first four, the trifecta is usually the highest dividend you will see in every horse race.

First Four
The first four in horse racing is very similar to a trifecta, but in this case we are needing to find the first four runners across the line in correct order.

Much like the trifecta, you can place a boxed first four where you can select the firt four across the line in any order.

The first four dividend in most races is the highest paid dividend in any one race.

It is worth noting that Australian horse betting sites have got minimum bet limit laws that govern them, with this something that punters pushed for for many years.

---

Australian betting sites – Q and A

In this section of our betting sites Australia guide we will run you through some commonly asked questions, so be sure to check below if you are have any queries.
Why don't betting sites have sign up bonus offers anymore?
Australian laws mean that the traditional free bet or bonus offers for opening a new betting account is now banned. From time to time, Aussie betting sites will offer bet credit deals, but these will generally involve a settled bet, rather than something for free.
Is online casino gambling available at Australian betting sites?
No, under Australian laws online real money gambling is banned, other then sports betting, horse racing betting, lotto betting and some forms of keno.
What type of odds do Australian betting sites display?
Australian horse betting sites generally display their odds in decimal format. However some AU horse bet sites will also allow you to display all odds in fractional or American odds.
Do AU betting sites allow you to run multis across sports and racing?
Australian online betting sites are running a highly competitive market. This means they have more bet options than almost anywhere in the world, and multibets play a large role in their imaginative promotions, including allowing customers to place legs in racing and sports events on the same ticket.
Can you stream racing at horse racing betting sites?
Australians do have options to stream Australian horse racing for free, with several Aussie bookies picking up the TAB Sky Racing feed. Basically to live stream racing at these top racing bet sites you need to be a member, while you may also be required to make a payment to activate the streaming function.
Can International readers sign up at Australian betting sites?
Some Australian betting sites are also International betting sites, with brands like Bet365 allowing customers from over 200 countries. Unibet is another AU bet site that allows sign ups from many countries.
What Australian betting site has the best racing odds?
It really is hard to gauge which online horse betting site has the best odds, largely because there are so many races. That is why racing odds comparison services are so popular. If we had to choose several betting sites for consistent racing it odds we would probably go with Bet365 Australia and Ladbrokes.
Best betting sites with same race multis in Australia?
The best horse racing betting sites often have got same race multis, which is a bet type that lets you wager on multiple outcomes in the same event. For instance you might bet on one horse to finish in the top four, while another you might back into to finish top two. Combining these odds can make it a juicy proposition for punters. Race betting sites like Ladbrokes and Neds specialise in these types of same race multis.
What is the best horse racing betting site?
Many of the top horse racing betting sites are in Australia, with Aussies loving wagering on thoroughbreds and other racing codes. Several of our personal favourites are Unibet, Bet365 and Ladbrokes, although most Aussie betting sites provide a strong coverage of the gallops.