Exotic bets on horse racing
Bookmakers in Australia offer a wide range of exotic horse racing bets with more being added all the time. They offer anything from jockeys challenges to premiership winners and there are plenty of novelty markets to bet on also.
Exotic markets are popular for punters that like a bit of variety and there is always plenty of interest with the options our recommended bookmakers release.
Jockey's challenge betting
The most common horse racing exotic markets involve the jockeys challenges.
Jockey challenges are available on select Australian horse racing meetings throughout the week. Most commonly, bookmakers will offer two markets each Wednesday and Saturday, with one market being offered on Thursday, Friday and Sunday.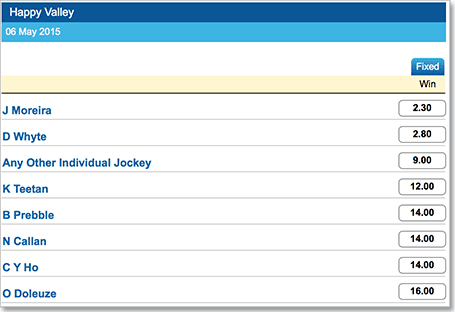 Wednesday's meeting will include one from Victoria and one from New South Wales. Thursday's market will feature the day's best racing card and Friday's will include the night racing circuit if a night meeting has been scheduled.
Jockey challenges award the jockey that finishes the meeting on the highest total points.
The points system works as follows:
1st – 3 points
2nd – 2 points
3rd – 1 point
Punters will sort through each jockeys rides and figure out which jockey has the best chance to score the most points. Some jockeys will have fewer rides, but be riding better horses and those betting must weigh up their strategies.
Other jockeys will have a ride in every race but their horses aren't well favoured in the market. They do have more chance of scoring points, but you would be hoping for an outsider to win.
A jockeys challenge market appears as follows:
Flemington, November 3, 2015
Craig Williams
$3.20
Damien Oliver
$4.90
Ben Melham
$6
Glen Boss
$6
Linda Meech
$9
Any other individual
$10
Brad Rawiller
$12
Any other individual is an option which covers any jockey not listed in the jockeys challenge. If there is a particular jockey you think can win the challenge, but there is no market framed, you can easily phone your chosen bookmaker and get them to get odds from the traders. Most Aussie bookmakers are more than happy to from a market they don't have.
Our favourite bookmaker for Jockeys Challenge betting in Australia is Sportsbet.com.au, who offer the greatest range of meetings with this option.
Jockeys & trainers premiership betting
The jockeys and trainers premiership betting is a market that many Australian punters will have a flutter on. There can be some outstanding odds on offer if you have the right information. For instance, if a leading jockey has been racing overseas, but is returning full time to Australia, you might find generous odds.
Sportsbet has in excess of 10 markets which features Australia, New Zealand, Singapore and Hong Kong — with special markets dedicated to some of Australia's best. Bookmakers have their own markets of these types, which you can read more about in our dedicated reviews of each one.
Some other options available in mid 2015, include punters being able to bet on whether Hugh Bowman will reach 100 winners in a season and who will train more Group 1 wins between Gai Waterhouse and Peter Moody.
Novelty horse racing markets
If there has been a racing headline in the news, a bookmaker will likely open a market for it. The most common novelty markets feature the price of a yearling at the sales. When a high-profile yearling is scheduled to enter the ring there is always plenty of discussion as to how much the horse will sell for.
Bookmakers will set an estimated sale price which punters can bet on and on some occasions they will be able to bet on who buys the horse.
A popular betting option over the last few years have involved Black Caviar's first foal. It's an obvious ploy from the bookmakers to cash in on the popularity of the champion mare, but a savvy punter can find some good odds on markets like these. However it takes a brave person to put anything down on a horse which may not even reach the gates.
Markets that were available:
Will it start a race?
Yes
$1.20
No
$3.40
Will it win its first race?
Yes
$1.30
No
$3.40
When will it win its first Group 1?
2017
$7
2018
$9
2019+
$26
Never win a Group 1
$1.20
Will it race at Royal Ascot?
Yes
$101
Melbourne Cup carnival — the time for exotics
The Melbourne Cup Spring Racing Carnival is without a doubt the biggest month of racing in Australia. Even if you don't have a punt you probably do at this time of the year. Bookmakers are catering to this crown to a certain extent by offering markets like what colour hat Gai Waterhouse will wear or how many people will attend the Melbourne Cup.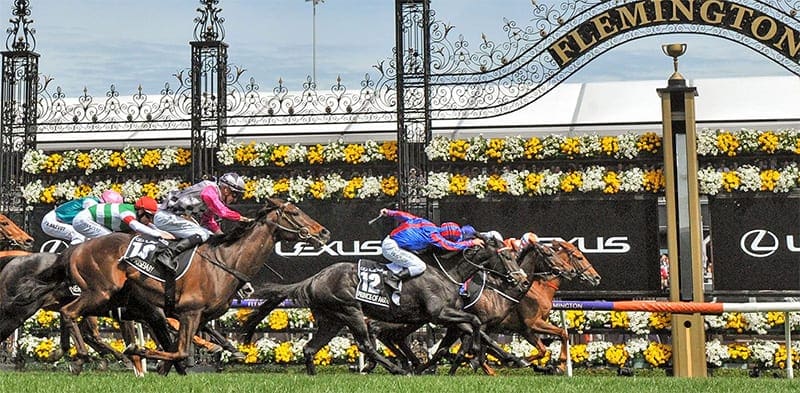 These types of bets may seem silly to hardcore punters, but there are some that surface that can provide some value if you know what you're doing. Here are some of the markets available during the 2015 carnival.
Will an international horse win the Melbourne Cup?
Melbourne Cup and Cox Plate quinella specials
Age of winning Melbourne Cup horse
Margin of victory
Group betting
These are just some of the novelty and exotic markets our bookmakers offer. Head to the "horse racing" section on the left to find all the latest horse racing exotic and novelty betting markets.