A runner-by-runner guide to the 2017 Melbourne Cup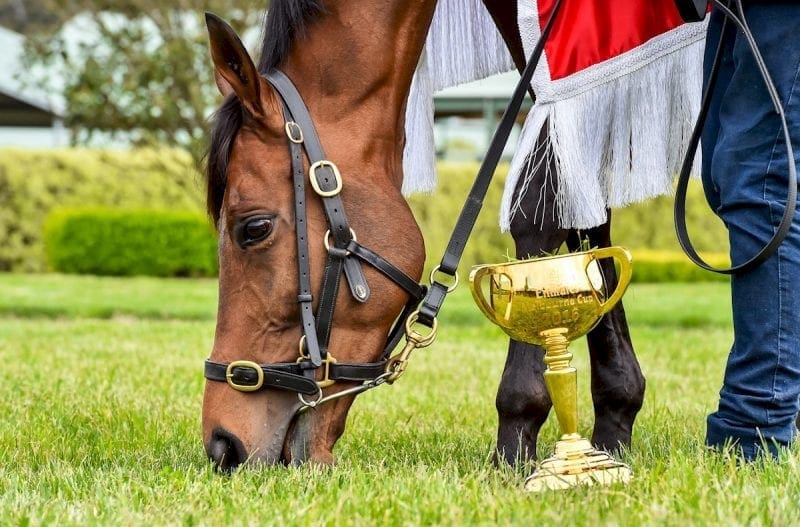 FORGET The Championships and all the other competitors, the true pinnacle of racing in Australia is the Melbourne Spring Carnival.
While there is plenty of fanfare in Melbourne about the Caulfield Cup and the Cox Plate, the true crown jewel in the crown of spring racing is the time-honoured Melbourne Cup.
A true international race, the Melbourne Cup sees the best staying horses from around the globe bring their talents to the Victorian capital in search of group one glory.
Mid-way through the year the nominations for the Cup are released, and that list is eventually whittled down to 24 on the Saturday prior to Tuesday's race day.
2017 Melbourne Cup Field & Odds
| | | | | | | | |
| --- | --- | --- | --- | --- | --- | --- | --- |
| No. | Silks | Horse | Trainer | Jockey | Barrier | Weight | Odds |
| 1 | | Hartnell | James Cummings | Damian Lane | 12 | 57.5kg | $31 |
| 2 | | Almandin | Robert Hickmott | Frankie Dettori | 14 | 56.5kg | $9 |
| 3 | | Humidor | Darren Weir | Blake Shinn | 13 | 56kg | $11 |
| 4 | | Tiberian | Alain Couetil | Oliver Peslier | 23 | 55.5kg | $26 |
| 5 | | Marmelo | Hughie Morrison | Hugh Bowman | 16 | 55kg | $8.50 |
| 6 | | Red Cardinal | Andreas Wohler | Kerrin McEvoy | 24 | 55kg | $18 |
| 7 | | Johannes Vermeer | Aiden O'Brien | Ben Melham | 3 | 54.5kg | $9.50 |
| 8 | | Bondi Beach | Robert Hickmott | Michael Walker | 1 | 54kg | $67 |
| 9 | | Max Dynamite | William Mullins | Zac Purton | 2 | 54kg | $14 |
| 10 | | Ventura Storm | David & Ben Hayes & Tom Dabernig | Glen Boss | 6 | 54kg | $34 |
| 11 | | Who Shot Thebarman | Chris Waller | Tommy Berry | 20 | 54kg | SCR |
| 12 | | Wicklow Brave | William Mullins | Stephen Baster | 8 | 54kg | $67 |
| 13 | | Big Duke | Darren Weir | Brenton Avdulla | 5 | 53.5kg | $19 |
| 14 | | US Army Ranger | Joseph O'Brien | Jamie Spencer | 22 | 53.5kg | $67 |
| 15 | | Boom Time | David & Ben Hayes & Tom Dabernig | Cory Parish | 9 | 53kg | $34 |
| 16 | | Gallante | Robert Hickmott | Michael Dee | 18 | 53kg | $91 |
| 17 | | Libran | Chris Waller | Dwayne Dunn | 7 | 53kg | $41 |
| 18 | | Nakeeta | Iain Jardine | Glyn Schofield | 19 | 53kg | $41 |
| 19 | | Single Gaze | Nick Olive | Kathy O'Hara | 11 | 53kg | $41 |
| 20 | | Wall Of Fire | Hugo Palmer | Craig Williams | 15 | 53kg | $11 |
| 21 | | Thomas Hobson | William Mullins | Joao Moreira | 21 | 52kg | $19 |
| 22 | | Rekindling | Joseph O'Brien | Corey Brown | 4 | 51.5kg | $12 |
| 23 | | Amelie's Star | Darren Weir | Dean Yendall | 10 | 51kg | $21 |
| 24 | | Cismontane | Gai Waterhouse & Adrian Bott | Beau Mertens | 17 | 50kg | $67 |
Key dates for Melbourne Cup field declaration
In 2017, the schedule for the release of nominations are as follows:
First Nominations – Tuesday, August 29
Late Nominations – Tuesday, September 5
Handicaps Declared – Tuesday, September 12
First Declarations – Tuesday, October 10
Second Declarations – Monday, October 30
Final Declarations – Saturday, November 4
We took a look at the contenders for this year's Melbourne Cup and gave our impressions on the race that stops a nation ahead of what looms as one of the hardest races to predict in the Australian spring.

Runner-by-runner guide for the 2017 Melbourne Cup
1. Hartnell (12) (GB)

$26

Jockey: Damian Lane 57.5kg
Trainer: James Cummings
7yo Bay Gelding
After wisely bypassing the 2017 Cox Plate and another futile showdown with Winx, Hartnell's sole focus has been on the Melbourne Cup. The horse unfortunately is not travelling anywhere near as well as last year after finishing ninth in the Caulfield Stakes and it would take a big form reversal to see the Godolphin runner finishing in the placings.
2. Almandin (14) (GER)

$9

Jockey: Frankie Dettori 56.5kg
Trainer: Robert Hickmott (Lloyd Williams)
8yo Bay Gelding
Forget the last-start run in the Bart Cummings Stakes, Almandin's frankly remarkable form saw it installed as a false favourite for that race. The fourth-placed finish in that race was enough to suggest the horse will be cherry-ripe heading into the Cup and we believe it's a great chance to score back-to-back Melbourne Cup victories. It's drifting in the market with money coming for Marmelo, but he represents a serious winning chance.
3. Humidor (13) (NZ)

$10

Jockey: Blake Shinn 56kg
Trainer: Darren Weir
5yo Bay Gelding
Humidor didn't fire in the Caulfield Cup, but the Darren Weir-trained runner looked impressive in the Cox Plate. The former New Zealand runner pushed Winx to within a length in the greatest weight-for-age race in the world. That run should see him in peak order for the Melbourne Cup, but the only concern is whether it can settle well enough over the two mile distance to feature in the finish.
4. Tiberian (23) (FR)

$31

Jockey: Olivier Peslier 55.5kg
Trainer: Alain Couetil
6yo Bay Gelding
French galloper Tiberian is one of the more versatile horses in the race, and a win in the Melbourne Cup would see it win its third-straight race. Had it not been for an ordinary seventh in the Group One Grand Prix de Saint-Cloud back on July 2, the horse could be hunting for a sixth-straight success. To our eye its the best horse coming down under for the Cup, and while no Australian starts is somewhat of a question mark, we think the horse is going to be well in commission here.
5. Marmelo (16) (GB)

$8.50

Jockey: Hugh Bowman 55kg
Trainer: Hughie Morrison
5yo Bay Gelding
All connections for Marmelo were looking for was a solid tune up run in the Caulfield Cup and that is exactly what they got from the British import. Looking to follow in the footsteps of Protectionist and Americain by winning the Group Two Prix Kergorlay in France before winning the Melbourne Cup in the same year, Marmelo looks well placed to replicate the feats of runners past. The bigger bets have come for Marmelo throughout the week, which now sees it equal favourite with Almandin.
6. Red Cardinal (24) (IRE)

$21

Jockey: Kerrin McEvoy 55kg
Trainer: Andreas Wohler
6yo Bay Gelding
This horse is a difficult one to gauge. Coming out of the same French race as Marmelo, Red Cardinal was never truly in the Prix Kergorlay, which was ran at a snail's pace. Prior to that however, the horse gained entry into the Cup after a brilliant win in the Group Three Belmont Cup in America. This horse has similar traits to fellow German runner Protectonist, which won the Melbourne Cup back in 2014. In-form jockey Kerrin McEvoy takes the ride and his brilliance will be needed after Red Cardinal received barrier 23.
7. Johannes Vermeer (3) (IRE)

$10

Jockey: Ben Melham 54.5kg
Trainer: Aidan O'Brien (Lloyd Williams)
5yo Bay Stallion
Johannes Vermeer was never a true winning threat in the Caulfield Cup for us despite what many would have you believe, but the horse is a true Melbourne Cup contender following its strong performance for third. Missing the start and encountering trouble throughout the run, the horse thundered to the line to round out the placings and if he can stay the 3200m distance, he's right in the Melbourne Cup mix.
8. Bondi Beach (1) (IRE)

$67

Jockey: Michael Walker 54kg
Trainer: Robert Hickmott (Lloyd Williams)
6yo Bay Stallion
Bondi Beach is clearly past its best and its form leading into the 2017 Melbourne Cup has been anything but extraordinary. Robert Hickmott will try work his magic on the six-year-old, but the odds tell the full story.
9. Max Dynamite (2) (FR)

$15

Jockey: Zac Purton 54kg
Trainer: Willie Mullins
8yo Bay Gelding
After avoiding the Cup last year, Max Dyanmite is looking to replicate the form which saw it finish second in the 2015 edition to shock winner Prince Of Penzance. A last-start win in Killarney convinced Willie Mullins to bring the horse back, but the horse did not beat a lot in that race as a $1.45 favourite. Too short for our liking and we'll be avoiding the French import.
10. Ventura Storm (6) (IRE)

$35

Jockey: Glenn Boss 54kg
Trainer: David & Ben Hayes & Tom Dabernig
5yo Bay Stallion
The Caulfield Cup run for Irish runner Ventura Storm was described as "disappointing" by jockey Damien Oliver, and after a bit of hype around the horse, punters have jumped off. Olly also said the horse's mind "wasn't on the job" in the Caulfield feature, which concerns us too. Looms as a horse simply making up the numbers and there hasn't been any money for it.
11. Who Shot TheBarman (20) (NZ)

SCRATCHED

Jockey: Tommy Berry 54kg
Trainer: Chris Waller
9yo Bay Gelding
Withdrawn Sunday 5th November 2017 with an elevated temperature.
12. Wicklow Brave (8) (GB)

$61

Jockey: Stephen Baster 54kg
Trainer: Willie Mullins
9yo Bay Gelding
While not the most eye-catching of runs in the Caulfield Cup, Wicklow Brave got through the race unscathed. Jockey Joao Moreira commented that the horse copped interference which could have seen it finish closer to the place-getters. Looms as another that will be simply making up the numbers, but it might attract punters wanting their shot at glory.
13. Big Duke (5) (IRE)

$19

Jockey: Brenton Avdulla 53.5kg
Trainer: Darren Weir
6yo Bay Gelding
Winning the re-instated St Leger at Randwick was a huge tick for Big Duke, which will come in well prepared for the Melbourne Cup. The horse has proven it can compete well at the journey after placing in the Group One Sydney Cup and will benefit greatly from being an overseas raider that has had all year to get used to the Australian conditions. He might be tested at this distance and he possesses a good turn-of-foot, but the odds are appealing.
14. US Army Ranger (22) (IRE)

$61

Jockey: Jamie Spencer 53.5kg
Trainer: Joseph O'Brien (Lloyd Williams)
5yo Bay Gelding
Last year we would have given the horse a huge chance of being competitive here, but as a four-year-old US Army Ranger has been been less than stellar. Finishing dead last in two of its last four races, the horse has failed to win May of 2016. We are more than happy to let others invest here as there are better betting opportunities available.
15. Boom Time (9) (AUS)

$31

Jockey: Cory Parish 53kg
Trainer: David & Ben Hayes & Tom Dabernig
6yo Bay Gelding
The Hayes and Daberning-runner received a 1kg penalty following its stunning win in the Caulfield Cup. Could lightning strike twice? Unlikely but no one gave it a chance at Caulfield either and he's a tough customer which will lope along and see out the distance.
16. Gallante (18) (IRE)

$126

Jockey: Michael Dee 53kg
Trainer: Robert Hickmott (Lloyd Williams)
7yo Bay Gelding
Seven-year-old which hasn't run a good race in some time. Unsure why it's in the field as it doesn't even represent an outside chance. We'd be surprised to see the stayer finish in the first half of the field.
17. Libran (7) (IRE)

$51

Jockey: Dwayne Dunn 53kg
Trainer: Chris Waller
7yo Brown Gelding
Libran ran on well behind Who Shot Thebarman in the Moonee Valley Cup, but the Chris Waller-trained runner only battled in the St Leger and The Metropolitan in Sydney. Its win in the Kingston Town was good enough to see it finish close to the firs four here, but we believe his best chances would come on a slow surface.
18. Nakeeta (19) (GB)

$41

Jockey: Glyn Schofield 53kg
Trainer: Iain Jardine
7yo Bay Gelding
Looms as an over the odds horse for our liking. Was given a gun ride in an unusually weak Ebor Handicap at York to take the race out, but the most startling thing out of that race has been horses inability to win following that event. Prior to that Ebor win, the horse had not won since 2015. Would need to improvement considerably to be a contender here and drawing wide hasn't done it any favours.
19. Single Gaze (11) (AUS)

$41

Jockey: Kathy O'Hara 53kg
Trainer: Nick Olive
5yo Chestnut Mare
A massive run in the Caulfield Cup will see punters invest on the horse coming into the Melbourne Cup, but we think your money is better spent elsewhere. The horse has ran just once at Flemington, yielding a fifth placed finish in the Bart Cummings Stakes. A good, honest competitor that will be outclassed here.
20. Wall Of Fire (15) (IRE)

$13

Jockey: Craig Williams 53kg
Trainer: Hugo Palmer
5yo Bay Stallion
Wall Of Fire has had one run since coming to Australia from Ireland, finishing second in Group Two Herbert Power Stakes. That run was enough to earn it a start in the Melbourne Cup and punters have come for him. He's been one of the best backed runners in the field and having Craig Williams in the saddle at a light weight will give it every chance.
21. Thomas Hobson (21) (GB)

$17

Jockey: Joao Moreira 52kg
Trainer: Willie Mullins
9yo Bay Gelding
Thomas Hobson isn't a desired pick for the 2017 Melbourne Cup as its best form comes over the hurdles, but the international runners should be respected and it could run in the top 10.
22. Rekindling (4) (GB)

$12

Jockey: Corey Brown 51.5kg
Trainer: Joseph O'Brien (Lloyd Williams)
5yo Bay Gelding
How this horse has settled in Australia following a journey from the UK is the big unknown factor here. Running a cracking fourth in the St Leger was a massive effort after encountering trouble, and the form suggests it is one of the horses to beat here. Again, it comes down to how well the horse aclimitises in Australia and how it works at its Werribee base.
23. Amelie's Star (10) (AUS)

$18

Jockey: Dean Yendall 51kg
Trainer: Darren Weir
6yo Bay Mare
The Bart Cummings Stakes winner was a chief contender in the Caulfield Cup, but following a puzzling decision from Craig Williams to steer the horse to the front, Amelie's Star failed to fire and finished at the tail end of the field. Williams said the horse "had to use petrol to get there" and was gallant under the circumstances. A better draw will help but we think the horse will struggle to be competitive in the big one.
24. Cismontane (17) (AUS)

$61

Jockey: Beau Mertens 50kg
Trainer: Gai Waterhouse & Adrian Bott
5yo Bay Gelding
Cismontane was a gutsy winner of the Lexus Stakes, but that hasn't been a great form guide since Shocking won the Melbourne Cup in 2009. There's no denying its talent and its will to win, but we can't have it finishing in the placings against some of the more seasoned Europeans.
Place Your Bets