HorseBetting will bring you the complete list of Melbourne Cup runners once the barrier draw is conducted on Saturday, November 2. Until then, read on to find out more about the Melbourne Cup field and how it is determined.

How do horses qualify for the Melbourne Cup?
More than 150 horses earned Melbourne Cup nominations in 2019, but there is only room for 24 in the final field. There are two common routes to the race that stops a nation:
Exemptions
A horse can gain automatic entry into the Melbourne Cup field by winning one of several designated qualifying races. These are the Andrew Ramsden Stakes, The Bart Cummings, Lexus Stakes, Cox Plate and Caulfield Cup in Australia, as well as the Irish St Leger and Japan's Tenno Sho.
Ballot
Unless they have won exemption through one of the aforementioned races, nominated horses must try their luck in the Melbourne Cup ballot. Each ballot contender is listed in the Melbourne Cup order of entry, which ranks the prospective runners based on key criteria such as recent results, prize money and handicaps.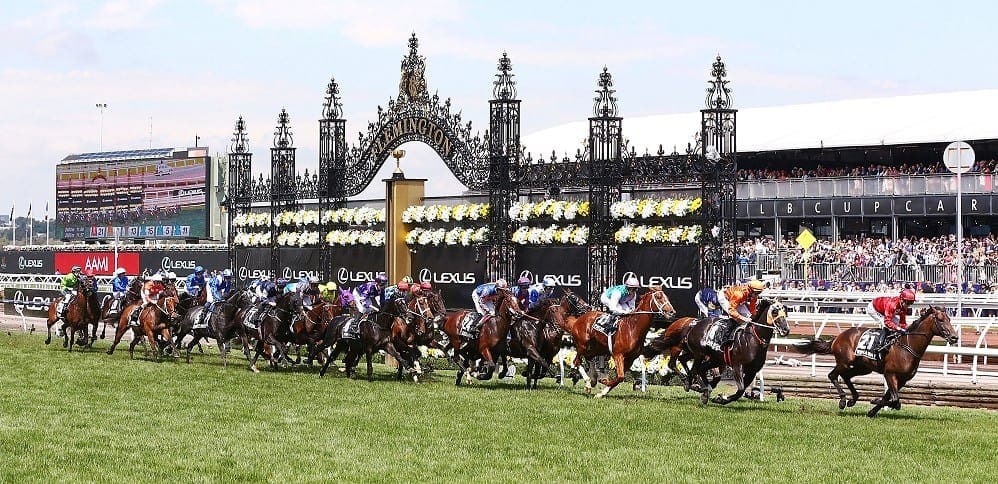 When is the Melbourne Cup field announced?
The final field for the 2019 Melbourne Cup will be confirmed on Saturday, November 2, just before the barrier draw is conducted from 7pm AEDT at Flemington Racecourse. See the table below for all the key dates in the lead-up to the first Tuesday of November.
| Nominations | Date |
| --- | --- |
| First Nominations | Thursday, August 29 |
| Last Nominations | Tuesday, September 3 |
| Handicaps Declared | Tuesday, September 10 |
| First Declarations | Tuesday, October 8 |
| Second Declarations | Monday, October 28 |
| Final Field & Barrier Draw | Saturday, November 2 |
| Melbourne Cup Day | Tuesday, November 5 |
2019 Melbourne Cup Field
| No. | Silks | Horse | Trainer | Jockey | Barrier | Weight | Odds |
| --- | --- | --- | --- | --- | --- | --- | --- |
| 1 | | Cross Counter | Charlie Appleby | William Buick | 5 | 57.5kg | $13 |
| 2 | | Mer De Glace | Hisashi Shimizu | Damian Lane | 2 | 56kg | $9 |
| 3 | | Master Of Reality | Joseph O'Brien | Frankie Dettori | 1 | 55.5kg | $26 |
| 4 | | Mirage Dancer | T Busuttin & N Young | Ben Melham | 13 | 55.5kg | $34 |
| 5 | | Southern France | C Maher & D Eustace | Mark Zahra | 14 | 55.5kg | $23 |
| 6 | | Hunting Horn | Aidan O'Brien | Seamie Heffernan | 11 | 55kg | $46 |
| 7 | | Latrobe | Joseph O'Brien | James Mcdonald | 13 | 55kg | $46 |
| 8 | | Mustajeer | Kris Lees | Damien Oliver | 6 | 55kg | $21 |
| 9 | | Rostropovich | D & B Hayes & T Dabernig | Dwayne Dunn | 12 | 55kg | $101 |
| 10 | | Twilight Payment | Joseph O'Brien | Hugh Bowman | 19 | 55kg | $41 |
| 11 | | Finche | Chris Waller | Kerrin McEvoy | 4 | 54kg | $41 |
| 12 | | Prince Of Arran | Charlie Fellowes | Michael Walker | 8 | 54kg | $19 |
| 13 | | Raymond Tusk | Richard Hannon | Jamie Spencer | 3 | 54kg | $23 |
| 14 | | Downdraft | Joseph O'Brien | John Allen | 15 | 53.5kg | $20 |
| 15 | | Magic Wand | Aidan O'Brien | John Allen | 14 | 53.5kg | $19 |
| 16 | | Neufbosc | D & B Hayes & T Dabernig | Luke Nolen | 23 | 53.5kg | $251 |
| 17 | | Sound | Mike Moroney | James Winks | 10 | 53.5kg | $126 |
| 18 | | Surprise Baby | Paul Preusker | Jordan Childs | 20 | 53.5kg | $15 |
| 19 | | Constantinople | D & B Hayes & T Dabernig | Joao Moreira | 7 | 52.5kg | $10 |
| 20 | | Il Paradiso | Aidan O'Brien | Wayne Lordan | 17 | 52.5kg | $14 |
| 21 | | Steel Prince | Anthony Freedman | Brett Prebble | 16 | 52.5kg | $71 |
| 22 | | The Chosen One | M Baker & A Forsman | Tim Clark | 18 | 52kg | $71 |
| 23 | | Vow And Declare | Dan O'Brien | Craig Williams | 21 | 52kg | $12 |
| 24 | | Youngstar | Chris Waller | Tommy Berry | 9 | 52kg | $34 |
2018 Melbourne Cup Field
| No. | Silks | Horse | Trainer | Jockey | Barrier | Weight | Odds |
| --- | --- | --- | --- | --- | --- | --- | --- |
| 1 | | Best Solution | Saeed bin Suroor | Pat Cosgrave | 6 | 57.5kg | $15 |
| 2 | | The Cliffsofmoher | Aidan O'Brien | Ryan Moore | 9 | 56.5kg | $17 |
| 3 | | Magic Circle | Ian Williams | Corey Brown | 17 | 56kg | $8.50 |
| 4 | | Chestnut Coat | Yoshito Yahagi | Yuga Kawada | 4 | 55.5kg | $9.50 |
| 5 | | Muntahaa | John Gosden | Jim Crowley | 13 | 55.5kg | $10 |
| 6 | | Sound Check | Mike Moroney | Jordan Childs | 16 | 55.5kg | $67 |
| 7 | | Who Shot TheBarman | Chris Waller | Ben Melham | 18 | 55.5kg | $8.50 |
| 8 | | Ace High | David Payne | Tye Angland | 22 | 55kg | $11 |
| 9 | | Marmelo | Hughie Morrison | Hugh Bowman | 10 | 55kg | $17 |
| 10 | | Avilius | James Cummings | Glyn Schofield | 11 | 54.5kg | $13 |
| 11 | | Yucatan | Aidan O'Brien | James McDonald | 12 | 54.5kg | $4.50 |
| 12 | | Auvray | Richard Freedman | Tommy Berry | 13 | 54kg | $91 |
| 13 | | Finche | Chris Waller | Zac Purton | 15 | 54kg | $26 |
| 14 | | Red Cardinal | Darren Weir | Damien Oliver | 2 | 54kg | $34 |
| 15 | | Vengeuer Masque | Mike Moroney | Patrick Moloney | 7 | 54kg | $67 |
| 16 | | Ventura Storm | Hayes, Hayes & Dabernig | Mark Zahra | 20 | 54kg | $34 |
| 17 | | A Prince of Arran | Charlie Fellowes | Michael Walker | 3 | 53kg | $15 |
| 18 | | Nakeeta | Iain Jardine | Regan Bayliss | 14 | 53kg | $81 |
| 19 | | Sir Charles Road | Sullivan & Scott | Dwayne Dunn | 24 | 53kg | $101 |
| 20 | | Zacada | Forsman & Baker | Damien Lane | 24 | 53kg | $126 |
| 21 | | Runaway | Waterhouse & Bott | Stephen Baster | 12 | 52kg | $34 |
| 22 | | Youngstar | Chriss Waller | Craig Williams | 8 | 51.5kg | $21 |
| 23 | | Cross Counter | Charlie Appleby | Kerrin McEvoy | 19 | 51kg | $9 |
| 24 | | Rostropovich | Aidan O'Brien | Wayne Lordan | 21 | 51kg | $21 |
Melbourne Cup Guides & Recommended Bookmakers

Our Top Melbourne Cup Bookmakers