The Manikato Stakes is one of the sprinting highlights of the spring carnival and the list of past winners is quite incredible. The Group 1 weight-for-age sprint is worth $1 million and is run at Moonee Valley in late October. Run over 1200m, the Manikato Stakes is a fast-and-furious sprint around the tight track which makes for great viewing.
Punters love a bet on the Manikato Stakes and even more so since it became a night-racing feature in 2012 when Sea Siren scored the win. There have been three champion winners since 2012 which includes Buffering, Lankan Rupee and Chautauqua – showing racing under the lights at Moonee Valley brings out the best in the thoroughbreds.
There have been plenty of champion winners over the course of history, most notably the mares. Gold Edition, Miss Andretti, Spinning Hill and Sunline have all won the Manikato Stakes.
2017 Manikato Stakes result
1st – Hey Doc
2nd – In Her Time
3rd – Malaguerra
2016 Manikato Stakes result
1. Rebel Dane – $51.90
2. Fell Swoop – $2.30
3. Japonisme – $4.10
Quinella – $151.50
Trifecta – $3914.50
Best Manikato Stakes bookmakers
All of our recommended bookmakers offer betting on the Manikato Stakes, but many of them wait till nominations have been received. Betting should open around August for the Manikato Stakes and the following bookmakers will supply all the necessary information, markets, odds and you'll find all the tips right here at Horsebetting.com.au.
Prominent bookmakers' Sportsbet and Crownbet will offer various promotions on the Manikato Stakes which could feature bonus bets, cash back and exotic bets. Check our Bonus Bets section for updated Manikato Stakes specials.
Recent winners of the Manikato Stakes
2017: There was plenty of drama before and after the race, but Hey Doc was simply too speedy for its opposition. The Tony McEvoy-trained runner crossed to the front just after the start and it was never headed. There was a protest lodged by the connections of In Her Time, stating that Hey Doc crossed too closely to the Queensland-based mare, but it was quickly dismissed. Race favourite Vega Magic didn't run well and the drama before the race included the scratching of Chautauqua and the decision to clear English. Read our take here.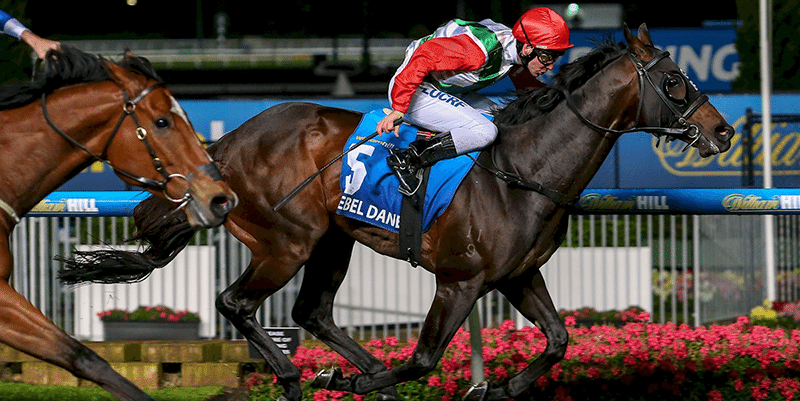 2016 – Rebel Dane
Rebel Dane caused a big upset in 2016 when winning at odds of $51. The Gary Portelli-trained gelding used the inside part of the Moonee Valley track when rival runners searched wide, but with a steady ride from Ben Melham, Rebel Dane was able to secure another Group one win. 2015 winner Chautauqua didn't fire in the straight and 2013 winner Buffering was retired following its run. Read race report here.
2015 – Chautauqua
Champion grey Chautauqua was a blistering winner in 2015 with its patented come-from-behind style. The Team Hawkes-trained star was heavily favoured to win at odds of $2.25 and it didn't let punters down in one of the most exciting finishes in the races' history.
It has since gone on to win many more group 1 races including the Chairman's Sprint in Hong Kong and winning the Manikato gave it that springboard to international success.
It defeated Srikandi (2nd) and Rebel Dane (3rd) and both have had stellar careers since.
2014 – Lankan Rupee
If you want to see one of the busiest finishes ever at Moonee Valley, the Youtube the 2014 Manikato Stakes.
Lankan Rupee came into the race as the raging-hot favourite and closed at around $1.35 with most bookmakers. Punters had nervous moments throughout the 1200m race as a swarm of horses were spread across the straight with Lankan Rupee sticking its nose out on the line.
The win confirmed just how tough Lankan Rupee was and it later added the Group 1 Lightning Stakes to its trophy cabinet. It failed in three subsequent runs and was retired in 2015 due to a string of injuries.
2013 – Buffering
Buffering is another Manikato Stakes winner which has tasted success overseas. The Robert Heathcote-trained sprinter has since won in Dubai and although it paid $6.50 to win the Manikato in 2013, the win didn't really come as a surprise to anyone.
The 2013 edition was an international affair with Hong Kong's Lucky Nine finishing into second placing with Darley's Sessions in third. Buffering continues to run at an elite level and it shows just how important a Manikato Stakes win is.
2012 – Sea Siren
Talented mare Sea Siren won paying $4.50 in 2012 and it defeated Mental in the process which was well fancied.
Sea Siren won the Manikato in a fresh-up state which has become a popular tactic for trainers looking further into the Melbourne spring carnival. Four of the last 12 winners have won fresh up with Spinning Hill doing it on two occasions.
2011 – Sepoy
What a field the 2011 Manikato Stakes produced. Sepoy was the firm $1.90 favourite with bookmakers in a field which included the likes of Sister Madly (2nd), More Joyous (3rd) and Buffering (4th).
Punters of Sepoy thought their money was gone after it blew the start, but it quickly rallied and soon took the lead with 800m to go. Carrying only 52kg with Kerrin McEvoy helped and it cruised down to victory in one of the most impressive Manikato Stakes ever.
Manikato Stakes betting info
Six of the last 10 winners of the Manikato Stakes have been favourites which have included the likes of Chautauqua, Lankan Rupee, Sepoy and Hay List.
Only two favourites from the last 10 years have failed to place. The Manikato is a race for favourites so when the market opens up for the upcoming race, look towards the well-favoured runners.
There have been two double-figure odds winners from the last 10 years. Danleigh in 2009 which paid $17 and Rebel Dane in 2016 which paid big odds of $51. However, there have been some high-profile horses taste defeat. Sunline ran second as the $2.10 favourite, Bel Esprit ran second as the red-hot $1.40 favourite and Chautauqua couldn't justify its $2.25 price in 2016.
The best jockeys to bet on have been Damien Oliver and Kerrin McEvoy. Oliver has won two from 18 attempts with nine placings and McEvoy has won twice with three placings from six starts. Following those two jockeys should see you right this year.
In the training ranks, many winners have come from trainers having heir first start in the race. Look for the lesser-known trainers for a good betting guide.
Manikato Stakes winners list
2017 – Hey Doc
2016 – Rebel Dane
2015 – Chautauqua
2014 – Lankan Rupee
2013 – Buffering
2012 – Sea Siren
2011 – Sepoy
2010 – Hay List
2009 – Danleigh
2008 – Typhoon Zed
2007 – Gold Edition
2006 – Miss Andretti
2005 – Spark Of Life
2004 – Spark Of Life
2003 – Spinning Hill
2002 – Spinning Hill
2001 – Piavonic
2000 – Sunline
1999 – Redoute's Choice
1998 – Dane Ripper
1997 – Spartacus
1996 – Poetic King
1995 – You Remember
1994 – Spanish Mix
1993 – Never Undercharge
1992 – King Marauding
1991 – Sonic Express
1990 – Street Ruffian
1989 – Our Westminster
1988 – Rancho Ruler
1987 – Rubiton
1986 – Lockley's Tradition
1985 – Touch Of Genius
1984 – Vite Cheval
1983 – Strawberry Road
1982 – Manikato
1981 – Silver Bounty
1980 – Grey Sapphire
1979 – Manikato
1978 – Vice Regal
1977 – Ease The Squeeze
1976 – Scamanda
1975 – Lord Dudley
1974 – Tauto
1973 – Tauto
1972 – Century
1971 – Dual Choice
1970 – Dual Choice
1969 – Vain
1968 – Winfreux