Best Neds bonus code for horse racing 2022
Our Neds referral code is GETON, with this code tagging you as a horsebetting.com.au partner. The Neds code is no longer a bonus code, with new account incentives banned under Australian gambling laws. This means our Neds.com.au promo code for horse racing has lost a lot of its power in 2022.

bet365 registration code
---
What is the Neds bookmaker referral code?
Before the Australian Federal Government implemented the bonus bet ban, The Neds referral code was known as the Neds bonus code, which provided punters with various incentives including bonus bets when they signed up with new bookmakers, but this has now been outlawed.
The new term is referral codes, with these part of the sign up process at Australian online bookmakers, but bonus bets are no longer allowed on Australian shores.
Referral codes former gave customers access to extra features within certain betting sites, such as Neds.com.au, who are one of the few Australian bookmakers with a functional referral code.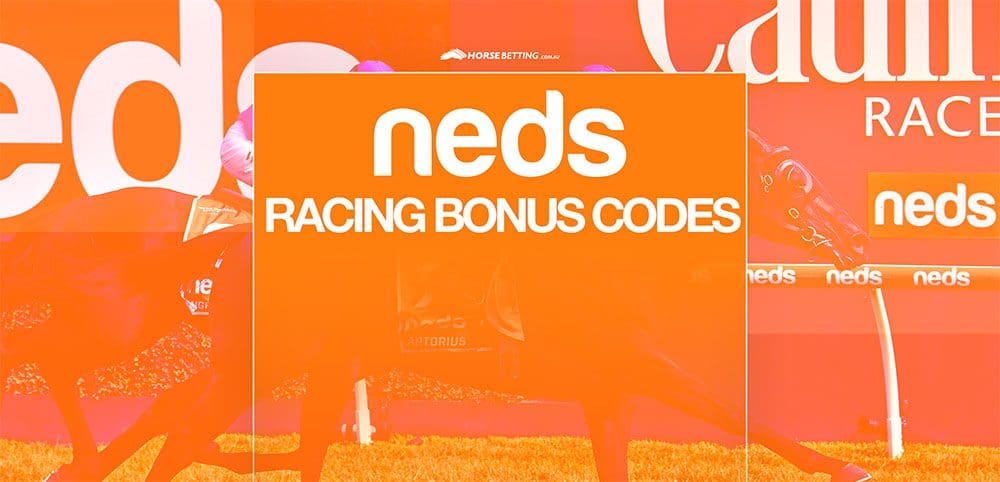 ---
Six reasons to apply the Neds bonus code
Using the Neds.com.au referral code GETON, you will have access to one of the leading Australian racing bookmakers. Not only do punters get access to the Neds racing coverage, they will also get a look at the great goodies the bookie gives customers from time to time.
Neds reputation:
Neds is easily one of the top horse betting sites in Australia and they run some outstanding promotions which have taken Australia by storm. With such a great reputation among punters, you can rest easy knowing you will always get paid out and have a strong customer service team to handle any queries.
Neds betting apps:
This online bookmaker has got some of the better betting apps that operate in the Australian wagering market. These are available to those who have Android and iOS smartphones and tablets. Others can still use the Neds bonus code via their mobile website or desktop site.
Same race multis:
While you don't specifically need a Neds promo code to use this feature, they are one of the few Aussie bookies that have same race multis. These horse racing bet types essentially allow you to put several wagers on the same race, on the same ticket. This can result in some huge payouts for punters.
Convenient payment options:
Like most Aussies bookies, Neds has got easy deposit options for customers. They essentially allow you to use all the common payment types that you use for online banking at a bookmaker.
Neds Card:
If you sign up and use the Neds referral code GETON, you will automatically qualify for a Neds Card. The Neds Card acts as a debit card, except instead of your savings, it will be linked directly with your betting account, allowing punters to instantly withdraw cash.
With bonuses like these available, using the GETON Neds referral code is one of the best moves a punter can make in 2022.
---
Why was the Neds bonus code banned?
Back in 2018, the Australian Federal Government passed an order to officially ban any form of bonus bets in Australia, which included bonus codes at bookmakers.
The previous Neds bonus code was terminated and is no longer available, which was the story for all bookmakers in Australia at the time.
You can still sign up with the current Neds referral code, as it does not clash with any of the laws brought in by the NGF.
---
What happened to the Neds sign up bonus?
It is now illegal for betting companies and bookmakers to offer incentives for signing up new accounts, which means the Neds sign up bonus code has been taken down.
In the past, you could sign up with Neds and receive a bookie free bet equal to your first deposit, but with free bonus bets now illegal, that bonus was quickly concluded.
The new referral code bypasses this as it gives punters access to the Neds Toolbox, an extra feature that is already imbedded into the bookmaker.
Much like Neds, you will not find any signup bonuses for bookmakers in Australia, which is why referral codes have increased heavily in value. If you are looking for a Neds ssignup bonus, you will not find one, as they have been outlawed, meaning you will not get a bonus for simply opening an account.
---
Is the Neds promo code worth your time?
You may already have a betting account linked with another bookmaker, but that does not mean you should miss out on everything Neds.com.au has to offer.
Former Ladbrokes CEO, Dean Shannon, launched Neds back in 2017 and has built the company into one of Australia's finest bookmakers, which has grown quickly in the past 24 months.
Knowing the company is owned by the same parent company as Ladbrokes Australia, GVC Holding, there is plenty of reason to trust the direction Neds is heading towards.
As one of the few bookmakers who offer a referral code, Neds is already ahead of the game, providing players with more than their competitors from the get-go.
Specialising in all three racing formats and various sports, you cannot go wrong with Neds.com.au, who's app functionality seamlessly blends the many racing and sporting events.
If you want to learn more about what Neds.com.au has to offer, you can check out our full review of the online bookmaker, or go ahead and apply the Neds bonus code GETON.
---
Alternatives to the Neds bonus code
While we do recommend applying our Neds bonus code, there are several other bonus and promo code offers that you can apply to new bookie accounts:
---
Neds 2022 referral code verdict

bet365 registration code
Neds having a referral code, while also receiving the other added extras at all times gives Neds.com.au a huge tick of approval, as other bookmakers are not offering any referral codes at all. The horse racing Neds bookmaker features are all crucial for any level of punter, as they can all be used to help out even the most experienced of players. Joining with the Neds referral code GETON has no downside and is extremely easy to activate, which is why any punter that is interested in opening a new account or switching to a fresh new bookmaker should make the change today.