The pros and cons of bringing your partner to the races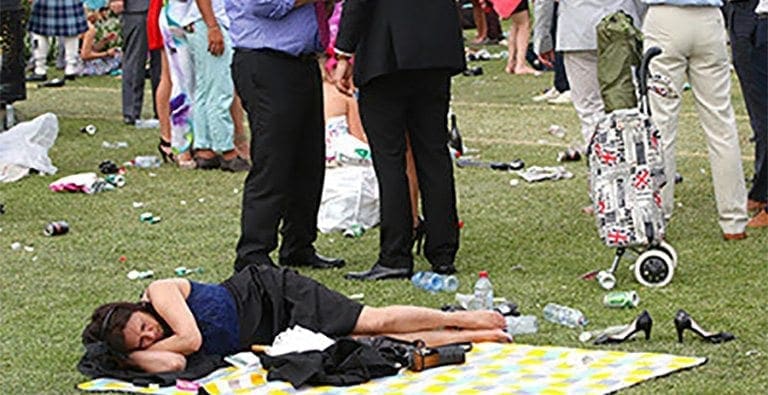 IT happens about once or twice a year.
You're heading to the track for a big day at the races and you're bringing the better half.
It can be at Flemington, Randwick or even a local cup day.
You've dusted off the suit you wear three times a year for weddings. The girlfriend is wearing a nice dress she's asked you about 15 times in the lead up.
The boys have brought their wives and girlfriends along too. It's going to be a big day for the group – not exactly like the days where it's just the boys.
While women play just as big a part in the success of the racing industry as men, there's no doubting that for the boys, a day at the races with your partner can be much different than a day without.
We've taken a look at the pros and cons of a day at the races with the loves of our lives:

Sport Table
Pros of taking your partner to the races
Having someone to brag to when your roughie gets up:
No matter how long the odds are on a horse you tipped to win, there is every chance your mates are going to move on pretty quickly – or worse still, ask you to buy drinks for the rest of the day.
It takes a lot to impress your mates, and if you did not give them the tip prior to the race, or you're reluctant to share the winnings you will be scolded for the rest of the meet.
Not your girlfriend however.
You may have to shell out for a few glasses of champagne throughout the day, but that's a small price to pay to re-live the glory of your win over and over again.
Having not completely understood the flukiness of your win, you'll get the chance to look like an expert to boot.
You don't have to hang around that dickhead mate:
Every group of blokes has the 'dickhead' – a guy that's behaviour is barely tolerated, usually because he's pretty generous with his cash and alcohol-buying.
This guy is usually smashed by 10am, screaming over-excessively at his $5 each way bet on an even money favourite and fawning over footy players like they are gods.
When you are there with the lads you're forced to put up with him, but your girlfriend won't want to be seen anywhere near this idiot – and that's where you can benefit.
You may have an awkward, drunken hug forced upon you and your partner, but when you've had enough of him, you've got the perfect excuse and it never has to be your fault.
Having a calm head around to stop you going over the edge:
There are few things in life that hurt more than your "sure thing" of the day getting nosed out in a photo-finish.
Unless your mates are on board and feeling your pain, you are getting no sympathy there. Which is why it's never a bad thing to have your partner there to moan to after a bad beat.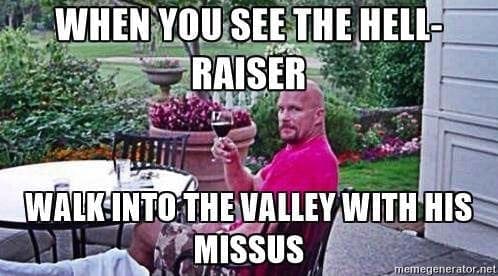 While you're running solo with the lads and you've had some extra $15-per-glass scotch in the system, you're more than likely to go chasing your losses and break the bank.
When the better half is around, that's not going to happen. You're simply not going to break the bank and leave the place without shoes and a shirt – at least not if you're interested in still seeing her afterwards.
Shared betting means you only foot half the bill:
Ever walk away from the punt down $500 thinking "what the hell just happened?"
Go to the races alongside your girlfriend and you've only truly walked away down $250!
She wants to go to the races, she wants to be in on the gambling fun, she wants to pick some horses – she forks out half the bill!
Worse comes to worse, you may be able to get them to at least pay for the taxi home.
Earning the brownie points:
How often does your girlfriend get to buy a new dress or a funny/stupid little hat – known as a fascinator for the simpletons – but never get to show it off?
Well, the races gives her ample opportunity to display her fashion sense to the wider community, all while you get to have a punt and show her off in the process.
Not only do you get a glorious day at the track, but she gets to feel special – and isn't that what's most important?
Probably not, but it doesn't hurt.
Cons of taking your girlfriend to the races
Sharing the winnings:
Let's face it, no punter who takes himself seriously is willing to share any profits with anyone unless it's a punters' club.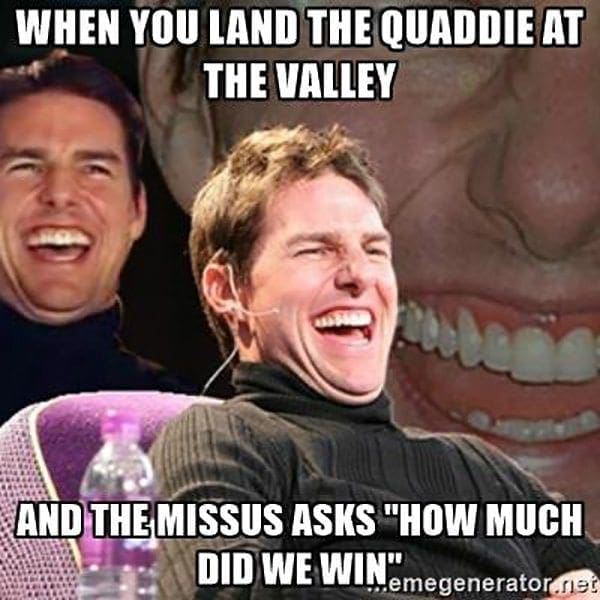 How often have we heard the term we though when we miraculously walk away up and about after a day at the races?
But because you and your partner are a team you share the winnings. Funny how they can go missing when your $1000 in the hole! All of a sudden your other mate Rick is looking like an attractive option to her!
Can't get around the boys:
What day at the races is complete without a few frothies?
Unfortunately, taking your partner along to the Valley on a Friday night invariably precludes you from over-indulging on the sauce and getting into the hijinks that goes hand-in-hand on course.
Some would argue this is a good thing, but we're not so sure.
The figurative – and literal – hand holding:
"Which one are we on again?" "What colour is it?" "Oh nine's my favourite number, let's bet on that!"
We've done the form, we know the trainers and the Magic Man is on board, we don't need to know which horse you think has the prettiest coat of them all, much less back the one wearing the hot pink silks.
To compound this, we are having to deal with the 13 toilet stops, alongside the inevitable holding of the heels at the end of the day when she's had enough of wearing those ill-fitting shoes.
Risking your wife seeing you on the coverage:
Whilst we do not condone infidelity here, we know there's a few cheeky lads out there, so here's a piece of advice for you: do not take your secret girlfriend to a public place where there is ongoing TV coverage.
This should go without saying, but some people tend to forget that the big race meets have free-to-air coverage.
Make sure if you do spot a camera though, you exude the grace and dignity of this man here:
The early exit
"Do we even need to see the last race? Haven't you lost enough?"
Just about every bloke with a girlfriend has heard this sentence at least once in his life if he's taken her to the races.
If there's an eight-race card that means there's eight races. Not six, not five, eight.
They call it the "Get Out Stakes" for a reason. The final race is a chance to win that hard earned back, do not deprive us of that ladies!