Melbourne Cup – Fashions on the Field
Whether you're going on a Melbourne Cup cruise, headed to a luncheon at a lavish restaurant, or getting in on the trackside action, you want to look your best.
Spring racing fashions are arguably just as important as the race that stops the nation and what you wear can pay off in more ways than one.
We cover the latest trends and rules when dressing for the Spring Racing Carnival, which can help you make the best dressed-list. From the extraordinary gold flower crowns to the polished Oxford dress shoes, we take a look at everything you need to know on how to dress for the Melbourne Cup Racing Carnival.
Also read: Weather at the Melbourne Cup.
How to dress for Derby Day
Derby Day sets the benchmark for the Spring Racing season, so it's important that you follow the fundamental rule of wearing black, white, or both. If you avoid wearing the monochrome tones, it's likely you'll have the instant attention of the Daily Mail's photographer, who needs someone to embarrass before racegoers get intoxicated.
Even if you're not headed to the The Birdcage, we recommend dressing as sophisticated as can be. But it's not as simple as wearing a black suit or a white dress – there are plenty more elements to consider when getting dressed on November 4.
Women should bet on black
Outfit
Looking chic can be achieved by wearing black on black, and you can make a big statement with a dress featuring bell sleeves, high necks, or intriguing layers. If you prefer all white, then opt for lace detailing on a silhouette dress to keep things interesting. If you're feeling bold, a sharp black jumpsuit or a crisp white pant suit will set you apart from the herd while staying on trend.
Headwear
Women can get away without wearing the extravagant headpieces on Derby Day, but if you want to dress up that pantsuit we recommend wearing the biggest trend for Spring/Summer 2017, which is a turban style headscarf. Opt for a beautiful plain white turban if you're wearing a white lace dress or a black turban to complement a bold black dress. Headbands are another great option, with gold flower crowns a perfect option to compliment a black on black ensemble.
Accessories
A chic outfit needs minimalist accessories, especially if you have chosen a dress with an intricate design, so opt for a small black clutch. If you want a splash of colour to brighten up a simple black or white dress, opt for gold accessories.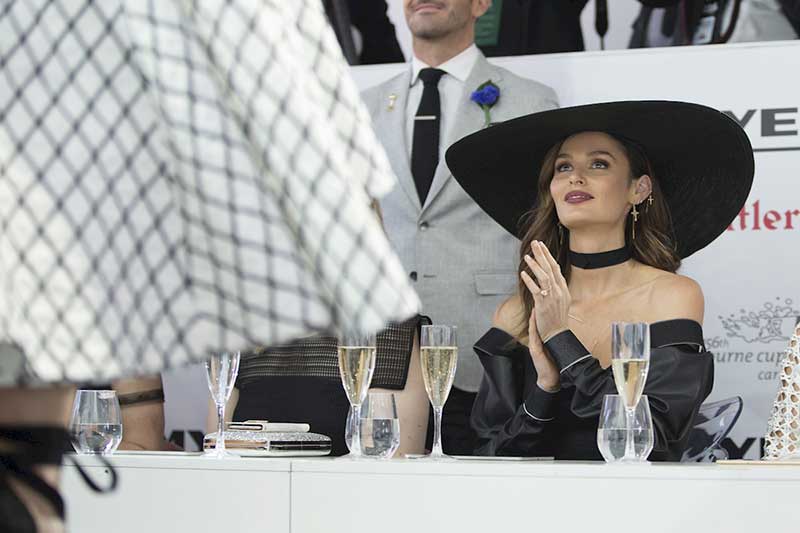 Men can push the boundaries with grey tones
Outfit
Derby Day is the considered to be the most formal day of all for men. A slick black suit with a crisp white shirt is donned by many. In recent years, however, men have mixed their blacks with their whites. You'll find many wear grey suit jackets with black pants and a white shirt. Want your horse to notice you from the track? Wear a grey suit, from top to bottom.
Shoes and accessories
Black oxford shoes are the way to go on Derby Day – save your browns for Cup Day and avoid patent shoes. Make sure they're polished and that you have fresh laces. If you want your suit to stand out from the sea of black, opt for a geometrical black and white tie or a pocket square. The official flower for Derby Day is the Cornflower, so be sure to pin one to your suit jacket.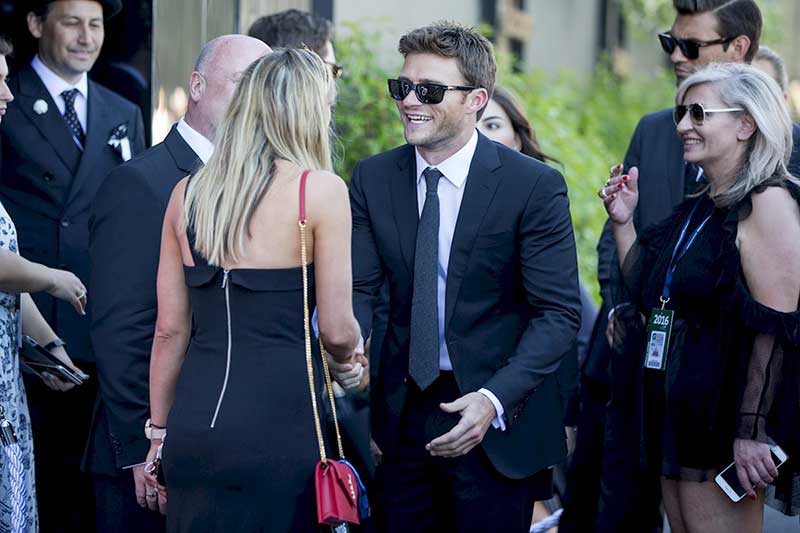 Melbourne Cup fashion guide
The first Tuesday of November is the best day of the year in both racing and fashion. There's no rules when it comes to colours, so women get to play around with sunny yellows, electric blues, and eye-popping pinks, while men get to experiment with splashes of colour, navy blue suits and even checks and stripes.
Cup Day is the best day of the year so if you've got an incredible outfit, save it for this day. If you're still looking, we've got you covered.
Women can stop the nation in vibrant colours
Outfit
Women have come a long way since the first Fashions on the Field in 1962, so make the most of it with a statement piece. Block colours are popular right now, so opt for a fierce red jumpsuit or dress. Prefer a feminine touch? Ruffles and layers are on trend, so a romantic ruffle pink dress will have heads turning for all the right reasons. If you'd rather fit in then stand out, spring florals are always a safe bet on Melboure Cup Day. Like Derby Day, a silhouette dress with bell sleeves is a popular choice – just opt for a striking colour.
Headwear
Cup Day is the perfect day to experiment with headwear. From stunning geometrical head pieces to gold crown headbands, we recommend experimenting with different sizes to see what works with your outfit. Satin scarves with bright prints or turbans wrapped in bows are set to be the main trend at this year's Melbourne Cup too.
Accessories
While you had to keep it sophisticated on Derby Day, you can go all out on Cup Day. If you've chosen a block colour, mix it up with a clutch featuring geometrical shapes with three matching block colours. For ruffles and layers, keep your bag simple by opting for a nude clutch. Statement earrings are a perfect match if you're keeping on trend with the turban/scarf look this year, while necklaces and bracelets are often left in the jewellery box.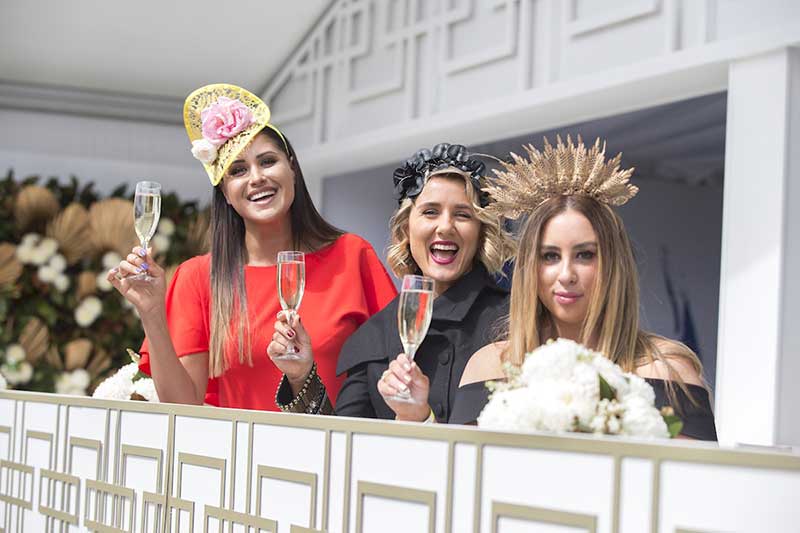 Male punters should risk it all
Outfit
Cup Day is the day where men can be the most daring with their suit colour choices. For those who like to play it safe, a stunning navy blue suit with a baby blue or white shirt is a great place to start. If you want to make a statement, you can start by mixing up your suit tones with a navy jacket and white pants. Or go that step further and opt for varying blue tones with stripes or checks. Play around with your shirt colours too, but be careful they match your accessories. If you want to wear a floral shirt, be sure the flowers feature the same colour as your jacket or tie. The best tip when dressing for Cup Day is to ensure the tones of the shirt, jacket and tie complement one another.
Shoes and accessories
Once again we recommend Oxford shoes – the pointy dress shoes. However, you can play around with colours, though, brown Oxfords complement a navy suit perfectly. If you've played it safe you can play around with sock colours, ties, and square pockets too. Floral ties are a great addition to a sophisticated navy blue suit, while a square pocket in a similar tone to your bow tie will really stand out. Don't forget to pin the Yellow Rose, which is Melbourne Cup flower, to your outfit.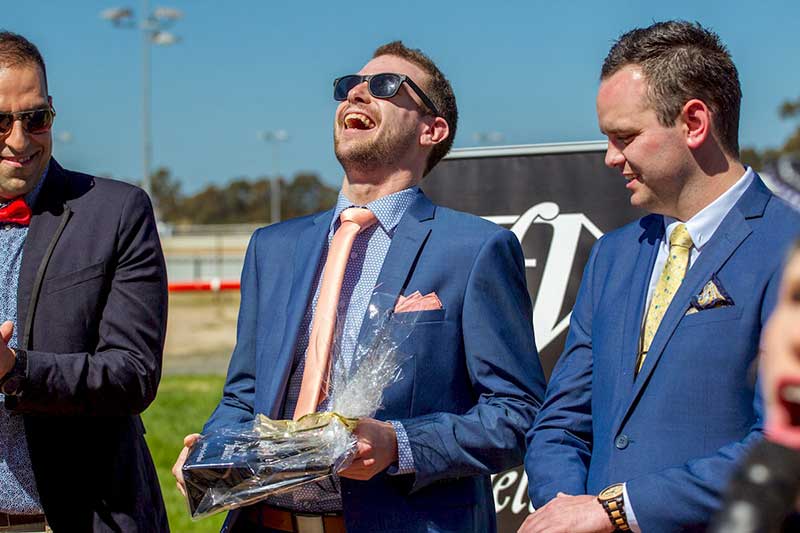 How to dress for Oaks Day
Oaks Day is traditionally known as Ladies Day and it is the perfect time for women to show their own individual style and femininity. Men shouldn't shy away either, as it is the perfect day to embrace a softer side.
Women should celebrate their femininity
Outfit
Romantic ruffles and feminine florals are key to pulling off an incredible outfit for Oaks Day. The go to colour palette includes pale pinks, creams, and nudes, so seek out a flowing dress or a midi skirt and top in these hues. Lace or floral detailing, or layered ruffles will add depth to your outfit and express your individual personality – which is what the day is all about.
Headwear 
Flower crowns are trending this year, and Oaks Day is the perfect day to try one out as it's often recommended to wear a softer headpiece for Oaks Day. A colourful flower arrangement is ideal, or a metallic flower headband.
Accessories
You can play around with jewellery on Oaks Day, as gold detailing will complement a pale pink palette. Add a classic bracelet or a dainty gold necklace for a more feminine look. When it comes to bags, a pale pink or beige clutch with a gold chain will complement any ladylike outfit.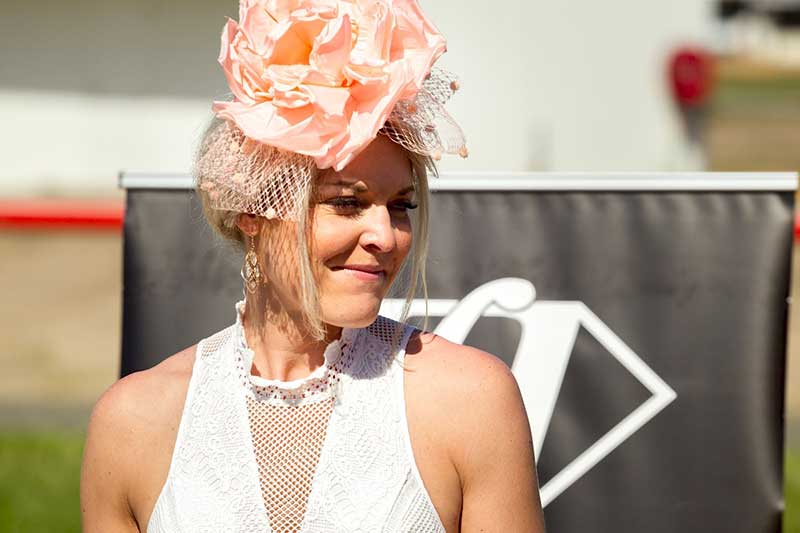 Men should embrace their softer side
Outfit
Oaks Day is all about celebrating that female in your life whether she is your mum, wife, daughter or horse. Tap into your feminine side with pastel hues, florals and playful prints. A lavender shirt paired with white pants and a grey suit jacket is a perfect place to start for those new to the style. For those who want to go all out, try a lavender toned suit jacket with a pale pastel purple shirt and dark grey pants. Oaks Day is also the perfect place to experiment with patterns – checks are your best bet.
Shoes and accessories
Pastel ties are perfect to pair with a grey suit, while a floral tie will break up block colours like lavender and grey. Play around with colourful square pockets and stick to brown Oxford shoes when opting for lighter toned suits. Don't forget to pin the Pink Rose to your lapel.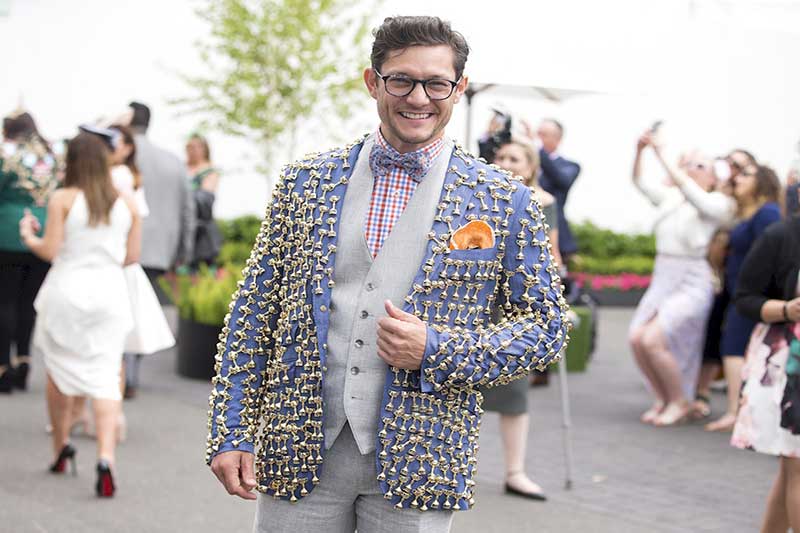 Stakes Day dress guide
Finish off the Melbourne Cup Racing carnival with a bang at Emirates Stakes Day. While Stakes Day (formerly known as Family Day) is much more relaxed than the other racing days, it doesn't mean you can show up in shorts and thongs to the racecourse or event. It does mean you can play around with youthful and classic looks, which look both dressed up and laid-back at the same time.
Women should play with prints
Outfit
Playful prints are the best way to go on a day like Stakes Day. A soft silhouette dress with a colourful print will ensure you're a standout, while maxi dresses and skirts will keep things simple. Wearing a skirt and top ensemble is ideal as you can play around with different prints, while a simple white dress can be dressed up with a colourful printed jacket.
Headwear
Since Stakes Day is fairly relaxed, we recommend ditching the giant fascinator and sticking with a small-scale headpiece like a gold headband.
Accessories
If you're using your accessories to dress up your outfit, then make a statement with a metallic clutch or a chunky necklace. If you've opted for a playful printed skirt, then keep accessories simple and match your bag with a softer tone from the print.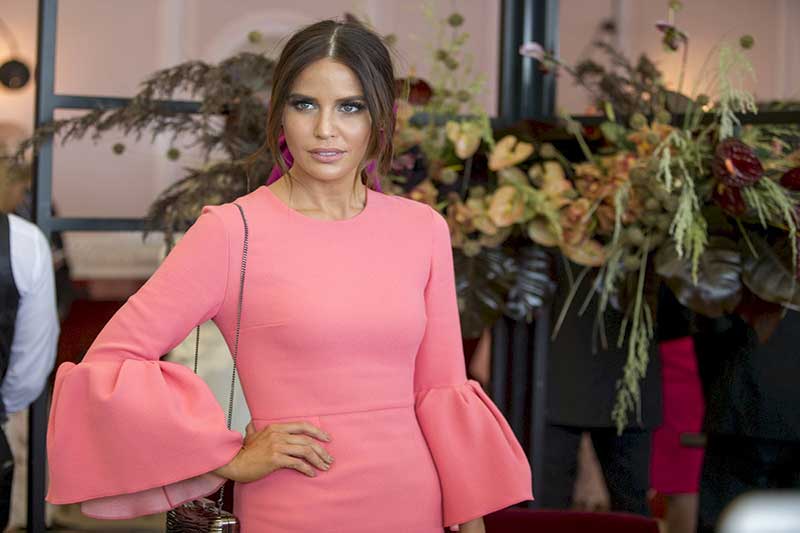 Men should dress down a suit with loafers
Outfit:
It's important not to run with the idea that Stakes Day is more relaxed. You still need to look smart and sophisticated and to do so we recommend opting for light and bright hues like camel pants with a navy suit jacket or a light beige suit. Play around with a few combos and keep things modern (no vests).
Shoes and accessories:
You can tone it down on Stakes Day when it comes to shoes and accessories. Brown Oxfords are still recommended, but you can wear loafer style dress shoes to dress down a formal suit. Ties are still a must, with bright and fun pastel hues the best choice for racegoers. Be sure to add the red rose to your outfit, as it is the Emirates Stakes Day Flower.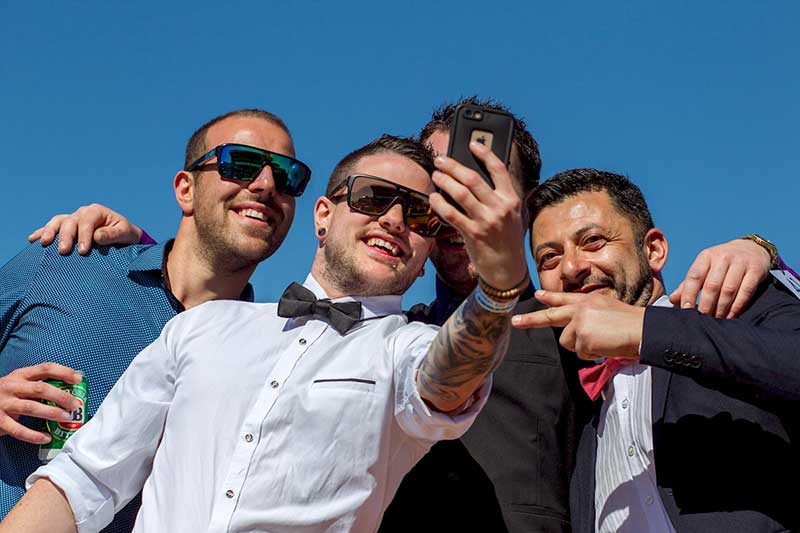 Myer Fashions on the Field
If you think you've nailed the brief for one or more of the racing days, perhaps you should enter the prestigious Fashions on the Field. The event is known to push the boundaries of the fashion world ever since it first launched in 1962.
If you think you have what it takes, check out the following events;
Women's Racewear is held on:
Victoria Derby Day, Saturday October 30, 2019
Melbourne Cup Day, Tuesday November 2, 2021
Oaks Day, Thursday November 4, 2021
Men's Racewear is held on:
Victoria Derby Day, October 30, 2021
Melbourne Cup Day, November 2, 2021
Online registrations are now open. If you have not registered online but want to be involved, you can enter on the day.