Without A Fight creates history with dominant Melbourne Cup win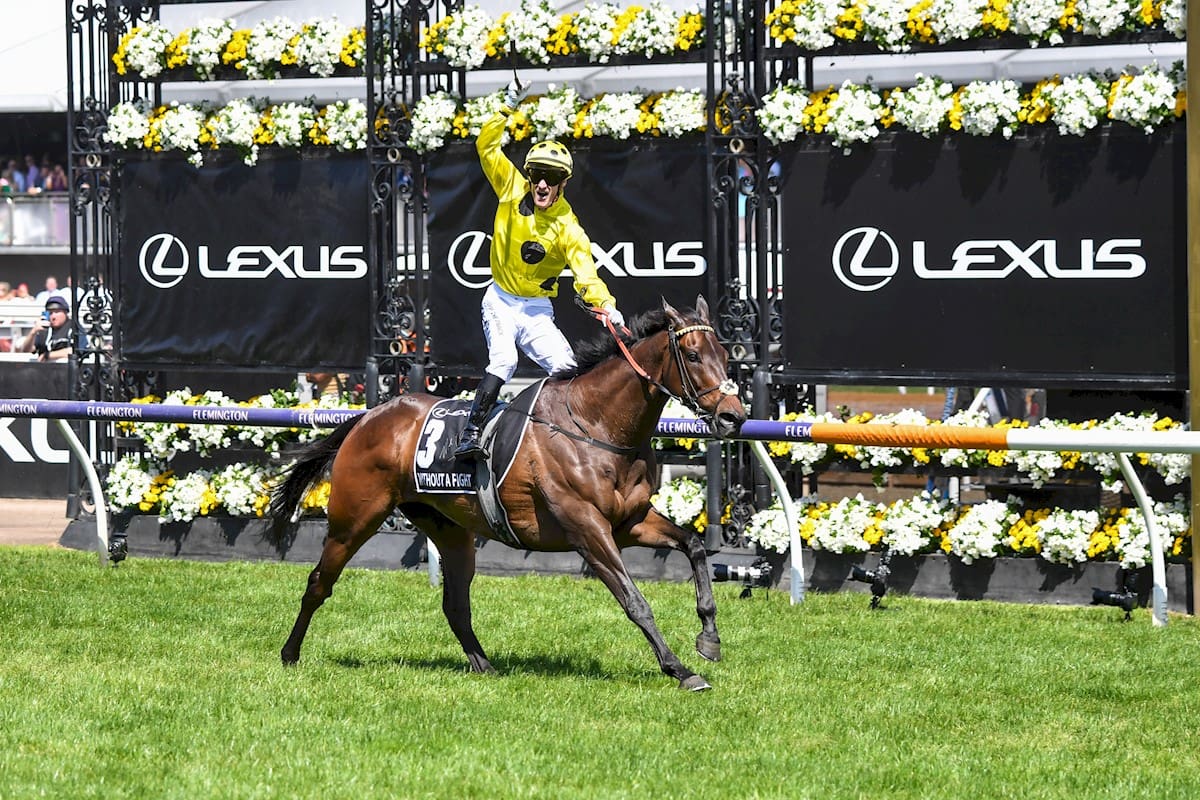 Without A Fight (+700) has become the first horse since Ethereal in 2001 and 12th ever to complete the Caulfield Cup/Melbourne Cup double, giving his jockey Mark Zahra his second straight victory in the Melbourne Cup.
Many questioned Zahra's decision to jump off the reigning Melbourne Cup champion Gold Trip in favour for the Caulfield Cup winner Without A Fight, but Zahra had the last laugh as he stood up in the irons to celebrate his second win in as many years.
Anthony & Sam Freedman have claimed their first Melbourne Cup success as a training partnership, with the European import delivering the father-son duo their maiden Caulfield Cup and now Melbourne Cup victory in a matter of weeks.
Most Melbourne Cups are run at a strong tempo, but the 2023 edition was run extremely quick, as Serpentine (+4000), Kalapour (+5000), Future History (+1700) and Vow And Declare (+3300) created their own little group at the 1000m mark and put four lengths on the rest of the field.
However, by the 500m mark, the leading quartet were out of gas and the Willie Mullins-trained runners Absurde (+850) and Vauaban (+450) took over with 300m to go.
Sitting in behind the Mullins pair was Zahra aboard the eventual winner, and as soon as he peeled off the heels of Absurde, he put him away within three or four strides and raced away to record a dominant victory in the race that stops the nation.
Soulcombe (+850) and Sheraz (+15000) finished off the race strong to give Chris Waller the runner-up and third-placed horse, but nothing could match Without A Fight.
2023 Melbourne Cup Replay – Without A Fight | T: Anthony & Sam Freedman | J: Mark Zahra
---
With Anthony Freedman watching the race from afar, it was left to Sam Freedman to represent the stable and speak to the media post his biggest win of his young career.
"It's been a great race for the family, it's been a while between drinks but it's good to get another one," Freedman said.
"Credit to the old man, he's been incredible through all of this.
"He went up to Queensland with him and looked after him up here and got him right into form and brought it back to Victoria and he's been brilliant ever since so credit to him.
"An extraordinary ride, when you go back and watch it, he got him onto the rails from a wide gate, relaxed, switched him off, made a run through.
"I was pretty confident at the 800 (metres) he was travelling, he just needed the breaks to come.
"The horse is a freak, he let down like he was a sprinter at the 400 and there were no doubts on the trip late so he was excellent."
Mark Zahra has become the first jockey since Harry White in 1978 and 1979 to win the Melbourne Cup in back-to-back years on different horses.
"Unbelievable. If I could've thought I'd have that run from (barrier) 16 I'd have said he was unbeatable," Zahra said of his run on Without A Fight.
"To the trainer's credit, Sam and Lee and all their team, he was just an absolute gentleman today, went to the rails, switched off, I probably got to the front earlier than last year, but I'd just had that soft a run."
"Mark Hunter is a good friend and I rate him as one of the best judges in Australia.
"Spoke to him at length with it and he said 'you know, there's not much in it, but if you can get him to settle, he'll run it'.
"We went through the race, the weather forecast, the stars aligned for Gold Trip last year and they aligned for this horse this year.
"I don't get to pick the result, I have to pick them before then.
"Just a few things, weight and the way he won the Caulfield Cup, I was confident he'd run it out today.
"My whole objective, or my biggest opposition – I thought – was my horse itself. He can be quite keen.
"Ryan Moore, Damien Oliver, J-Mac were in front of me, that's a tick. If could stay there as long as I can then I could make the moves.
"J-Mac went off, Ollie probably didn't have the horse and all of a sudden I started to travel.
"You need to get up him but he's got a turn-of-foot and you can sit there and take needle-eyes (openings). I was right behind the right horses.
"Your first Melbourne Cup you can never compare to that ever. You don't believe that it is every going to happen.
"I always said winning one helps you a lot because I came into the race putting aside all the choosing and I knew I was on a good horse.
"When you win one, a lot of jockeys try all their life to win one.
"You keep thinking this might be my chance, but when you win one you think 'if I stuff it up there's one home in the cabinet anyway."