Oakleigh Plate option for Roch 'N' Horse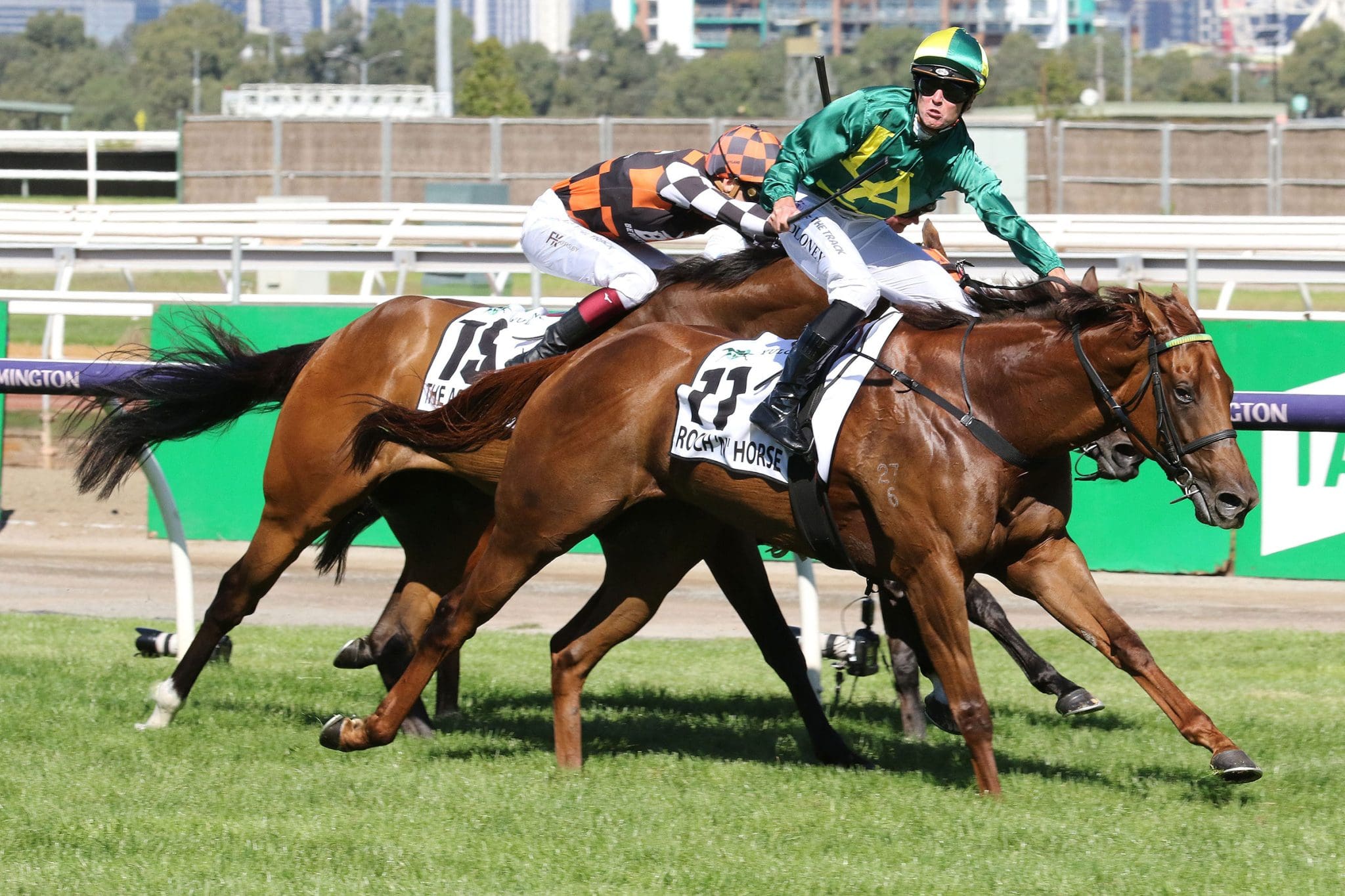 Dual Group One straight course winner Roch 'N' Horse is a possible starter in Saturday's Group 1 Oakleigh Plate (1100m) at Sandown after missing the Lightning Stakes (1000m) with a minor leg injury.
Trainer Mike Moroney said he would enter last year's Group 1 Newmarket Handicap (1200m) and Group 1 Champions Sprint (1200m) winner for the 1100m dash after making the decision to relinquish her spot in the Lightning won by Coolangatta.
"She had a bit of filling in her hind leg on Saturday," Moroney said. "She's obviously bashed it overnight. It was up and we iced it down to a trot and canter. She wasn't sore, but it was still there after the work, so we decided to give it a miss.
"We will be back working her on Monday. I wouldn't say the swelling has gone out of it 100 percent but its more or less out and we will give good thought to running in the Oakleigh Plate, we will just see."
With Caulfield out of action at present, Moroney believes the Oakleigh Plate out of the Sandown chute would suit his classy sprinter.
"It is more her style and is a bit of a dog-leg like Trentham, which she liked," Moroney said.
"I would prefer to get a run into her before the Newmarket if we can. I could do it with a jumpout or trial but I think if we can get a run into her, it would be great.
"There is a chance she might be topweight in the Oakleigh Plate and she might get 58 kilos so that is something I need to give a little bit of thought to, but I think the track would suit her and she is going very well."
Roch 'N' Horse was not the only Moroney horse under an injury cloud over the weekend, with Friday night's Listed Torney Cup (2500m) winner Swords Drawn returning to scale with an eye injury at Moonee Valley.
Formerly trained by Shaune Ritchie and Colm Murray, Swords Drawn defeated a game Nerve Not Verve, who is now the more likely of the pair to contest the Group 2 Auckland Cup (3200m) on March 11 at Pukekohe.
"With Swords Drawn, on Friday night they thought there was a 20 percent chance he could lose his eye," Moroney said.
"It looked terrible but they treated it on-course and did a good job, and by Saturday morning it had cleared a lot and it was just a bit cloudy.
"Our vet thinks we might have dodged a bullet but he is not out of the woods just yet, so we will just see."
Moroney said he was unsure how the injury actually occurred but said it added merit to the victory, while he was also pleased with the performance of Nerve Not Verve.
"She is the one most likely to head over to New Zealand at this stage," Moroney said.
"We are going to have a bit of a think tank tomorrow and work it out. We have always planned on getting her there.
"Now it is closer to the time we have got to make a final decision because we would be flying in for the Auckland Cup and then flying to Sydney for the Sydney Cup (Group 1, 3200m) as well."
Nerve Not Verve is rated a +1100 chance for the $500,000 Auckland Cup and is likely to be sold as a broodmare prospect later this year.