Gwenda Johnstone set to receive the 2022 Country Achiever Award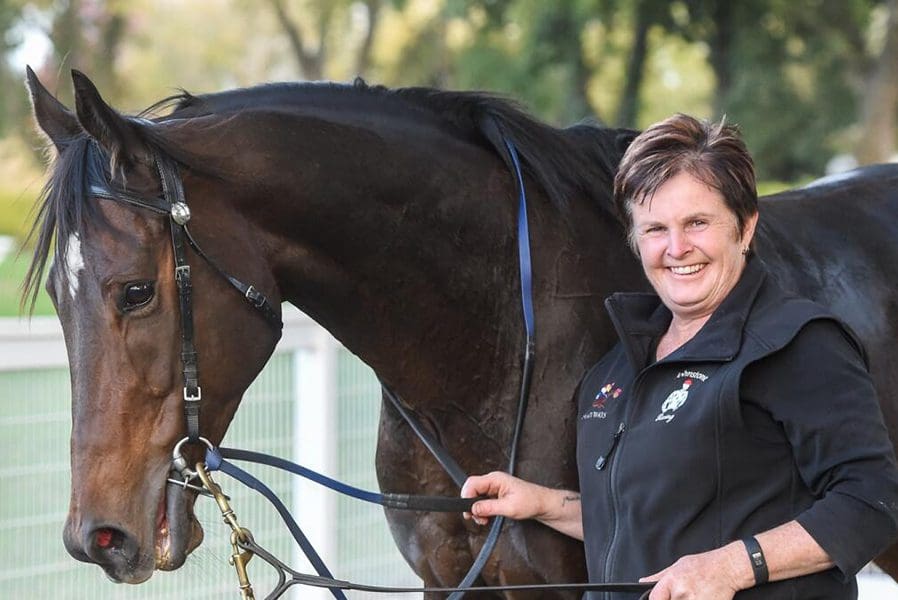 After four decades in the industry, Echuca trainer Gwenda Johnstone will be awarded as the winner of the 2022 Country Achiever Award at Flemington's VRC Country Race Day on Saturday.
The Group 1 winning trainer and her husband Mick will be guests of the VRC when Gwenda is recognised for her career and industry contribution, with Race 9 on the card also named in her honour as the 2022 Country Achiever Gwenda Johnstone (1100m) Quality.
The award comes nearly 40 years on from when she began working on weekends and holidays for Echuca trainer, Joe Harrington.
"I started here when I was 14 with Joe. Since then, this has been my life," Johnstone recalls.
"When I first started here with Joe, he didn't like girls. So, I convinced him that I'm ok, I won't be a naughty one. So, he took me on board," she says with a laugh.
Leaving school at 16, Johnstone began working with Harrington full time and it was here that she met her husband Mick, who came to the stable on loan as an apprentice jockey.
"We've been a good combination for a number of years. Gwenda was working for Joe when I arrived and we went out a few times, fell in love and got married!" recalls Mick.
"He was a skinny little kid. He lived in a caravan here at the stable. And we just blossomed from there," adds Johnstone.
"I don't know that Joe was that happy about it at the start, but anyway!"
They were married in 1988 with Johnstone gaining her owner/trainer licence in 1989.
When Harrington passed away later that same year, Bill Stutt, then Chairman at Moonee Valley Racing Club, saw Johnstone's potential and took her on board to train his horses and helped her obtain her full training license.
Over her training career, Johnston has trained 321 winners, with a 10% winning strike rate and 31% placegetters. 150 of those winners were ridden by her husband before he retired from race riding in 2013.
The Johnstone's have apprentice Rosie Hammond on board who is currently notching up her barrier trial rides in preparation for her race day debut.
"They are definitely like my second parents and look out for me. Anything they can do and the help, it's awesome," says Hammond.
Hammond helps the couple with the care and training their 15-20 horses at the Echuca stables, which are situated down Shadoways Lane, aptly named after Johnstone's greatest training success in the 2008 Group 1 Goodwood Handicap winner, Shadoways.
"He was just magic, and I'd love to have another one," says Johnstone.
Johnstone has enjoyed plenty of success over the years during the Melbourne Spring, especially in "the greys race" on Crown Oaks Day. In 2003, Shadowmaker won the Greys Class Six Handicap at Flemington and she repeated the feat in 2004 and 2006 with Shadowpark and Theresnothinglycra, respectively.
"It's just something out of this world. Well for us, us little people, to go down and be in contest with all the big trainers and you win, you just think 'we're part of this. This is us too, we are here."
"There's nothing like winning in the spring. You've got all your owners with you and it's just awesome. But it's constant hard work and you've got to have a horse that's got the ability to go down."
Johnstone had no idea what he was on about when Andrew Nicholl, CEO of the Australian Trainers Association, rang to ask if she would accept the award.
"I thought 'what?!', I had no idea what he was on about. He said we've picked a trainer out and it's you. I just thought . . . I was in a bit of a sad time because I had just lost Mum. And it was just something that sort of cheered me up and got me going again," an emotional Gwenda recalls.
"It will be special that Mick will be with me, and I've got some owners that are going to go, so that'll be good." Gwenda also said that it will be 'really special' to have a raced named after her.
"It's very exciting. And for all the work Gwenda has put into what she does, it's great," says a proud husband, Mick.
Although Johnstone's mother recently sadly passed, she's sure 'she would be looking down saying 'go for it, girl. Go for it, girl."
More horse racing news