The Goodwood
Group One Betting Guide
| | |
| --- | --- |
| Date: | Saturday, May 15, 2021 |
| Location: | Morphettville Racecourse |
| Prize Money: | $502,250 |
| Distance: | 1200m |
---
The Goodwood is one of the showpiece events of Adelaide's Autumn Carnival and the undisputed sprinting title that all the trainers want throughout the carnival.
A decision was made more than a decade ago by South Australian Racing officials to change the race from the traditional handicap to a set weights and penalties event, in an effort to bring some of Australia's better sprinters to Morphettville to compete in the SAJC Goodwood.
The move paid immediate dividends in 2009 after superstar sprinter Takeover Target made the move to Morphettville, while Black Caviar was sent over to decimate her rivals just two years later.

2021 SAJC Goodwood betting odds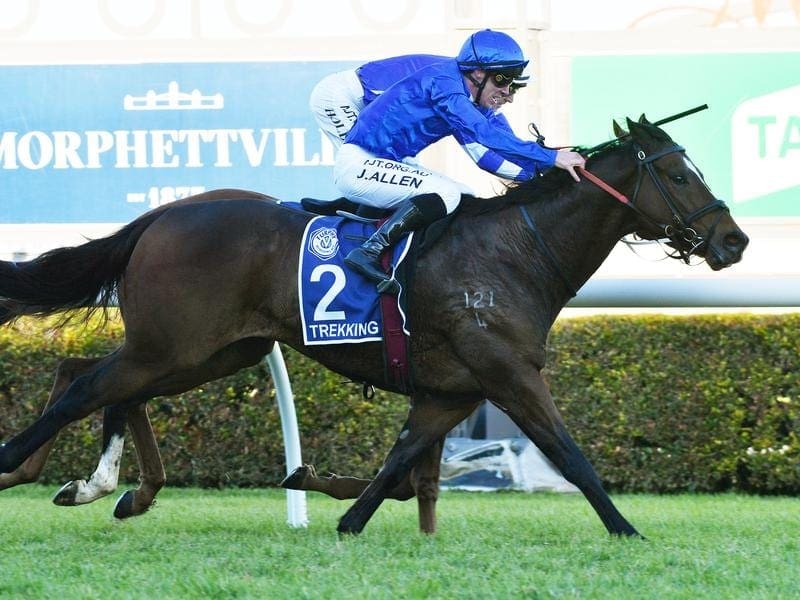 South Australia's Group 1 superstar Behemoth is the current $3.50 favourite in all-in markets in a bid to claim his third Group 1 success.
The returning Gytrash will look to mark his return with a win and with $4 on offer for the Gordon Richards-trained sprinter, online bookmakers are giving him a big chance to do just that.
Robert Sangster Stakes winner Instant Celebrity and Beau Rossa are the only other runners in single figures sharing the third line of betting at $7.
Best SAJC Goodwood bookmakers
The Goodwood is a Group 1 race in one of the key sprint fixtures on the Australian calendar, which means any bookmaker that takes themselves seriously open markets on the Goodwood nice and early.
Ladbrokes and Sportsbet usually open Goodwood all-in markets a couple of weeks in advance of the race, and other bookmakers we trust typically follow suit not long after.
Tote prices and other Fixed Odds markets tend to open when the race is two to three days away.
The bookies we trust the most are listed below and we recommend anyone interested in investing on the Goodwood to visit any of these sites:

Sport Table
Betting on The SAJC Goodwood
The SAJC Goodwood is one of the toughest Group 1 races to be confident in heading into the race. Since 2011 nine of the ten winners have won a different lead up race leading into The Goodwood making hard to tie in formlines.
In the previous seven years only geldings have won the race, with Platelet being the last mare to win The Goodwood in 2013.
Since 1980, six three-year-olds have taken out The Goodwood; Daring Jon (1987), Boardwalk Angel (1989), Keeper (2001), Zip Zip Aray (2002), Perfectly Ready (2006) & Lone Rock (2011).
Since 2011, six of the ten winners have saluted at double figure odds. Black Caviar was a redhot favourite in 2012 saluting at $1.10, whilst the last three winners have been at odds of over $10. The average winning price for The Goodwood over the last ten years is $16.70.
2020 The SAJC Goodwood result

1st – Trekking ($10.00)
2nd – Gytrash ($1.40)
3rd – Lyre ($4.40)
---
Recent SAJC Goodwood winners:
It was an enthralling finish to the 2020 SAJC Goodwood when Gytrash reeled in tearaway leader Xilong at the 300m mark. However, Trekking who had been three back the fence and in the need of a bit of luck saw clear air at the 200m and charged down the middle of the track to nab the Group 1 superstar Gytrash on the winning post. The win for jocky John Allen was even sweeter as he had to undergo two weeks of quarrantine prior to the Adelaide carnival due to the Covid-19 Pandemic.

Trekking's win in The Goodwood

was his second Group 1 success following a win in the Stradbroke Handicap almost 12 months earlier.

The 2019 edition of the Goodwood was won by $21 roughie Despatch, which was ridden by Todd Pannell and trained by Tony McEvoy. Despatch managed to hold off a fast-finishing Bohemoth and pre-race favourite Spright, who also finished strongly.

It seems unfathomable given Santa Ana Lane's record in Group 1 races, but the champion sprinter was a huge outsider coming into the 2018 Goodwood. As the race panned out too he looked like an also-run, cornering towards the back of the field as the leaders entered the straight. In a piece of masterful riding however by Ben Melham, the gelding pierced his way through a wall of horses and hit the front in the final 50m to deliver a powerful win.

Vega Magic came into the 2017 Goodwood as the second favourite just behind the previous year's winner Black Hart Bart, and the front runner seemed to have it all his own way coming to the turn. Missrock loomed up on his outside and looked to have the race won upon straightening but the Lindsay Park sprinter fought back like the champ he is and secured his first Group 1 victory.

Black Heart Bart had a spectacular run of form leading into the Goodwood and was the justified $2.80 favourite. The West Australian native had a fantastic run in transit and delivered a withering burst of speed to put away its rivals.

Peter Moody trained Flamberge was not expected to be a factor in the 2015 incarnation after poor last start finish, but connections would have been buoyed after a good jump put the gelding just off the speed. The multiple time group winner powered to the front at the 100m mark and saluted to return a massive $21.

After spending most of the trip wide in the running, old favourite Smokin' Joey was expected to wilt given it went in as a $41 chance. The gelding found an extra gear in the straight however and powerfully put away its rivals to be the longest priced winner in the last 20 years.


After taking out the

Robert Sangster Stakes

two weeks prior, Platelet went in at similar odds to back up that hard fought win. The then filly looked like it would peter out badly considering how far back it was but it stormed home late to record one of the most eye-catching wins in the race's history.
---
The SAJC Goodwood past winners
The Goodwood

Past Winners
Year
Horse
Jockey
Trainer
2020
Trekking
John Allen
James Cummings
2019
Despatch
Todd Pannell
Tony McEvoy
2018
Santa Ana Lane
Ben Melham
Anthony Freedman
2017
Vega Magic
Craig Williams
David & Ben Hayes & Tom Dabernig
2016
Black Heart Bart
Brad Rawiller
Darren Weir
2015
Flamberge
Vlad Duric
Peter Moody
2014
Smokin' Joey
Ben Melham
Wez Hunter
2013
Platelet
Ben Melham
Darren Weir
2012
Black Caviar
Luke Nolen
Peter Moody
2011
Lone Rock
Clare Lindop
Robert Smerdon
2010
Velocitea
Craig Newitt
Mick Price
2009
Takeover Target
Jay Ford
Joe Janiak
2008
Shadoways
Mark Pegus
Gwenda Johnstone
2007
Let Go Thommo
Steven King
Steven Ryan
2006
Perfectly Ready
Stephen Baster
Mick Price
2005
Glamour Puss
Steven King
Danny O'Brien
2004
Super Elegant
Greg Childs
Kelvin Bourke
2003
Bomber Bill
Steven Arnold
Robert Smerdon
2002
Zip Zip Aray
Brian Park
Tom Pratt
2001
Keeper
Brett Prebble
Myles Plumb
2000
Marstic
Aaron Spiteri
Tony Vasil
---
The Goodwood Past Winners Pre 2000
Robert Sangster Stakes

Past Winners Pre 2000
Year
Horse
1999
French Clock
1998
Spectrum
1997
Bellzevir
1996
Sword
1995
Centisle
1994
Ambala
1993
Jolly Old Mac
1992
Euclase
1991
Crush
1990
Beau George
1989
Boardwalk Angel
1988
Cameronic
1987
Daring Jon
1986
Lord Galaxy
1985
Mighty Avenger
1984
Leica Plant
1983
Bold Jet
1982
Heavenly Time
1981
Young Man
1980
Marjoleo
1979
Comaida Boy
1978
Quiet Snort
1977
Romantic Dream
1976
Puncheon
1975
Kenmark
1974
Samist
1973
Wise Virgin
1972
Tango Miss
1971
Romantic Son
1970
Crown Lad
1969
Grey John
1968
Makadola
1967
Picargo
1966
High Income
1965
Sunny Coronation
1964
Kiltrice
1963
Queen Dassie
1962
Conrapt
1961
Mikadis
1960
Scenic Star
1959
Bofresher
1958
Sleep Tight
1957
Hunter's Sight
1956
Matrice
1955
Copper Year
1954
Gerant
1953
First Scout
1952
Jamboree
1951
St. Comedy
1950
Power's Hope
1949
Cellarman
1948
Denhoti
1947
Galway Pipe
1946
Royal Gem
1945
Univari
1944
Warworn
1943-42
Race Not Held
1941
Unishak
1940
Aurie's Star
1939
Panka
1938
Hegemonic
1937
Night Gang
1936
Agargil
1935
Isosceles
1934
Sister Florence
1933
Opera Bag
1932
Valaisanne
1931
St. Bernadette
1930
Doradus
1929
Glenanton
1928
Second Dale
1927
Triangle
1926
Ben Lomond
1925
Bright Poppy
1924
St. Roseate
1923
Denacre
1922
St. Speed
1921
Peace Day
1920
Mareca
1919
Trillion
1918
Pistolarie
1917
Bourlang
1916
Blague
1915
Golden Wire
1914
Kosai
1913
Widgiewa
1912
Musket Belle
1911
Musket Belle
1910
Lord Derby
1909
True Scot
1908
Lord Carlyon
1907
The Amazon
1906
Step – Out
1905
First Fleece
1904
Latch Key
1903
Trochon
1902
Footbolt
1901
Finland
1900
Ranfurly
1899
Forest
1898
Australian
1897
Orient
1896
Tinstream
1895
Mostyn
1894
Mostyn
1893
Britisher
1892
Fulham
1891
The Despised
1890
Goldstream
1889
Chetwynd
1888-86
Race Not Held
1885
Lantern
1884
Ironmaster
1883
Colstoun
1882
Result
1881
D.O.D.