Coolmore Stud Stakes
Group One Betting Guide
| | |
| --- | --- |
| Date: | Saturday, 30 October, 2021 |
| Location: | Flemington Racecourse |
| Prize Money: | $1,500,000 |
| Distance: | 1200m |
---
ONE and a half million dollars is on the table for the Coolmore Stud Stakes, run on VRC Derby Day each year.
Once known as the Ascot Vale Stakes until 2007, the open race for three year olds forms part of the best day of racing on the calendar at Melbourne's Flemington Racecourse, kicking off the four day Spring Racing Carnival stretch at the track. It's one of the newer group one races, elevated to the status in 2007, when its name changed. First run in 1863, when Freestone saluted, the event was once open only to two year olds. That all changed in 1969 when, after a four year break, the race switched from the autumn to the spring.
The great Mankato, Encosta De Lago, Alinghi and Weekend Hussler are among the notable winners of the race. Exceedance claimed the 1200 metre race last year and winners have often gone on to be successful at stud, hence many stallions target it.
2021 Coolmore Stud Stakes betting odds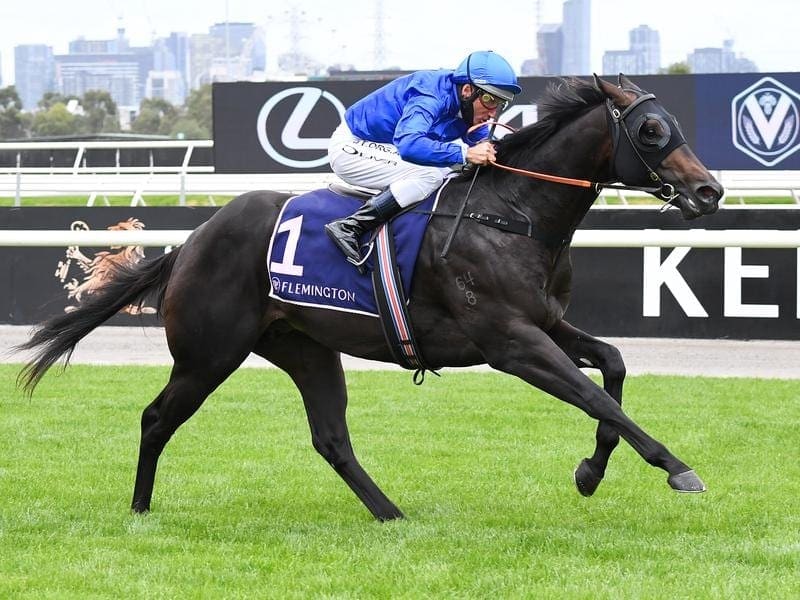 Four weeks out from the 2021 Coolmore Stud Stakes, the James Cummings-trained Ingratiating is a $5 chance to claim his first Group 1 success following an impressive start to his career.
The quinella from the Golden Rose Stakes; Anamoe and In The Congo shared the second line of betting with odds of $7 available for the duo.
Acrobat, Home Affairs, Profiteer and Ranch Hand all share the quote of $9 with online bookmakers.
Top Bookmakers for the Coolmore Stud Stakes
The Coolmore Stud Stakes is a hot race to bet on as part of the Melbourne Cup Carnival and any bookmaker worth their salt will have their odds up nice and early ahead of the colts' race.
Read our reviews below on Australia's most trusted races.
Coolmore Stud Stakes History
Held on Derby Day, the Coolmore Stud Stakes is one of four Group 1 races held on the day; the Victoria Derby, Cantala Stakes and the Empire Rose Stakes.
Officially named the Ascot Vale Stakes, the race was first run back in 1863.
The race was elevated to Group 1 status in 2006 when the race was switched with the Danehill Stakes to be run on Derby Day.
Traditionally the Coolmore Stud Stakes has been a target for connections with colts, but in recent times fillies have come to their own in the race. Alinghi (2004), Gold Edition (2006), Headway (2009), Nechita (2012), Sunlight (2018) and September Run (2020) have claimed the race as a three-year-old filly.
The race is the only Group 1 sprint race on the Australian Group 1 racing calendar that is restricted to three-year-olds.
Three-year-old sprint races that are held in Melbourne are notable formlines leading into the Coolmore Stud Stakes such as the Blue Sapphire Stakes, Red Anchor Stakes, Danehill Stakes and Poseidon Stakes are key races to follow.
Chris Waller knows a thing or two about taking out the race, claiming it four times between 2013-2020.
2020 Coolmore Stud Stakes result

1st – September Run ($4.00)
2nd – Swats That ($2.40)
3rd – Wild Ruler ($1.90)
Recent Coolmore Stud Stakes runnings
Exceedance was a heavily backed second elect when taking out the 2019 Coolmore Stud Stakes. He was backed off the map, and settled off the pace to come underneath the leaders and prevail by half a length to hold out the favourite Bivouac and score an impressive win for the Hawkes team.

The filly Sunlight wasn't a chief market elect coming into the 2018 Coolmore Stud Stakes, but the girl upset the boys in what is usually their race. Settling just off the pace, the Tony McEvoy-trained filly took to the front at the 100m mark and held on gamely to record a famous win.

Merchant Navy wasn't able to win the Golden Rose Stakes, but it returned in fine order to scorch home in the Coolmore Stud Stakes. The three-year-old for Aaron Purcell was well-back during the run, but it picked a path through runners to nab Invincible Star on the line. It looked the winner with 100m to go, but Merchant Navy showed why it was so highly respected earlier this season.

Flying Artie was the second-string runner from the Mick Price stables, but it proved to be the best three-year-old sprinter in Australia with a dominant victory. It was well-backed late with punters, but the bookmakers had a field day with the likes of Astern and Extreme Choice both tasting defeat.

Read the race report here.

The progeny of superstar Choisir, Japonisme was always going to be a tough one in this race. And it proved to be so, even at the huge odds of $21, he had a sweet rid with jockey Glynn Schofield aboard and knocked over Keen Array and Counterattack. It gave master trainer Chris Waller a third win in as many years in the race.

Brazen Beau made it two in a row for Waller, the $6.50 chance beating stable mate Delectation – a gaudy $51 – and Kuro, also $6.50, to win the race and complete a trifecta of Sydney horses.

Star Hoop Jimmy Cassidy claimed his 100th group one win aboard Zoustar, giving Waller his maiden win in the race by defeating Notlistenin'tome and Lion of Belfort.

Nechita's brilliant win was over shadowed by stunning revelations by Patinack Farm trainer John Thomson, who told media after the race that fallen billionaire Nathan Tinkler was struggling that much that he had ran out of feed for the horses and gone weeks without farriers and bedding.
Previous Coolmore Stud Stakes winners
Coolmore Stud Stakes

Past Winners
Year
Horse
Jockey
Trainer
2020
September Run
Craig Williams
Chris Waller
2019
Exceedance
Dwayne Dunn
Team Hawkes
2018
Sunlight
Luke Currie
Tony McEvoy
2017
Merchant Navy
Mark Zahra
Aaron Purcell
2016
Flying Artie
Hugh Bowman
Mick Price
2015
Japonisme
Glyn Schofield
Chris Waller
2014
Brazen Beau
Joao Moreira
Chris Waller
2013
Zoustar
Jim Cassidy
Chris Waller
2012
Nechita
Christian Reith
John Thompson
2011
Sepoy
Kerrin McEvoy
Peter Snowden
2010
Star Witness
James Winks
Danny O'Brien
2009
Headway
Luke Nolen
Peter Moody
2008
Northern Meteor
Nash Rawiller
Gai Waterhouse
2007
Weekend Hussler
Brad Rawiller
Ross McDonald
2006
Gold Edition
Jim Byrne
Ron Maund
2005
Ferocity
Steven Arnold
Danny O'Brien
2004
Alinghi
Damien Oliver
Lee Freedman
2003
Scaredee Cat
Steven Arnold
Cliff Brown
2002
Innovation Girl
Kerrin McEvoy
Brian Mayfield-Smith
2001
North Boy
Damien Oliver
Tony McEvoy
2000
So Gorgeous
Nash Rawiller
Dan O'Sullivan
---
Coolmore Stud Stakes

Past Winners Pre 2000
Year
Horse
1999
Spargo
1998
Theatre
1997
Show No Emotion
1996
Encosta De Lago
1995
Our Maizcay
1994
Racer's Edge
1993
Brawny Spirit
1992
Quegent
1991
Tierce
1990
Bureaucracy
1989
Courtza
1988
Zeditave
1987
Kaapstad
1986
Zephyr Cross
1985
Campaign King
1984
Royal Troubador
1983
Top Post
1982
Rancher
1981
Rose Of Kingston
1980
Sardius
1978
Manikato
1978
Manikato
1978
Manikato
1977
Ballyred
1976
Surround
1975
Toy Show
1974
Plush
1973
Taj Rossi
1973
Taj Rossi
1972
Century
1973
Taj Rossi
1971
Tolerance
1970
Eleazar
1969
Vain
For two-year-olds (1863–1965)
The event was run in the autumn.
1965
Star Affair
1964
Thredbo
1963
Munich
1962
Royal Centaur
1961
Blue Era
1960
Reinsman
1959
Travel Boy
1958
Nilento
1957
Ace High
1956
Gay Sierra
1955
Sir Newton
1954
Acramitis
1953
Yungawee
1952
Lenity
1951
Beau Silhouette
1950
Flying Halo
1949
St. Comedy
1948
Comic Court
1947
Filgaro
1946
Chaperone
1945
Royal Gem
1944
Delina
1943
Scottish Maid
1942
Hesione
1941
High Road
1940
Industry
1939
High Caste
1938
Tactical
1937
Caesar
1936
Fidelity
1935
Bimilla
1934
Arachne
1933
Shakuni
1932
Powerscort
1931
Auto Pay
1930
Thurlstone
1929
Spanish Galleon
1928
Mollison
1927
Royal Feast
1926
Cyden
1925
Los Gatos
1924
Heroic
1923
The Monk
1922
Rosina
1921
Isa
1920
Midilli
1919
Whiz Bang
1918
Red Fox
1917
Thrice
1916
Deneb
1915
Two
1914
Woorak
1913
Andelosia
1912
Wolawa
1911
Sconser
1910
Beverage
1909
Sunny South
1908
The Brewer
1907
Mazarin
1906
Antonius
1905
Charles Stuart
1904
Koopan
1903
Emir
1902
Brakpan
1901
Hautvilliers
1900
Maltster
1899
Condiment
1898
Bobadil
1897
Aurum
1896
Newhaven
1895
Challenger
1894
Destiny
1893
Projectile
1892
Camoola
1891
Penance
1890
Titan
1889
Spice
1888
Volley
1887
Hortense
1886
Chesham
1885
Uralla
1884
Bargo
1883
Archie
1882
Navigator
1881
Royal Maid
1880
Grand Prix
1879
Petrea
1878
His Lordship
1877
First King
1876
Newminster
1875
Maid Of All Work
1874
Explosion
1873
Lapidist
1872
King Of The Ring
1871
Beatrice
1870
The Roe
1869
Lamplighter
1867
Fenella
1866
Sour Grapes
1865
Sea Gull
1864
Lady Heron
1863
Freestone