THE Group 2 Danehill Stakes is a three-year-old race held at Flemington during the Melbourne spring carnival in September.
It's run over 1200m with a stake of $250,000 and the race gained massive worldwide popularity when champion unbeaten mare Black Caviar won in 2009.
Run down the Flemington straight on the same day as the Group 1 Makybe Diva Stakes, the Danehill Stakes is a stallion-making race as past winners have included top stallion Fastnet Rock and also the likes of Jet Spur and Falvelon.
It is one of the must-win races for three-year-olds which are looking to increase the stud value and it carries a VOBIS bonus of $10,000, but it's also a great betting race for punters. The Danehill Stakes usually attracts a big field of quality runners and the bookmakers have taken a hit over the last few years.
Danehill Stakes bookmakers
Being such a popular betting races, the Danehill Stakes market is offered by all of our recommended bookmakers.
Markets will open in August for the September feature and the all-in market is popular with punters which have been following the two-year-old form from the previous season.
Sportsbet offers specials in the week prior to the Danehill Stakes, but BetEasy will open its market early. This suits futures betting punters that want to lock in the early value.

Featured casinos
Notable Danehill Stakes winners
Black Caviar:
The champion unbeaten mare won in 2009, but it wasn't as easy as many had predicted. The three-year-old didn't jump well, but it went forward quickly and eventually held off the fast finishing Wanted by 0.8 of a length. Black Caviar was a short-priced favourite throughout the majority of its career, but punters were able to secure $1.44 for the champion which was a good price at the time. The win sparked the Danehill Stakes back into life and it's now a major target for most three-year-old sprinters.
Fastnet Rock:
Less known for its racing prowess and more about its stallion qualities, the win of Fastnet Rock in 2004 proved that great sires can come out of the Danehill Stakes. By Danehill, Fastnet Rock won the race which was then called the L'oreal Paris Plate and it would later become one of Australia's greatest ever stallions – especially for two and three-year-olds. The race also featured the high-profile New Zealand runner Assafa which was trained by Trevor McKee. It was purchased for $640,000 but managed only a third placing.
Falvelon:
In 1999 the Danehill Stakes was called the Chivas Regal and future stallion Falvelon took home the prize. The three-year-old by Alannon scored by 1.3 lengths and the punters enjoyed the win as it paid only $2 in an eight-horse field. It would later carve out a solid career on the track and at stud.
2018 Danehill Stakes result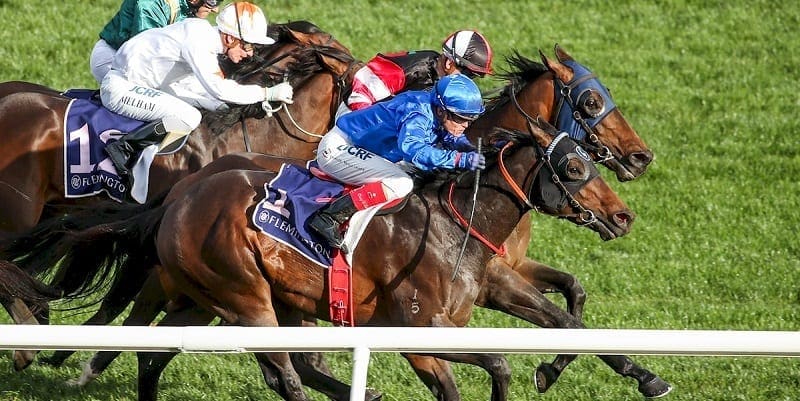 1st
–
Encryption
($20)
2nd
–
Thorondor
($5.40)
3rd
–
Tavisan
($2.90)
Recent Danehill Stakes winners
Danehill Stakes past winners list
| Year | Winner |
| --- | --- |
| 2018 | Encryption |
| 2017 | Catchy |
| 2016 | Saracino |
| 2015 | Kinglike |
| 2014 | Rich Enuff |
| 2013 | Charlie Boy |
| 2012 | Snitzerland |
| 2011 | Sepoy |
| 2010 | Soul |
| 2009 | Black Caviar |
| 2008 | Aichi |
| 2007 | Tan Tat de Lago |
| 2006 | The One |
| 2005 | Jet Spur |
| 2004 | Fastnet Rock |
| 2003 | Abdullah |
| 2002 | Planchet |
| 2001 | Chong Tong |
| 2000 | St. Petersburg |
| 1999 | Falvelon |
| 1998 | Point Danger |
| 1997 | Dantelah |
| 1996 | Armidale |
| 1995 | Gold Ace |
| 1994 | I Love Sydney |
| 1993 | Dancing Dynamite |
| 1992 | Kenfair |
| 1991 | Umatilla |
| 1990 | Wrap Around |
| 1989 | Gin Rhythm |
| 1988 | Speeding Fine |
| 1987 | Grandiose |
| 1986 | Cavalry |
| 1985 | Rory's Jester |
| 1984 | High Signal |
| 1983 | Sculptor |
| 1982 | Fiesta Star |