NT Terry Huish has no intention on leaving the racing industry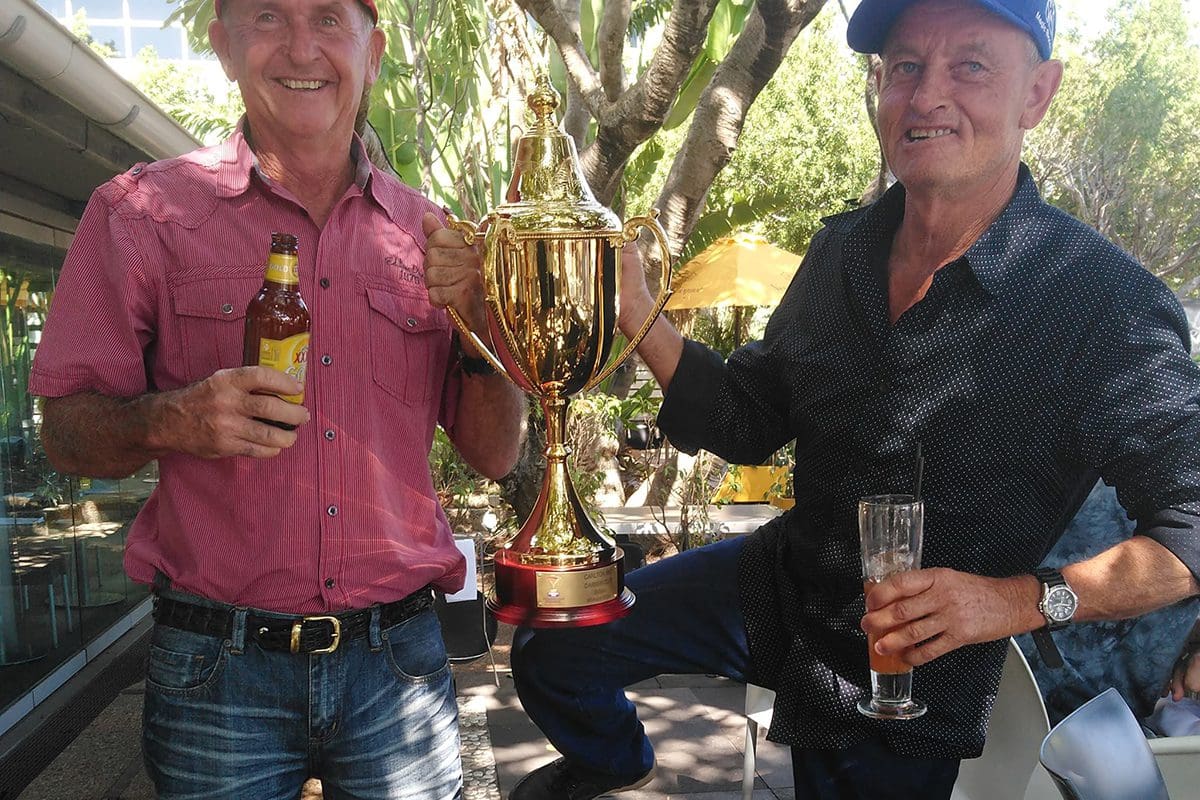 He stepped down as the Alice Springs Turf Club's long-time maintenance manager in December, but Terry Huish still has a strong association with the horse racing industry in the Red Centre.
The former jockey is an owner-trainer these days, so he can still be spotted around the Pioneer Park grounds through the week and on race day.
Huish, 61, also helps out as the starter for all the trials and is happy to relieve official Alice Springs starter Brooke Morley on the occasions she misses a race meeting.
Arriving in town in the early 1990s, Huish is a well-known and popular figure in the Northern Territory racing community and booted home his fair share of winners as a jockey during a 35 year career in the saddle.
"I gave up riding the day I turned 50, that's 11 years ago," Huish said.
Huish started his apprenticeship in South Australia when he was 14 before having a 10 year break to work on various stations throughout South Australia.
"I was 15 when I had my first ride," he said.
"I did my apprenticeship at Port Lincoln.
"My first ride was at a place called Penong (north-west of Port Lincoln).
"I had an option to go and ride in Adelaide with the late Colin Hayes.
"I also had the option to ride in Port Augusta.
"I ended up going to Port Augusta.
"I used to do six months in Port Lincoln, six months in Port Augusta.
"I did that for about three years when I was riding."
It was at that point that Huish's life turned full circle when he chose to pursue a different career path.
"I got a bit heavy at one stage and I got offered a job on a station with race horses, so I took it," he said.
"I was roughly 18 almost 19 at the time when I gave up riding.
"I worked on different stations, all in South Australia, for about 10 years."
So how does one end up spending most of his life in Central Australia?
"Alice Springs trainer John Cronin kept ringing me and ringing me because he couldn't get track work riders," Huish confessed.
"I ended up getting on the train and coming up for him.
"John trained here for years."
Huish spent almost 17 years with the ASTC as maintenance manager, but felt it was time to move on.
"It was a good experience – learning a lot of stuff like plumbing, welding and mechanic work," he said.
"I used to do the lot – most of I did know before I started working for the Turf Club.
"It was great to work at the Turf Club both on and off the track.
"I still train horses now."
Outside the horse racing bubble in Alice Springs, Huish held other roles that included doing maintenance work for a removalist and working as a storeman for a furniture company.
"I've had a few various jobs, I currently work for a tyre company here in town," he said.
"I do chuck my hand in changing tyres and everything.
"I started there the day I left the Turf Club – that was just before Christmas."
Huish has only three horses on his books at the moment as a trainer – Frilly Design, who had a win at Pioneer Park on June 5, Divisional and Snow Creek.
"I'm a part-owner of all three horses as well," he said.
"I've got two down in South Australia that I own half of too."
After so many years in Alice Springs, Huish has no intention of leaving the Red Centre anytime soon.
"I'm still happy in Alice Springs – it's good mate, yeah," he said.
"I'm enjoying life – can't complain."
Former horses to represent the Huish stable this decade include Redenzo Lad, King Kazou, Clairvue Diamond, Jonny Akhaton, Lady Conquistador and Gottabiton.