Young Darwin trainer Ella Clarke gets the win over her father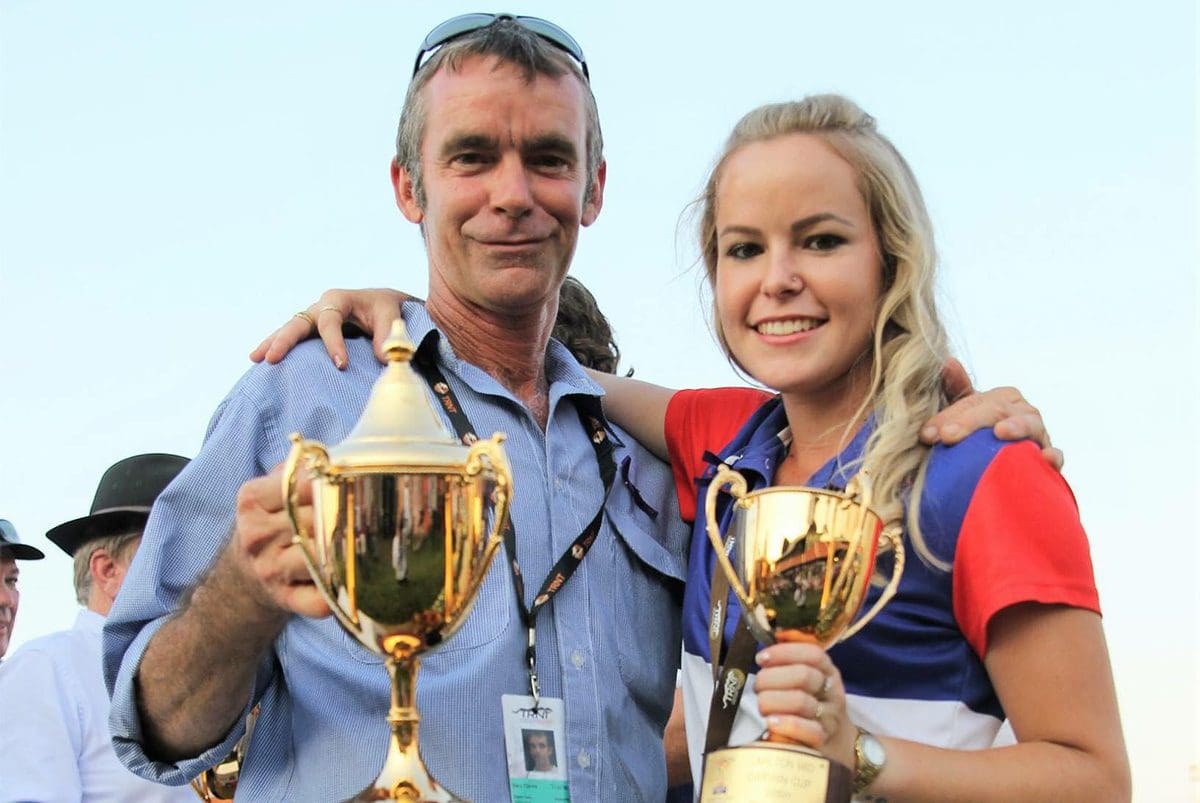 The leading trainer in Darwin, as well as a rising young jockey and an up and coming young trainer grabbed the headlines at Fannie Bay on Saturday.
Gary Clarke, who just can't stop winning the trainer's premiership in the Top End, had a winning treble with Tugga War (Jarrod Todd), The Captain (Paul Shiers) and Global Wonder (Adam Nicholls).
As a consequence, Clarke has now trained 40 winners for the 2021/22 season and has extended his lead in the premiership to 12 over Phil Cole – who also had success on the six-event program with Floreat Pica (Jade Hampson).
Speaking of Hampson, the 18-year-old apprentice, made it a double for the day after partnering the Tayarn Halter-trained Real Reason to victory.
For Hampson, it was a welcome return after injuring her ankle in a fall at Fannie Bay on Anzac Day.
That was only her second meeting as a jockey after winning her first race in her first ever ride aboard Pointo's Pick for Halter on April 14.
Clarke's daughter Ella, who debuted as a trainer last October, enjoyed victory for only the second time when Pop Magic (Stan Tsaikos) overcame father Gary's Akoni (Jarrod Todd) in the other remaining race.
Tugga War ($3.10fav) was always a strong chance in the Silks Roof Top Sessions 0-70 Handicap (1300m) after a last start second behind the in-form El Magnificence, who is better than just average, over 1200m at 0-70 level on May 28.
The six-year-old mare hadn't raced since performing with distinction in Darwin and Broome in July and August last year.
Looking For You ($6) and Elmore Lad ($3.20) set the early pace, but approaching the home turn Tugga War and Pembroke Castle ($6) were starting to make an impact.
Kym Hann's Elmore Lad (Stan Tsaikos) kicked and although Mark Nyhan's Pembroke Castle (Jade Hampson) looked a threat along the rails Tugga War finished too strongly with Angela Forster's $15 outsider Orcein (Sairyn Fawke) grabbing third place.
The Captain ($3.10) has a phenomenal record at Fannie Bay with the nine-year-old gelding proving far too good for stablemate Giant Leap ($2.70fav) in the Bet365 Odds Drift Protect Handicap (1200m).
After finishing sixth in the Pioneer Sprint (1200m) in Alice Springs on May 1, The Captain made it 16 wins from 29 starts in Darwin with a career record that now stands at 68 starts for 23 wins, 13 seconds and 12 thirds.
Giant Leap, a winner over 1300m on debut at Darwin on May 21, and The Captain started well and had Phil Cole's $6.50 runner Exact Replica (Wayne Davis) for company.
The Captain (63.5kg) was travelling superbly and kicked once turning for home as Giant Leap, who lumped 8kg less than his stablemate, attempted to bridge the gap after shaking off Exact Replica.
It was a forlorn exercise as The Captain won by a comprehensive five lengths from Giant Leap with Clarke filling the first three placings after $8.50 hope Blue Odyssey (Casey Hunter) past the tiring Exact Replica.
Global Wonder ($3.30) was returning after a six-month spell, but that proved no barrier after the four-year-old gelding found a passage along the rails when it mattered to win the Ladbrokes Mates Mode 0-64 Handicap (1100m).
Happy to sit off the pace, Heather Lehmann's Emerald Court (Sairyn Fawke) and Global Wonder's stablemate Manly Cove (Jarrod Todd) held sway out in front.
Manly Cove ($4.80) hit the front in the home straight before Global Wonder swooped to win by a length and a half with Emerald Court ($2.80fav), who was making her Darwin debut, finishing five lengths away in third place.
Pop Magic ($2.80) may have prevailed in the Hygain Off The Track TROBIS Maiden Plate (1100m), but the roles may have been reversed had there been an extra few metres as Akoni ($2.35fav) was rocketing home.
Arriving from NSW, Pop Magic was a first up second at Fannie Bay on May 7 and the three-year-old gelding held a commanding lead yesterday in partnership with Chris Pollard's $17 outsider Cudjerie (Casey Hunter).
Pop Magic dispensed with Cudjerie and held what appeared to be a winning lead in the home straight before Akoni, who hadn't raced since last June in Ballarat, made it interesting in the shadows of the post.
Lady Tucan ($31), with Sairyn Fawke aboard, finished third in her first race start for Heather Lehmann.
With a 4kg claim, Hampson was always likely to have a good day as a number of her mounts brought respectable form to the table.
Real Reason ($5.50), a four-year-old gelding, was in the mix in the ROANT Day June 25 0-58 Handicap (1200m) despite displaying erratic form since January, but in the end he fully deserved his victory.
Winding up from the back of the field once turning for home Real Reason caught Phil Cole's desperately unlucky $6.50 runaway leader (Vanessa Arnott) with 100m left to go, while Gary Clarke's $2.70 favourite with the top bookies Prince Ruban (Jarrod Todd) had every chance before finishing third.
The cards certainly fell Hampson's way in the final race of the day when she and Floreat Pica destroyed the opposition by seven lengths in the Lexus of Darwin 0-58 Handicap (1600m).
The five-year-old gelding had been racing well in recent months despite a poor performance in Alice Springs on May 1 and his first win since last June at Adelaide River didn't necessarily come as a complete surprise.
In a race where stablemate Nashwah (Wayne Davis) seemed to lose focus entering the back straight before eventually being pulled up, Floreat Pica ($4.80) never really left the rails and was always close to the lead before leaving his rivals in his wake.
Nicole Irwin's $2.30 favourite Cowley's Creek (Vanessa Arnott) – second behind Prince Ruban over 1300m two weeks ago – sat outside the winner for most of the race, but had nothing left in the tank in the home straight with Mark Nyhan's $3.60 hope Rojo Boom (Sairyn Fawke) a long way back in third place.
At the end of the day, an exuberant Hampson just could not hide her delight.
"It was a super day, it couldn't have gone better really," she said.
"Pembroke Castle was very unlucky – probably felt that I could have gone a little bit earlier.
"I'll go back and have a look at the replay because it didn't feel quite right around the back straight, but he still put in a nice run in for me.
"Floreat Pica that just worked out after a bit of stuff happening earlier in the race – it opened nicely for us and gave us a gun run.
"With Real Reason, I'm happy for him and the connections – it's great to ride a winner for Tayarn and part-owner Lindsay Schmidt as they have been awesome for me and have helped me out with everything.
"It's great to back, definitely – I've missed it and hopefully I can keep this streak up.
"All is look promising so far with the Cup Carnival coming up.
"I've got a few rides lined up next week at Darwin on Saturday and Alice Springs on Sunday, so that will be good."