Nicole Irwin back in business after winning a treble at Darwin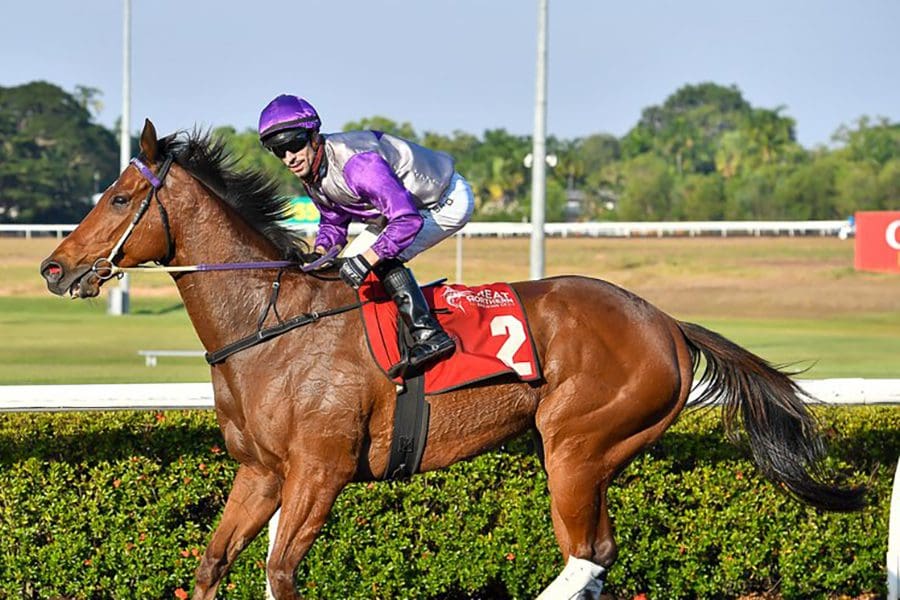 You could say that Nicole Irwin has got the spring back in her step.
The trainer from Murray Bridge in South Australia, who is once again based in the Top End for the Darwin Cup Carnival, suffered a major blow when last year's Cup winner Highly Decorated suffered a tendon injury to his near foe on June 4.
The injury was discovered a few days after the five-year-old gelding won his first race back at Fannie Bay at 0-79 level over 1200m.
It appeared as though the SA galloper, who won seven races from eight starts in the Top End last year – including victory on grass in the Adelaide River Cup (1600m) a 100km down the road from Darwin – was seemingly gearing up for yet another successful campaign in the north.
After a first up third over 1300m at 0-54 level last April, Highly Decorated won seven straight races – including the ROANT Gold Cup (1300m), Chief Ministers Cup (1600m) and Darwin Cup (2050m).
Irwin had every right to be devastated – not many would have blamed her if she just packed up and headed home.
However, Irwin is back in business after landing a treble at Fannie Bay on Saturday on ROANT Cup Day – traditionally the last meeting before the 2022 Darwin Cup Carnival commonly referred to as "Day Zero".
Masterati (Stan Tsaikos) made it back to back wins for Irwin in the Cup, which returned to the final Saturday in June this year after it was deferred a week until Darwin Guineas Day last year – Day 1 of the Cup Carnval – following a fall thus forcing the remainder of the ROANT Gold Cup meeting to be abandoned.
Irwin also tasted success with Hard Ransom (Sonja Wiseman) at 0-58 level over 1200m and Kentucky Ruler (Adam Nicholls) in a 1300m maiden, while third-placed Valentina Star (Vanessa Arnott) was just 0.4 lengths behind the winner Ideas Man and Adoradancer at 0-76 level over 1000m.
"I could have ended the day with four winners, but I can't complain too much because I had a fantastic day on Saturday," Irwin said on Sunday.
"They were all good wins and gives us a few more chances going into Carnival.
"Changes the set up a little bit with what we're doing with a couple of horses."
Masterati is a Fannie Bay specialist with seven wins, two seconds and two thirds from 12 starts, and was backing up after a last start fifth against genuine sprinting stars over 1000m the previous Saturday.
The eight-year-old gelding, jumping from the inside gate as a $2.90 favourite with Palmerbet, led from start to finish to win by three and a half lengths in a race that comprised six runners and Irwin could not have been more impressed.
"The way he dominated the race and then hit the line really strong with a lot of running left in him – he hasn't done that for a while, so it's good," she said.
"He'll go to the Chief Ministers Cup (1600m) on July 9 after that.
"He's won a mile up here before – we haven't set him on that program so far.
"We were actually considering heading towards the Palmerston Sprint (1200m), but the way he won yesterday, hit the line strong, we know he can get the mile – we've got a fortnight to change things up a little bit."
Irwin confirmed that the plan with Masterati was to "definitely to go to the front", but she was concerned that a change of rider might cause an issue.
In his past three starts since resuming with a win on May 28 over 1100m (0-76), Vanessa Arnott, Jessie Philpot and Tsaikos have partnered the Master Of Design gelding.
"He hasn't appreciated the change of rider in the last few weeks, so it was always a little bit hit and miss whether he was going to like Stan or not – he did, they got along like a house on fire," Irwin said.
Hard Ransom's win was similar to that of Masterati – jumping from barrier one before hitting the front and running his rivals off their legs to win by three lengths.
The four-year-old gelding ($4 fav) was backing up after finishing second in a 900m trial on Tuesday before winning his first race on debut in the NT.
"Yeah, well we knew he'd do that," Irwin said.
"He'd won a race at Port Augusta – won his maiden at Port Augusta actually and led that way.
"We sort of thought that would be his plan – just hoping that the 1200m wasn't too much for him first up."
Irwin bought Kentucky Ruler with the Darwin Guineas in mind and after his impressive win on Saturday there's every chance he could line up in the first of the two three-year-old features.
Settling mid-field along on the rails in the 12 horse field, the gelding ($11) made his move at the 600m when the gaps appeared with Nicholls sticking to the fence before going on to win the race by a length – and Irwin was full of praise for both horse and jockey.
"That was an amazing ride from Chippy (Adam Nicholls)," she said.
"We told him to dig him out of the gates and get him a little more positive – he tried, but there was that much speed on in front he couldn't quite get where we wanted him.
"In the end, I think it was a bonus – he sat on the rail, waited his turn and kicked away off the corner.
"Super ride, huge ride.
"We bought Kentucky Ruler with the aim of the Guineas in mind.
"We'll nominate for the Guineas, but we'll just see what pops up – he's still very green, he's very young.
"We may take an easier race for him and head towards the NT Derby (July16).
"He's already run the Derby distance – he's run that in Melbourne for Michael Maroney, so we're not concerned about him getting the 2050m."
In his first start at Fannie Bay on June 18, Kentucky Ruler finished a disappointing sixth over 1600m (0-58) – the same distance as the Guineas.
Valentina Star ($17), who has performed with distinction in the NT in the past, appears to be getting back to her best following injury.
"That was a super run, an absolutely super race," Irwin said.
"She wasn't far off them and just proves that she's probably starting to come to form as well.
"Last year we were up here – she put in a couple of ordinary runs.
"We had her x-rayed – she had a chip in her joint.
"We took her back to the Morphettville Equine Clinic in Adelaide and had the chip taken out.
"We gave her three months off with the aim of bringing her back this year.
"We'll get her in a bit of a nicer race, I'm thinking about heading her to the Rose Bowl (1300m) which is on Ladies Day on July 13.
"It's a bit further than she likes, so we'll just see what we can do."
Irwin revealed that after a relatively quiet period since starting her 2022 Darwin campaign in early April she decided it was time to re-charge the batteries.
Her success on Saturday is perhaps an indication that a new strategy is paying dividends.
"There was always a question mark in the air, we've had a couple of horses with a couple of ordinary runs," she said.
"We just had to change things up a bit – we've been playing around with a few different things going forward."
Meanwhile, Irwin confirmed that Highly Decorated has finally left the NT where he will receive Platelet Rich Plasma therapy to treat his injury.
It's a new treatment and involves taking a small amount of blood from the horse and processing it in a laboratory to harvest the portion containing the platelets.
This portion contains high concentrations of various growth factors which are capable of stimulating enhanced healing responses in the damaged tissue.
The PRP is injected directly into the injured tissue under ultrasound guidance.
"He landed back in Adelaide at the Morphettville Equine Clinic on Friday," Irwin said.
"He's having his treatment Monday and he will stay down at Morphettville with Leah Conlon, who is one of my best friends.
"She's also a horse trainer down there – she's going to look after him for me pretty much until we get back from Darwin, which will be mid September."