Fun-loving Fawke makes long-awaited return to Alice Springs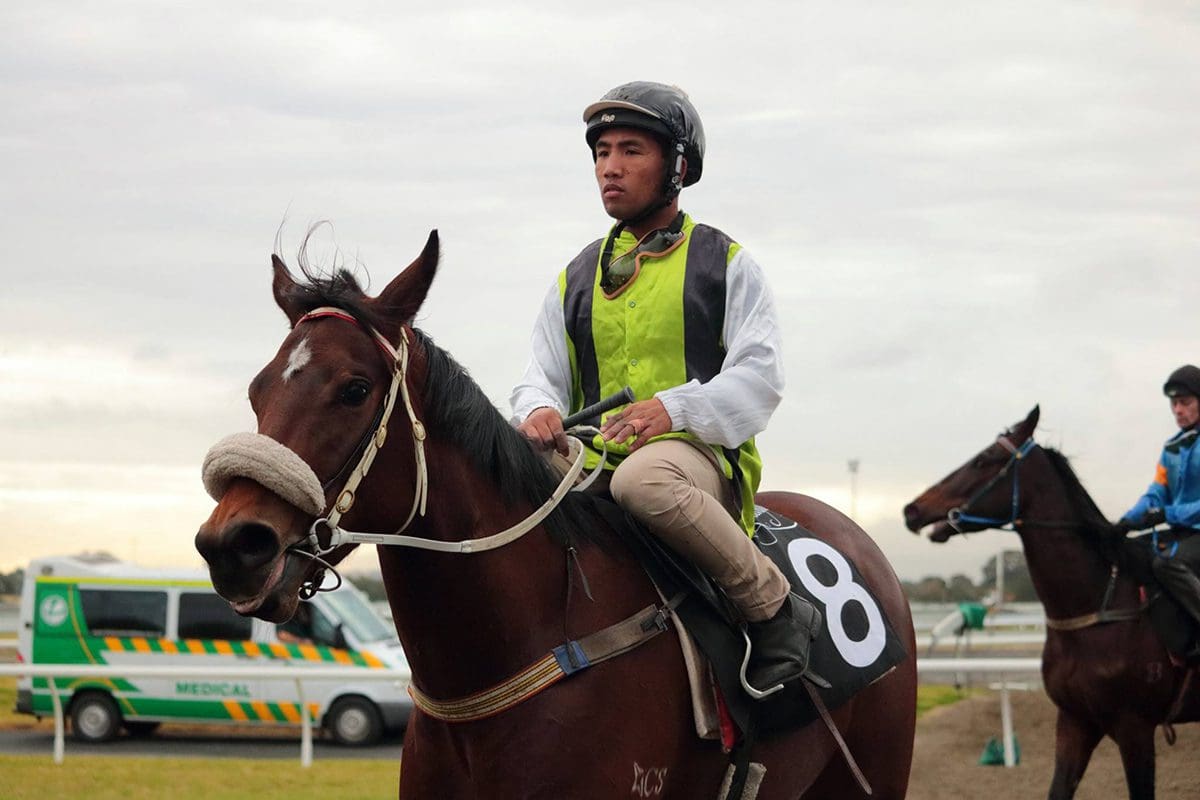 AFTER three years, popular jockey Sairyn Fawke makes his long-awaited return to Alice Springs on Saturday.
Fawke, 31, has endured a hectic 12 months after electing to end a four and a half year stint in the saddle in South Australia to pursue a business venture in Queensland.
Sadly, the business concept never saw the light of day.
The good news is that Fawke, who was raised in Brisbane, is back riding on a regular basis in Queensland.
And he is hoping for success at Pioneer Park for the remainder of the Alice Springs Cup Carnival.
The racing extravaganza in the Red Centre ends on Sunday, May 1 with the $110,000 Ladbrokes Alice Springs Cup (2000m) and $100,000 Pioneer Sprint (1200m).
"I've got some connections up here in the Northern Territory, so it's good to be back," he said shortly after arriving in Alice Springs on Friday.
"I'm here now for the next 10 days because I decided to stay for the last three meetings.
"Angela Forster is a really good supporter of mine in the Northern Territory and I was asked to come up and ride her Cup horse (Orcein) – and the stable also had a couple of runners in the coming week.
"The horse I'm going to ride in the Cup – Orcein – it won last time in Darwin, so they chose to go to the Chief Ministers Cup straight away.
"They originally had another race set out, but since he won the other day he is now going to the Chief Ministers Cup and then straight to the Cup."
Affectionately known as "Fawke Lift" among his peers, Fawke first got his taste of the dirt at Pioneer Park in 2018 when he accompanied Murray Bridge trainer John Hickmott to Central Australia.
He has also had the opportunity to ride at the famed Fannie Bay racecourse in Darwin.
"I've had a bit of success with John Hickmott in the NT, but I've also had good support from other trainers," Fawke said.
"Local trainers Lisa Whittle and Phil Cole have been supportive, as well as Kym Healy from Strathalbyn.
"It's good that I have built some connections and friendships up here in the Territory, so I will always pick up rides up here."
Fawke has five rides on the eight event program on Day 3 of the Alice Springs Cup Carnival – Liberty Blue (Race 3), Regal Capital (Race 4), Brazen Head (Race 5), Shame Shame Shame (Race 7) and Orcein (Race 8).
The Lisa Whittle-trained $18 hope Regal Capital, who hasn't won since Anzac Day last year, has to win the $25,000 Ladbrokes Switch WFA (1200m) to get a start in the Pioneer Sprint.
Orcein, a highly competitive commodity after five runs in the Top End since last September, was quoted at $14 on Friday for the $40,000 Red Centre Technology Partners Chief Ministers Cup (1600m).
Fawke rode 219 winners in South Australia and Victoria after accepting an opportunity to work for leading trainer Tony McEvoy at the end of 2016.
Before relocating, he rode more than 100 winners during an injury-plagued apprenticeship in Queensland where he was indentured to Pat Duff and later John and Chris Meagher.
Fawke, who has tasted success at Flemington, was an entertaining figure in South Australia and on occasions was renowned for his dance moves after booting home a winner.
He does have mixed feelings about leaving South Australia.
"I'm from Brisbane," he said.
"I wanted to come home eventually because I was in SA for so long and when you're in a place for so long you sort of get homesick.
"I'm home now, but I think for me with work South Australia was probably the best thing for me and in hindsight I probably shouldn't have left."
Fawke heads back to Brisbane after the Alice Carnival and intends to return to the Northern Territory for the start of the big racing in the Top End before the Darwin Cup Carnival kicks off on July 2.
"I've been riding for about 10 years now, but I started my apprenticeship late," Fawke said.
"I ended up riding for John Hickmott.
"I gave up riding to try and do something else business wise, but I'm back riding now.
"I'm riding out of Brisbane at the moment.
"There's a lot of Group 1 riders and international riders in Brisbane, so trying to break in is difficult.
"Trying to get going is really tough, you need opportunities.
"I get some rides because people like me and know that I've got some ability.
"Trying to get on the right horses and trying to get trainers to put you on is so hard because Brisbane is very competitive."