Flying Start wins NT Guineas as undefeated Dakota Lee is scratched at barrier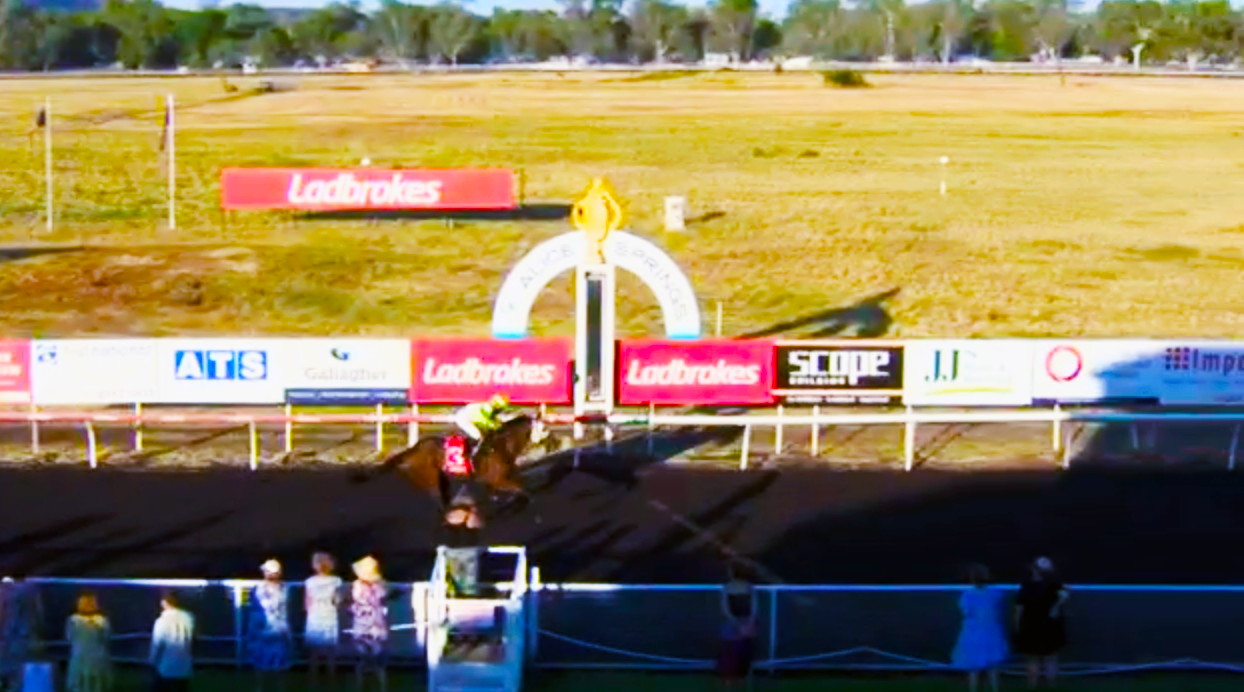 In what can only be described as a drama-charged race, Flying Start was an emphatic eight length winner of the $100,000 Imparja NT Guineas (1600m) in Alice Springs on Saturday.
Apart from the margin of victory, the red hot short-priced favourite with horse racing betting apps Dakota Lee from the Terry Gillett stable was a shock late scratching when the three-year-old filly refused to enter the barrier.
It sent shockwaves around Pioneer Park as Dakota Lee went into the race with an unbeaten record after seven wins in the Red Centre.
There was also significant change to the market with Flying Start, a +550 hope going into the feature race on Day 2 of the Alice Springs Cup Carnival, jumping as a -111.11 favourite when Dakota Lee didn't start.
Just as everyone was trying to make sense on what had just transpired, Greg Connor's Flying Start (Jessie Philpot) was easily four to five lengths last as the seven-horse field turned into the back straight.
Phil Cole's Bartolini (Wayne Davis) and Flying Start's stablemate Manhattan Man (Jarrod Todd) led the way with Lisa Whittle's Omoplata (Wayne Kerford) sitting comfortably in third place.
Flying Start, who arrived from Victoria to win a maiden over 1200m on April 2, was a mile behind at the 900m – but seemed to be travelling nicely.
With 600m to go Bartolini and Manhattan Man kicked, but 10 lengths adrift Flying Start suddenly clicked into gear with a withering burst of speed.
Turning for home Flying Start was motoring and in the blink of an eye the gelding gobbled up the leaders to blitz Manhattan Man (+800) pipping Bartolini (+340) for third place.
The winner had raced four times from 1400-1600m before arriving in the Northern Territory, but whether he would have toppled Dakota Lee is another story.
A fortnight ago, Dakota Lee was far too good for her three-year-old rivals after negotiating 1400m for the first time – a race that didn't include Flying Start.
For winning jockey Jessie Philpot it was another feature win in the NT after piloting Nicole Irwin's Highly Decorated from South Australia to victory in the Darwin Cup (2050m) last August.
Philpot agreed that it was an extraordinary Guineas – before and after they jumped.
"Yeah, it was. Flying Start ran well. Just does his own thing. Gets going when he has to," she said.
"That's how he raced last start. It was his first start in the dirt – he didn't liked the dirt in his face.
"In the Guineas, we just thought we'd just let him find his feet. See how he jumped.
"Greg pretty much left it up to me and it just seemed to pan out.
"I think he is a horse who settles off the pace. I think that's just how he races. He just gets into his own rhythm and works into it."
Philpot did have sympathy for the Dakota Lee camp.
"It's a bit disappointing actually, obviously for the Gilletts, their owners and connections – but I think it would have been an interesting race if she was in there," she said.
"I think I would have probably stuck with the same plan had she raced.
"We were walking around behind the gates, but Flying Start was really calm and chilled out – so it didn't really bother him that much.
"It obviously wasn't a good feeling when Dakota Lee was scratched, but I was quietly confident.
"After that I thought it changes the whole race. You don't know what to expect then."
And what about Flying Start's scintillating burst of speed approaching the home straight.
"He did take off. He doesn't burn much energy hanging back," Philpot said.
"He has got a pretty quick turn of foot and I think he will probably get more ground to be honest.
"I didn't actually think that he had won by that far.
"I looked at the margin this morning and I went, ooh, a bit further than I thought.
"He pulled up quickly at the end. Not sure why he did that, but he had a big run.
"Greg said that when he got home he was bouncing out of his skin. Hopefully he has pulled up well."
Philpot was pleased to see Manhattan Man finish second in the Guineas – it meant that trainer Greg Connor was able to quinella the race.
"He ran really well, actually," she said.
"Jarrod (Todd) got him out of the gates and got him going. He finished well.
"Greg was rapt and so were all the owners who live in Queensland and Darwin, so it was good."
Philpot and Connor shared a beer on Saturday night to celebrate, with Philpot indicating that Connor will wait and see how Flying Start and Manhattan Man pull up during the week before making future plans.
The way Flying Spur won the Guineas, a start in the $110,000 Alice Springs Cup (2050m) may not be out of the question and looking ahead a start in the NT Derby (2050m) in Darwin in July seems inevitable.
After Flying Start's victory, Philpot – who rode a treble on Saturday after saluting on Greg Connor's Bar Gem (+115 fav with online bookmakers) and Dick Leech's Signor Fangio (+900[/video]
---