Trident could make it a happy Alice Springs return for Mark Nyhan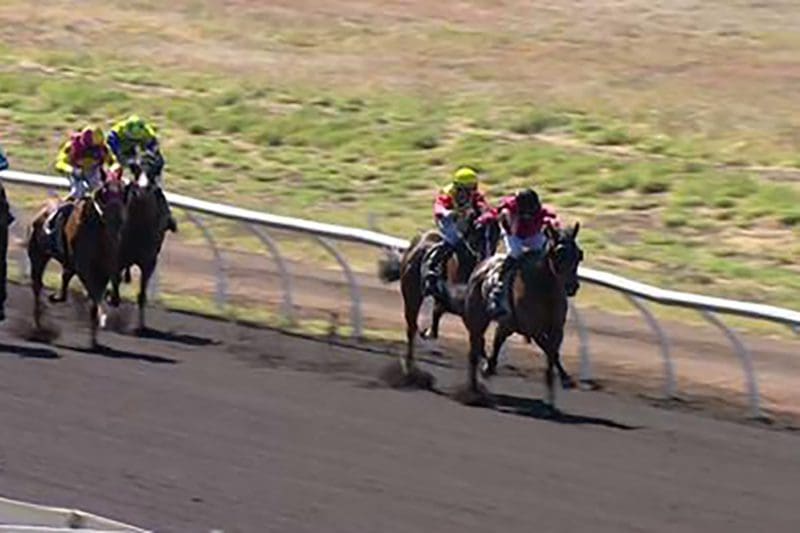 Mark Nyhan's gallant Alice Springs sprinter Pyxis once captured the imagination of the Northern Territory racing public, but Trident is now the star attraction for the Darwin-based trainer.
The four-year-old gelding has made a huge impression since making his debut in Alice Springs on Anzac Day last year with many good judges adamant he will make an impact in the $110,000 Ladbrokes Alice Springs Cup (2000m) on May 1.
First of all there's the matter of the $40,000 Red Centre Technology Partners Chief Ministers Cup (1600m) at Pioneer Park on Saturday – a weight-for-age event and the feature race on Day 3 of the Alice Springs Cup Carnival.
He was quoted at around $10 with Bet365 on Wednesday for the race, but if he brings his best to the table Trident should be in the mix.
Nyhan, who hails from New Zealand, trained in the Red Centre for years before relocating to Darwin after last year's Alice Springs Cup Carnival.
Trident's career started in New Zealand as a two-year-old when he won on debut at Ellerslie in Auckland over 880m in October 2019.
He raced a further four times in New Zealand before ending up at the stable of South Australian trainer Michael Hickmott in Murray Bridge.
From August-October in 2020, Trident had three runs in Adelaide before he wound up in Alice Springs.
"Those in New Zealand who owned him sent about half a dozen horses to Michael Hickmott and Trident was one of those horses," Nyhan said.
"He didn't disgrace himself or anything like that in Adelaide.
"Michael just rang me one day and said that there was a horse there and did I want to lease it.
"Based on his record I thought it was worth a go, so we just went from there.
"He took a bit of time, he had a few problems.
"I probably worked him for six months before he had his first start.
"He sort of went from there – over a bit of time he started to show a bit.
"He's not really a flash worker, but things started to come right for him and that was it."
Racing against fellow three-year-olds, Trident finished second over 1100m in his first start in the Red Centre before getting the cash the following week over 1200m on 2021 Alice Springs Cup Day.
It was after that win that Nyhan was convinced he may have a decent horse on his hands.
"When he won his second start over 1200 he looked pretty strong," he said.
"I thought that if he could do that second run in he looked like the type of horse that would run a bit further.
"He's developed into a good miler and has a fair amount of speed which helps.
"He's one of those horses who doesn't have to put himself out, he doesn't have to do a lot of work early.
"He can position himself back and then make a run."
Once arriving in the Top End, Trident has had nine starts for four wins.
That includes victory in the Darwin Guineas (1600m) before finishing third behind Sanblas in the NT Derby (2050m) last July during the Darwin Cup Carnival.
Trident finished ninth behind Highly Decorated in the Darwin Cup (2050m) on August 2, but since his return in January he has finished third over 1100m before posting two wins over 1300m at Fannie Bay.
They proved too quick for him over 1000m upon his return to Alice Springs on March 26, but on April 2 he struck back in style with victory over 1600m.
Pyxis won a Pioneer Sprint (1200m) – the feature event for sprinters during the Alice Carnival – for Nyhan in 2018, but to return to his old stamping ground and win the Chief Ministers Cup and Alice Springs Cup with Trident would be spectacular.
"Hopefully he will win on Saturday and hopefully he will be running in the Cup and winning that too," Nyhan said.
"He's had the right amount of runs as far as I'm concerned – he's a sound horse, he's pretty happy.
"His runs so far haven't seemed to have knock him too much – it doesn't seem to worry him at all.
"Things are going very well and touch wood it will last a little bit longer.
"He'll then have a bit of a freshen up and then head back for the Darwin Cup."
The likes of Budget King, Valley Prince, Orcein, That's Justified, Count Of Essex, Exonerate and Desert Lass will provide a big test in the Chief Ministers Cup, but does Nyhan expect Trident to be competitive in the Alice Springs Cup.
"Definitely. He's a very smart horse," he said.
"I've had some alright horses, but he is far away the best I've ever had – even better than Pyxis.
"I had a really good horse a few years ago in New Zealand called Royal George.
"He was a good stayer, but Trident is better than him."