Fireburn at 'crossroads' with spring plans undecided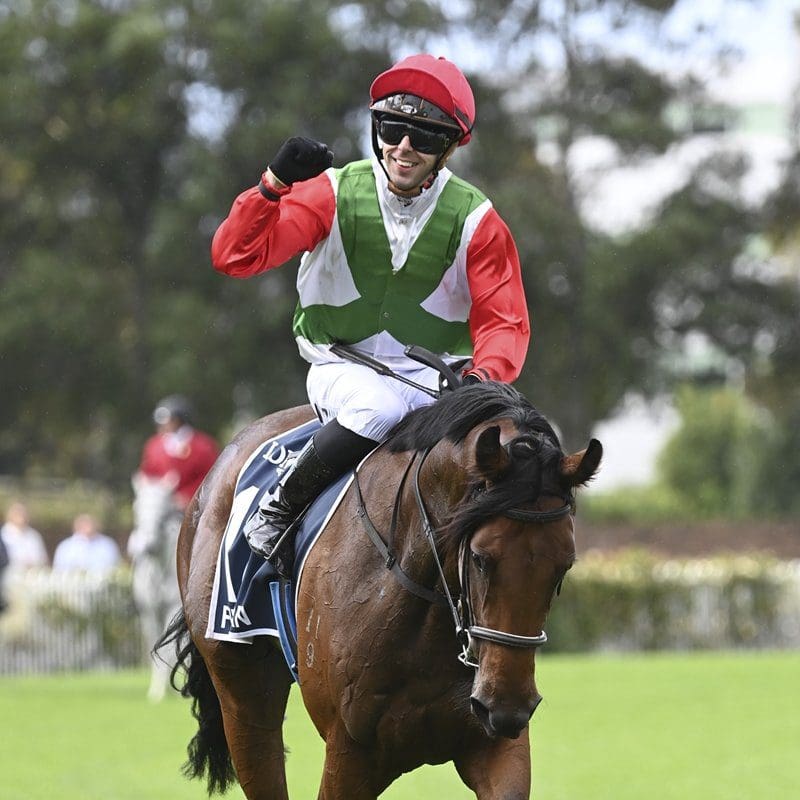 There is a collective headache in the Gary Portelli stable about star filly Fireburn's future, but the team insists it is a good headache to have.
After an incredible autumn carnival saw the two-year-old prevail in the Golden Slipper and Sires' Produce Stakes, before narrowly beaten by She's Extreme in the Champagne Stakes, the sprinter is enjoying a well-earned spell.
The direction Portelli chooses to send her next will depend on how well the horse returns from her break, according to racing manager James Fathers.
But in good news for the Fireburn faithful, both Plan A and Plan B are strong options at this stage.
"She's at a bit of a crossroads depending on how well she spells. Gary is going to go to the farm (this) week and having a look at her," Fathers told HorseBetting.com.au.
"If she's doing really well, she might come in the same time as Sejardin and be on a similar Golden Rose prep.
"The alternative is she's out a bit longer and comes in for a Coolmore (Classic) prep.
"She's also eligible to win the $5 million bonus if she wins the Golden Rose and the Eagle. That'd be huge."
Already boasting a resume that is the envy of most sprinters, it is no wonder Portelli feels no pressure in getting Fireburn back on the track.
"It'll all be dependent on how she spells, and at this stage we're happy. But Gary's in no rush to bring her back. He doesn't just want to chase the money," Fathers said.
"He did say in the long-term there are also loads of nice races in the autumn. She could be a Guineas horse in the autumn, and the next spring she could be an Everest or Cox Plate horse."
Fathers said it wasn't a huge surprise that Fireburn won two of the three Triple Crown races this year.
"Unbelievable. But she didn't come from nowhere. When she won just after New Year (Ranvet Handicap) we thought 'that's great'," Fathers said.
"But we thought we'll come back and trial, and then probably go to the Sweet Embrace.
"Then, if she doesn't run top three, we'll go to the Black Opal because it can be a bit weaker before the Slipper.
"As it turns out she was super impressive winning the Sweet Embrace on a heavy track, which probably helped her.
"And then she went to a new level again in the Slipper."
You wouldn't think Fireburn would be capable of taking her racing to a new level if you looked at her on the track leading up to her races.
But – as she showed with her superbly timed run and ride from Brenton Avdulla in the Golden Slipper – she knows exactly when to switch off and on.
"She's one of those funny horses – she's very quiet at home," Fathers said.
"She's a slightly lazy workhorse who just goes out and does her thing and you wouldn't really notice her.
"It's really when the colours are on on raceday that she shines. That's all you want."
Fathers said his stable would like to see Avdulla back aboard Fireburn when she makes her return.
"I'm sure that'd be the logical step. I'm sure that'll be how it happens," he said.
Meanwhile, Fathers said fellow star two-year-old Sejardan was tracking nicely for some big feature races in September and October.
"He's coming back into work at the start of next month. He'll go for the Golden Rose. He'll have two trials and then the Golden Rose," he said.
"Maybe later on we can look at a Caulfield Guineas or a Spring Champion Stakes – he settles so well."
Another fast-developing two-year-old in the Portelli stable – Snitcat – also has a promising future, according to Fathers.
"She ran third in the Magic Millions two-year-old race (on the Gold Coast on January 15)," he said.
"She's been out for a good long spell because she was very busy early – she ran in the Golden Gift and ran well there (fifth at Rosehill on November 6 last year), and she ran in the Magic Millions.
"She had a really long spell and she's going to come back for the Darley series."
There is plenty of optimism that another Fireburn or Sejardan type can soon emerge from the Portelli stable.
"We've got three exciting two-year-olds and a great bunch of yearlings as well, about seven," Fathers said.
"So we're hoping to get another Sejardan or Fireburn from those."