Unstoppable Gary Clarke wins the Palmerston Sprint with Syncline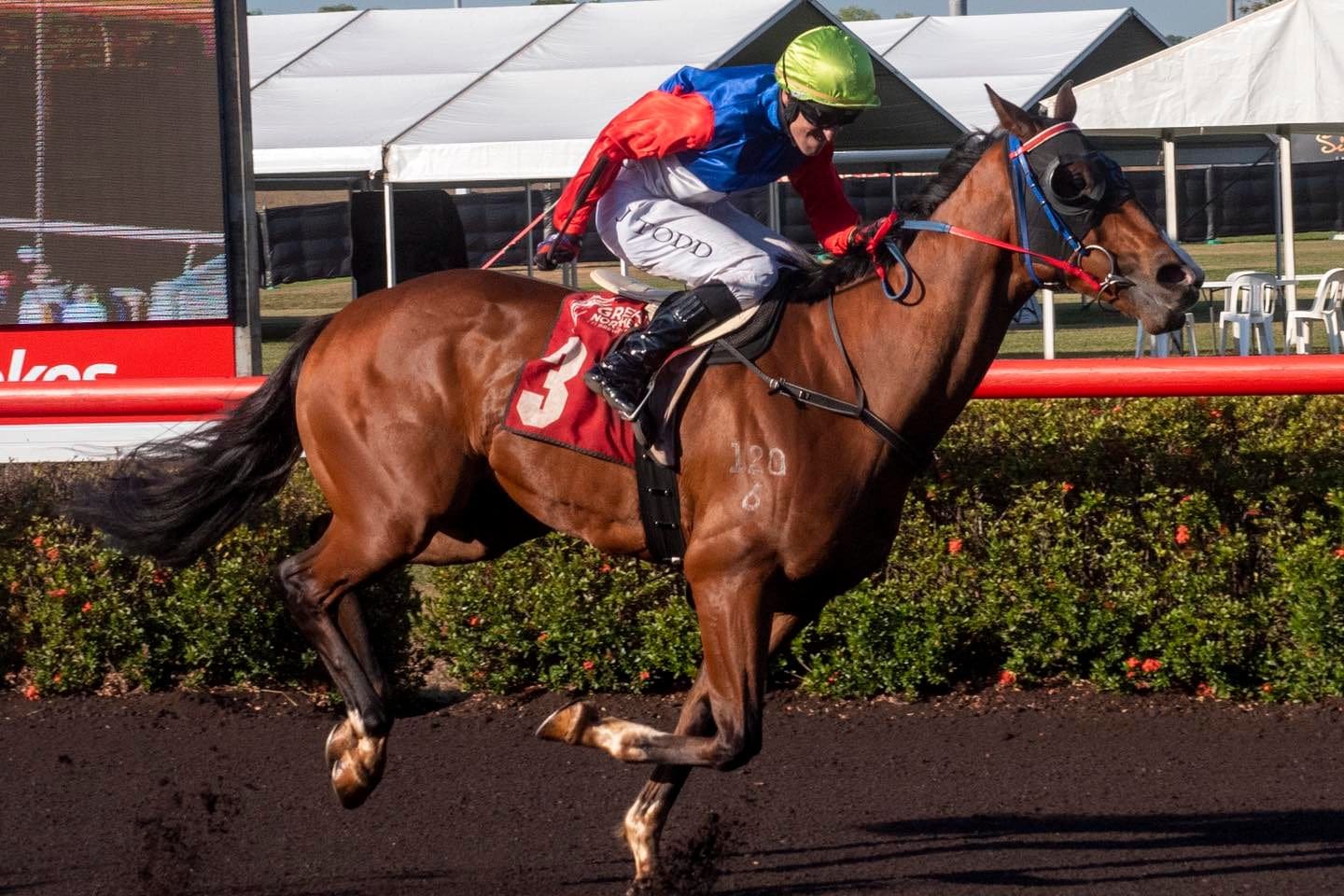 He is just proving unstoppable.
Champion Top End trainer Gary Clarke won his fourth Darwin Cup Carnival feature on Saturday when the incredibly consistent Syncline won the $135,000 bet365 Palmerston Sprint (1200m) at Fannie Bay.
That followed the success of Wolfburn in the $75,000 Darwin Guineas (1600m), Playoffs in the $60,000 Chief Ministers Cup (1600m) and Autocratic in the $40,000 Darwin Corporate Park Cup (1300m).
Wolbfurn also finished second in the $135,000 NT Derby (2050m), while it was a fourth with Obligatory in the Darwin Corporate Park Cup and The Captain in the Palmerston Sprint.
Clarke has subsequently pocketed roughly $230,000 in prizemoney for the month of July.
He will be aiming to add to his success on Monday when Playoffs and Vallabar line up in the $200,000 Great Northern Darwin Cup (2050m).
Playoffs is the $4 second favourite behind the Robert Gulberti-trained Living The Dream ($2.70), while Vallabar is more than a decent $16 chance with Palmerbet.
A Darwin Cup win will be Clarke's third as a trainer after Lightinthenite (2015) and Zahspeed (2018) got the cash, and that follows his success in the NT's biggest race as a jockey when he piloted the Steve Paynter-trained Star Bullet to victory in 2000.
For Clarke, it was his fifth Palmerston Sprint victory in the past seven years after Handsome Tycoon (2016), Captain Punch (2018 and 2019) and Enigman (2020) saluted.
Syncline, a five-year-old, had just eight starts in NSW for two wins at Taree and Hawkesbury before winding up in Darwin.
The Stratum gelding adjusted to the Fannie Bay dirt immediately when he made it a debut win over 1200m (Class 2) on June 19 last year before winning over 1200m (0-76) at his next start.
In 15 starts in the Top End, Syncline has raced from 1000-1300m and has only finished out of a place on one occasion – that was when he came fourth over 1200m (0-76) on September 11.
Remarkably, he has only finished third once when he trailed stablemate The Captain at weight-for age level over 1200m on 2021 Melbourne Cup Day.
Following that race he won in open company over 1200m before finishing second in his next five starts from December-June.
Syncline completed his preparations for the Palmerston with an impressive win in the Cleanaway Handicap (1100m) against open company on July 2 – Guineas Day.
Subsequently, Syncline, who jumped as a $5 second favourite on Saturday in the NT's premier race for the sprinters, was certainly more than a decent chance with the top Australian bookmakers.
Settling behind joint leaders Masterati (Stan Tsaikos), Our Luca (Paul Denton) and The Captain (Adam Nicholls) in fourth place, Syncline was travelling comfortably as the first four horses pinched a break on their eight other rivals rounding the home turn with 600m left to go.
The back markers started to make ground turning for home, but they had plenty of work to do as The Captain ($9), lumping 61.5kg, made a move on Nicole Irwin's Masterati ($11) and Kerry Petrick's Our Luca ($13).
At the same time, Syncline (Jarrod Todd) had worked his way to the outside and with 250m to go he had plenty of wind in his sails.
Kym Hann's $10 hope Royal Tyke (Sonja Wiseman), who was picking up speed as from the 700m, looked a major threat swinging into the home straight before losing momentum when the gaps failed to appear.
Meanwhile, Phil Cole's $16 chance Smuggling (Jason Maskiell), winner of the Pioneer Sprint (1200m) in Alice Springs in May, was typically winding up from the back of the field, but he had clearly given the leaders too much start.
Chris Nash's in-form $4.60 favourite Ideas Man (Dean Holland) and Dick Leech's well-supported $6 hope Easy Beast (Sairyn Fawke), who were among the back markers half way through the race, were at long odds to make an impression at the finish.
With 100m to go Syncline was home and went on to win by two lengths (1.08.66) from Smuggling, third in the 2021 Palmerston, while Easy Beast, who seemed to suffer from the kick back down the side, stormed home to pip the gallant The Captain and the unlucky Royal Tyke for third place.
Apart from Ideas Man, who finished 10th, there weren't too many surprises, although nine-year-old The Captain did a fantastic job after jumping from the outside barrier and Smuggling proved once again that he lifts for the big NT sprinting races after producing mediocre form after winning the Pioneer Sprint for the second year in a row.
It was Jarrod Todd's first win in the Palmerston and not surprisingly he stood up in his irons and waved his whip in celebration after passing the winning post.
Adam Nicholls was aboard Wolfburn when he won the Guineas, but Todd was in the saddle for Clarke when Playoffs and Autocratic won the other two Cup Carnival features.
Clarke is the first to admit that Syncline's consistency amazes him, but was convinced that the horse was in good shape after rolling Easy Beast in that 1100m race in early July.
"It just told me straight up that the horse was a live hope in the Palmerston," he said on Saturday.
"That's why I tucked him away after the race, I didn't race him again until the Palmerston.
"The thing was both of those horses – they were probably going to improve.
"Easy Beast ran home and looked like he was going to be a danger in the Sprint.
"But I mean, just gaging what Syncline did that day I just knew that he had improvement in him to go forward into the Palmerston as well."
According to Clarke, everything in the Palmerston Sprint pretty much went to plan.
He couldn't fault Syncline, admired the ride of Todd and had special praise for The Captain, who has a rating of 99 and continues to be competitive despite lumping the big weights.
In 69 starts, The Captain has posted 23 wins, 13 seconds and 12 thirds.
"You can never predict what is going to happen in a Palmerston because it's such a high pressure race," Clarke said.
"As it turned out a couple of horses spread the field out, which allowed Syncline to get a nice run just back of the speed a little bit.
"And Jarrod said he followed the old horse The Captain because out of those three leaders he appeared to be the one travelling the best, which turned out to be right.
"I was happy with him, the old fella, he just wouldn't lay down – he played a big part as well.
"The Captain is a mighty old horse.
"If he had won I probably would have retired him.
"I probably wouldn't have been able to race him again if he had won due to the weight factor.
"I only race him four or five times a year and right now I don't know what to do with him.
"And yeah, it was a great ride by Jarrod.
"He's good value Jarrod.
"He's been here for a while now – he knows how to ride the track.
"He pretty much knows how the other jockeys are going to ride the track as well."
Todd, who won his one and only Darwin Cup on Royal Request for Neil Dyer in 2017, has formed an incredible association with Clarke after replacing Brendon Davis as the stable's No.1 rider and will ride Playoffs in the Darwin Cup.
Tasmanian-based jockey Anthony Darmanin will make the trip north to partner Vallabar, who did all his racing in the Apple Island before arriving in Darwin.
Looking ahead to the Darwin Cup, many good judges agree that Playoffs and Living The Dream will battle it out for honours.
When asked about Playoffs' hopes, Clarke said: "I'm happy with my bloke."
Clarke has officially won the Top End trainer's premiership for the 10th year in a row when a double on Saturday made it 55 wins for the 2021/22 season.
Todd secured the Top End jockey's premiership for the third straight year with 44 wins.
Clarke and Todd are a formidable combination after recording 71 and 58 wins, respectively, last season.
They were the leading trainer (19) and jockey (11) at the end of the Darwin Cup Carnival last year and with one race meeting remaining this year both lead the way with Clarke on 13 and Todd on 11.
Clarke has at least one runner in nine of the 10 races at Fannie Bay on Darwin Cup Day and a majority of them are at the peak of their form.
"I've got quite a few chances on Monday," he said.
"A lot of those races – those horses are sort of lobbing into those races spot on.
"We'll have to wait and see, but I've had a good day today."