Statistics confirm on-course bookies fears
FEARS on-course bookies could be dying have been backed up by statistics released by the Queensland Government.
Working in co-operation with all Australian state and territory governments, the 33rd edition of Australian Gambling Statistics points towards a dramatic decline in on-course revenue turnover with the rise of online bookmakers largely to blame.
The nation-wide data on total revenue generated from on-course bookmakers grows every year, but when it is taken into account that Northern Territory's on-course bookies are basically corporates like Sportsbet and William Hill, the figure drops dramatically.
Less than 10 percent of the overall figure for all Australian on-course bookmakers was a true reflection of the on-track bookies.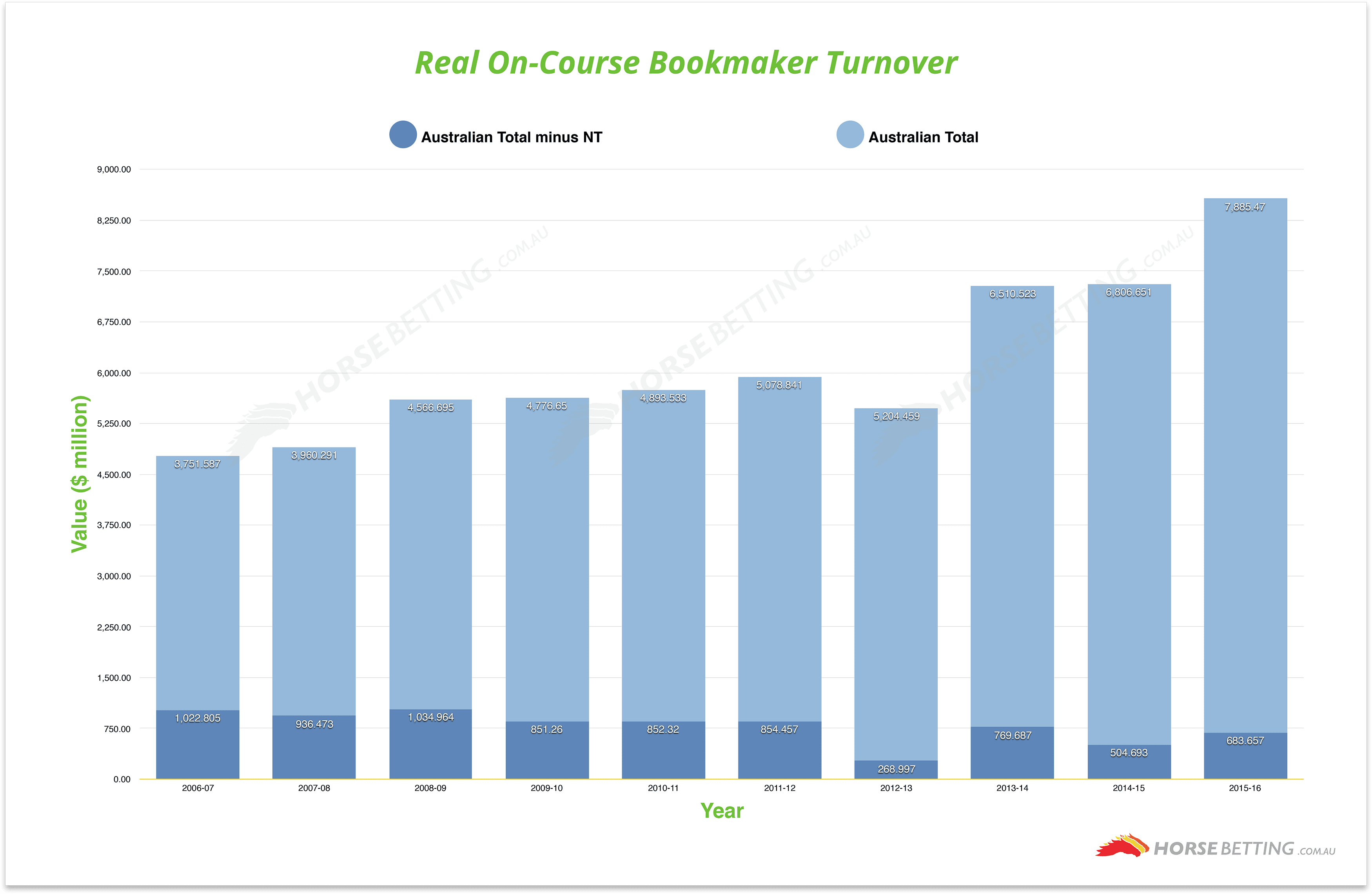 These figures echo the sentiments of on-course bookies Ben Musgrove who told HorseBetting.com.au that his job had become a 'hobby' due to the corporates taking over.
"This is more a hobby for me these days. It's been in my family for three generations… we just can't compete with (the corporate bookmakers)," Musgrove said at the Wodonga Gold Cup meeting.
He went on to say there has been a sharp decline in the amount of events they can attend live due to the downturn in on-course spending.
"We used to go to about 40 or 50 meetings a year, and now we're down to about 20."
Decline in NSW on-course betting
The steady decline in on-course bookmaking has taken place since the online agencies have taken up the majority of the marketplace in Australia.
New South Wales  – which is one of the primary jurisdictions and home to many of Australia's most famous racecourses – has seen its numbers almost halved in each 12-month period, according to the report.
| | |
| --- | --- |
| YEAR | REVENUE FIGURE FOR NSW |
| 1990-91 | 2,285.021 |
| 1994-05 | 1,424.234 |
| 2004-05 | 833.963 |
| 2014/15 | 468.082 |
NSW is by far the biggest revenue-generating state, but its number could dwindle even further after it introduced The New South Wales Official Price from May 31.
Coming into line with Victoria and Queensland by taking betting movements for all NSW meetings from a combination of the top corporates firms and TAB fixed odds means on-course bookmakers can no longer play a role in setting their official prices, effectively alienating big-time punters.
NSW bookmakers co-operative president and rails bookmaker, David Dwyer, told Fairfax Media in June the move will see a sharp decline in on-course betting.
"It is a service that our professional clients have used for more than 30 years and is worth more than $100,000 every Saturday, but we didn't offer it last Saturday.
"That is money, which will go elsewhere because the corporate don't offer that service to those sort of punters."
Figures released next year will showcase the true damage of the aligning move.
Just 2 percent of punting in Victoria is on-course
Victoria, which has not included its on-course bookmaking stats for the last four years, released its own statistics that suggested punters were looking off-course for their wagering needs.
During the Melbourne Cup Carnival, Horse Betting spoke to on-course bookmaker Steven Allen, who said the corporates offer a service that makes it "difficult" to compete.
"As more people bet on their phones, progressively betting has been halving," Allen said.
"The corporates offer their exotics, promotions and others make it so hard for guys like us to exist."
The numbers back up Allen's assertions.
The 2017 annual report released by Racing Victoria stated that while they have experienced growth of 9.4 per cent to $6.23 billion in total punting, "98% of wagering is conducted off-course".
This means on-course bookmakers account for a mere fraction of the annual turnover, and Allen said it is only going to get worse from here.
"These days punters don't have to worry about coming to me to get a ticket, they don't have to worry about coming back to me to get a ticket and they don't have to worry about losing it.
"It's stress-free betting. They still bet, they just don't do it the traditional way."