Records tumble at Inglis Easter sales as Coolmore snags $3m colt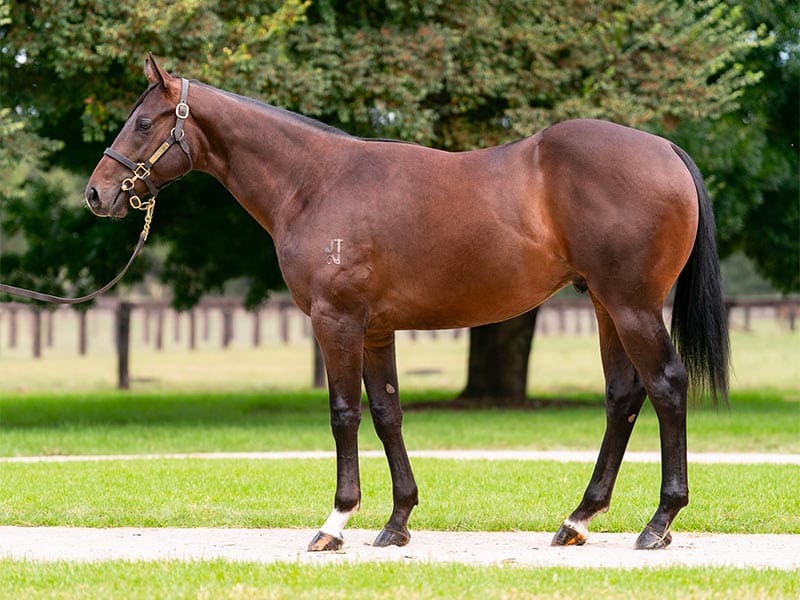 The final gavel came down at Inglis' Riverside Stables late on Wednesday afternoon to conclude an extraordinary Australian Easter Yearling Sale which saw 117-year-old records tumble.
Over the two days of selling, 438 of the best yearling bloodstock in the country took centre stage in the sale ring, with the results leaving vendors "gobsmacked", "totally floored" and "flabbergasted".
The unprecedented highs including:
All key financial indicators increased with the current gross of $151,325,000 up 15% year-on-year and eclipsing the long-standing record from 2008 when Darley and Ingham Bloodstock famously went head-to-head on a $37m spending spree.

---

The average of $406,788 and median of $300,000 both set new benchmarks for Southern Hemisphere yearling sales as clear record highs, enjoying increases of 10% and 7% respectively.

---

Arrowfield set a new benchmark for vendors, grossing a staggering $30,175,000 from 58 horses sold, the first time in history a vendor has grossed more than $30m in this part of the world.

---

Coolmore flexed its muscle on the buying front, ending as leading buyer by gross and average (for three or more purchased), spending $10,300,000 on six lots at an average of $1,716,667.

---

The sale's top lot – a Zoustar x Solar Charged colt from Widden – became the equal-third highest yearling ever sold in the Southern Hemisphere and most expensive in nine years when selling to Coolmore for $3m.

---

Overall, 20 horses sold for $1m or more including the four most expensive horses sold in the Southern Hemisphere this year, again asserting Easter as the most prolific producer of seven-figure yearlings.

---

The most expensive Zoustar and Dundeel yearlings, most expensive I Am Invincible filly (and equal most expensive I Am Invincible yearling) and first millionaire Justify yearling were all achieved today alone.

---
We are so proud of the collective effort of our team at #InglisEaster and at the farm to finish with an all-time record Vendor aggregate of $30,175,000 with 58 yearlings sold for an average of $520,259. Thank to all bidders & buyers! #findyourmasterpiece pic.twitter.com/9wnkxLqHPQ

— Arrowfield Stud (@ArrowfieldStud) April 6, 2022
Day 1 of selling saw a new Southern Hemisphere record set for an individual day's aggregate with the $66,410,000 gross surpassing the previous record which was set at the same sale last year.
The day saw six yearlings, from five individual vendors, realise $1m or more.
Ciaron Maher, Kia Ora Stud and Tony Fung Investments joined forces to purchase the days top lot in the outstanding I Am Invincible x Egyptian Symbol (lot 144) colt from the draft of Cressfield for $1.5m.
"He is up there with our best, I daresay he has been the most inspected horse in Cressfield's history. The X-Rays and scopes were certainly our highest ever so it's a fabulous outcome," an elated Wayne Bedggood of Cressfield said.
Maher's bloodstock manager, Will Bourne, described the colt as "a lovely animal".
"Ciaron thought he was the colt of the sale. It's quite obvious when Ciaron doesn't have an owner for it and he goes to $1.5m that he likes it,'' Bourne said.
"Ciaron is an aggressive guy with business, and fortune favours the brave. He's not afraid to put his neck on the line and he has done on this colt and that reflects how big of an opinion he had of the colt.
"Ciaron really likes the farm, they're a nursery of champions Cressfield. About three years ago Ciaron purchased Cellsabeel off the farm, it's the same family with her there in the second dam and she had a ton of ability who was a long-time favourite for the Slipper so Ciaron had that in mind too when buying.
"He's just a lovely animal, exactly what Ciaron looks for in a horse – plenty of size, plenty of substance, we couldn't fault him."
Equal second-top lots at $1.4m were the Snitzel x C'Est Beau la Vie youngster from Arrowfield (lot 90) and a Written Tycoon x Gracie's Lass colt of Vinery (lot 198) who were both purchased by Coolmore and will be heading to the stables of Chris Waller.
"The C'Est Beau la Vie, he was a striking colt, one of the nicest Snitzels in the sale. It's obviously well known what Snitzel is doing at the moment, and out of a Bernardini mare, it's always a positive.
"And the Gracie's Lass, he is a horse that is mature, he looks strong and Chris [Waller] was pretty keen on him, he thought he was a forward type of horse," said Coolmore's Tom Magnier.
Day 2 saw records tumble even further with another 14 yearlings realising the magical seven figures.
They were headlined by Widden's Zoustar x Solar Charged colt (lot 434) who sold to Coolmore for $3m. The sale topping colt being a full brother to champion mare Sunlight, whose Group 1 wins included the Coolmore Stud Stakes and William Reid Stakes.
NEW TOP LOT! The full brother to the champion filly Sunlight Lot 434 the Zoustar x Solar Charged colt from @widdenstud sells at the #InglisEaster for $3M to @CoolmoreAus an outstanding result this evening at Riverside. Congratulations! pic.twitter.com/9EGZNGs3Hu

— Inglis (@inglis_sales) April 6, 2022
The result brought Widden stud principal Antony Thompson to tears.
"It's stunning. I can't believe it. Words can't describe the rollercoaster being behind the auctioneer there and seeing that horse make $3 million, it is just overwhelming," an elated Thompson said.
"I'm blown away, we all are.
"To top any sale is a fantastic thing but to top the Inglis Easter Sale, it's pretty awesome. It's been a stunning sale. You come here with the best of the best, you really have to stump up, there's a lot of competition and so many beautiful horses on the complex, the buyers here are very professional.
"We knew we had a very special horse but wow, that's a very special price. I'm just flabbergasted really."
The colt was one of six for Coolmore – all of which were seven-figure purchases – which also included today's second-top lot, a Snitzel x Response colt from Arrowfield for $2,250,000.
"We're in the game this week of trying to find stallions. If you want to find the good pedigrees, they're all here this week at Inglis Easter," Magnier said.
"Around the world there is a lot of high prices on yearlings, but it's about the types you walk away with. The truck will be going back to the farm tonight and to the breakers and hopefully, there is the next Home Affairs in there.
"The Solar Charged, he was probably the best type at the sale…and the Response, it's a real stallion's pedigree and if he does it on the racetrack, well they're the kind of horses we wanted to get this week."
Arrowfield Stud finished the sale with an all-time record vendor aggregate of $30,175,000 with 58 yearlings sold for an average of $520,259.
The renowned nursery offered the second and third top lots of the sale; the Response colt as well as a Snitzel x Silent Sedition filly, which sold to Hawkes Racing for $2.2m.
.@HawkesRacing secured the highest-priced filly of #InglisEaster 2022, @ArrowfieldStud's Snitzel x Silent Sedition filly, for $2.2m.

Isn't she beautiful! #BestOfTheBest pic.twitter.com/QUzJ53yxwC

— Inglis (@inglis_sales) April 7, 2022
"We were very pleased with the outcome, I'm elated and I'm really happy for the team. We broke our own record, by a huge margin, by $9 million which is ridiculous. We are very proud of that," Arrowfield's John Messara said.
"It's very gratifying because there has been a massive investment to get to where we are today.
"On the two big ones today, the [Response] colt we felt he was going to fetch big money because he was admired by so many professional buyers and in the end they got into a tussle to get him up to a pretty high level.
"His mother has thrown two good ones ahead of him, so it's a low-risk proposition buying him based on what his mother has already thrown.
"And the [Silent Sedition] filly, I thought to my eye there were some very nice fillies in the sale but she was as good a filly as you could find. Almost perfect in every way so let's hope she proves that on the track."
A half sister to Everest winner Classique Legend by I Am Invincible x Pinocchio, was purchased by Mitchell Bloodstock on behalf of The Yellow Brick Road Company's Phillip Visalli for an even $2m from the draft of Tyreel Stud.
"There may be no such thing as a perfect horse, but she's as close as you'll get," Visalli said.
"We've been in racing for years and have had a Group 2 winner before but never a Group 1, so hopefully this filly fixes that in the next year or two or three.
"We loved the horse, we hadn't bought one in a few years and decided we wanted to get back involved and when we fell in love with her, I asked Bill and James Mitchell to take a look to see if they agreed with us, and they did, so we went for her."
An emotional Linda Monds of Tyreel adding, "Absolutely amazing, just an outstanding result.
"I'm just blown away. I didn't think I'd achieve that in this market. Colts will, I just didn't think a filly could get there, it's honestly floored me."
Inglis Bloodstock CEO Sebastian Hutch said he couldn't have wished for a more remarkable two days than what unfolded at Riverside this week.
"That was Inglis Easter. The sale was extraordinary, today especially, for so many people, so many breeders, so many vendors and so many buyers who are taking home with them the best yearlings available to the public market this year," Hutch said.
"We work hard to help people achieve their optimum results, so for the last two days to play out as they have is hugely satisfying.
"We don't take our marketing line of 'Inglis Easter. Best of the Best' lightly, it's something we are extremely passionate about ensuring is proven to be the case year after year and it's certainly been so again this year.
"On behalf of everyone at Inglis, I want to express a huge amount of gratitude to everyone who participated in making the Inglis Easter Yearling Sale of 2022 such a special event and a wonderful success."