Moody to boycott awards dinner amidst cobalt allegations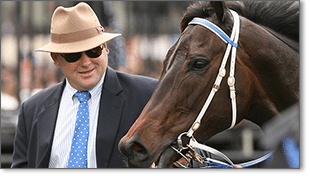 TOP Victorian trainer Peter Moody is likely to boycott the Victorian Racehorse Awards this Sunday amidst cobalt allegations.
Moody's runner Dissident is favourite to win Horse of the Year, which would give Moody his fifth title in six years.
Moody is currently fighting cobalt charges and said the stigma associated with Racing Victoria's attitude to the cobalt saga was the reason he decided to reject the invitation.
"I have been invited but I will not be going because Racing Victoria has decided that my involvement in this sport is prejudicial to the image of racing," Moody said.
"So I see no good coming from someone from Racing Victoria potentially giving me an award that could further embarrass them, and the sport. I just don't think it is in anyone's best interests to attend. I think it is better for me to stay away."
Moody avoided the public backlash when his cobalt allegations were first read, by leaving the country for a holiday, and he's keeping his distance once again.
"It is sad," Moody said. "It is disappointing. But Racing Victoria, through the stewards, is saying through the 'show-cause notice' and the freezing of Group prizemoney that they believe I a tarnishing the image of racing.
"I don't want to add fuel to the fire."
Moody is hopeful that multiple Group one winner Dissident wins the award for the owners.
"I hope the owners are rewarded, that the horse is rewarded," he said. "He won three Group 1 races and he was drug-tested every time he raced so there can be no suggestion that he didn't win fair and square."
Moody won the 2009/2010 Australian Horse of the Year with Typhoon Tracy and also the following three seasons with champion sprinter Black Caviar.
Moody's cobalt charges are expected to be heard after the Melbourne Spring carnival.