Kah delighted with 'calm' Nature Strip after Flemington jump-out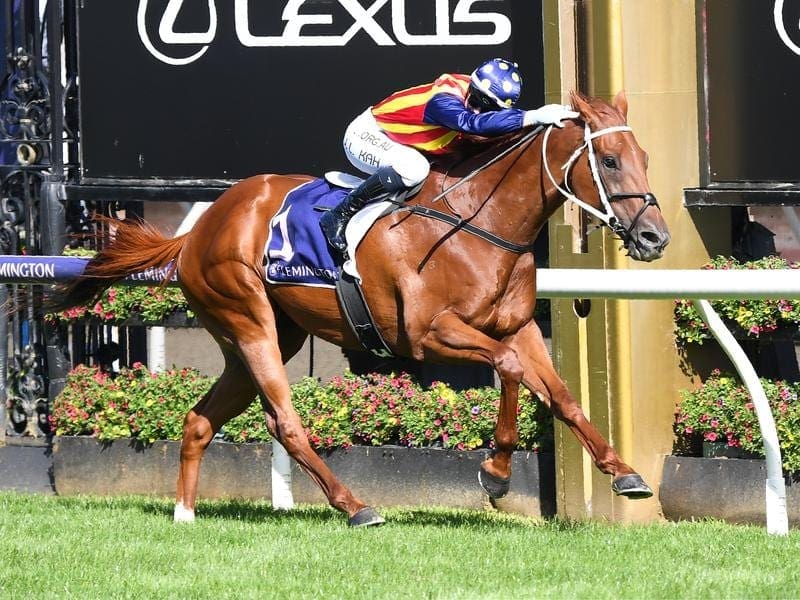 Jamie Kah was reunited with Nature Strip in a Flemington jump-out on Friday morning as the two prepare to defend their title in next Saturday's Black Caviar Lightning Stakes (1000m).
The Chris Waller-trained seven-year-old stepped out alongside his Group 1-winning stablemate Home Affairs as well as the Michael Moroney-trained Poland and All-Star Mile hopeful Mr Brightside.
Nature Strip wasn't asked to do too much under Kah throughout the 800m jump-out, but the world's best sprinter still proved too slick for his rivals.
"Pretty good. We don't put too much emphasis into winning these types of work outs," Waller told Racing.com after the heat.
"Naturally for Nature Strip he was pretty comfortable at the front without being under any pressure.
"Home Affairs, we purposely kept them apart to try not to develop into a bit of a match race."
There's no prizes for winning a jump out but Nature Strip wins easily! Home Affairs puts in a nice trial on the inside. #BCLightning pic.twitter.com/wCv5jsADz4

— Victoria Racing Club (@FlemingtonVRC) February 10, 2022
Both of the Waller-trained runners had a remarkable Spring Carnival, winning at the highest level on one occasion each, while Nature Strip also gave Waller his second win in The Everest.
Since then, the pair have taken part in two trials each in preparation for the Lightning, a race which Nature Strip knows very well.
"Home Affairs has matured into a stronger horse, which is great to see," Waller said.
"Mentally, he's a very relaxed horse now and he looks a picture of health and really developed into the colt that you'd expect.
"Nature Strip has held his own. He had a great spring and good off time.
"Not a lot has changed with him physically – I think you're seeing a continuation of him being more relaxed.
"It was great to see him not tearing off today. It looked like Jamie had full control of him which was great.
"We found a couple of years ago in the Lightning (2020), if you don't respect the 1000m distance, you'll come off second best – and we did; we were beaten fair and square.
"Last year it was a more controlled gallop and likewise this year. We will be making sure we are strong at the end of the 1000m, not just the first half."
Nothing but brilliance from Home Affairs. 💨 pic.twitter.com/NQPSHf4knO

— Racing.com (@Racing) October 30, 2021
The two gallopers have both won Group 1 races down the Flemington straight, but that doesn't mean that they didn't need the gallop this morning, according to their trainer.
"Home Affairs, he's only raced the once (at Flemington), so it gives him a little bit more experience, and Nature Strip, it just fits in well," he said.
"(It) makes sure that he doesn't get too fresh. We're creatures of habit – horse trainers – so when it works well, we seem to follow a similar path."
Although James McDonald has a fantastic partnership with Nature Strip, Waller announced last week that the champion jockey will be riding Home Affairs in the Lightning Stakes and Jamie Kah will be aboard Nature Strip.
"Nature Strip's going to do it."

The last time Jamie Kah partnered Nature Strip. pic.twitter.com/ENCQGR5P8o

— 7HorseRacing 🐎 (@7horseracing) February 7, 2022
Kah spoke with Racing.com after the jump-out, saying that it brought back memories of last year's triumph in the race.
"He is always impressive," Kah said.
"(It) reminded me a lot of his trial before I won on him in the Lightning last year. He was just beautiful.
"It's like he is cantering around on the sand, he's doing it that effortlessly.
"Every time I get on him, he gets more and more relaxed.
"He was so calm today and did everything right."
Nature Strip is currently the $2.60 favourite with Sportsbet, while Home Affairs ($4.20), Eduardo ($4.40) and Profiteer ($9) round out those runners in single figures.