Hampson injured in fall after notching debut win at Darwin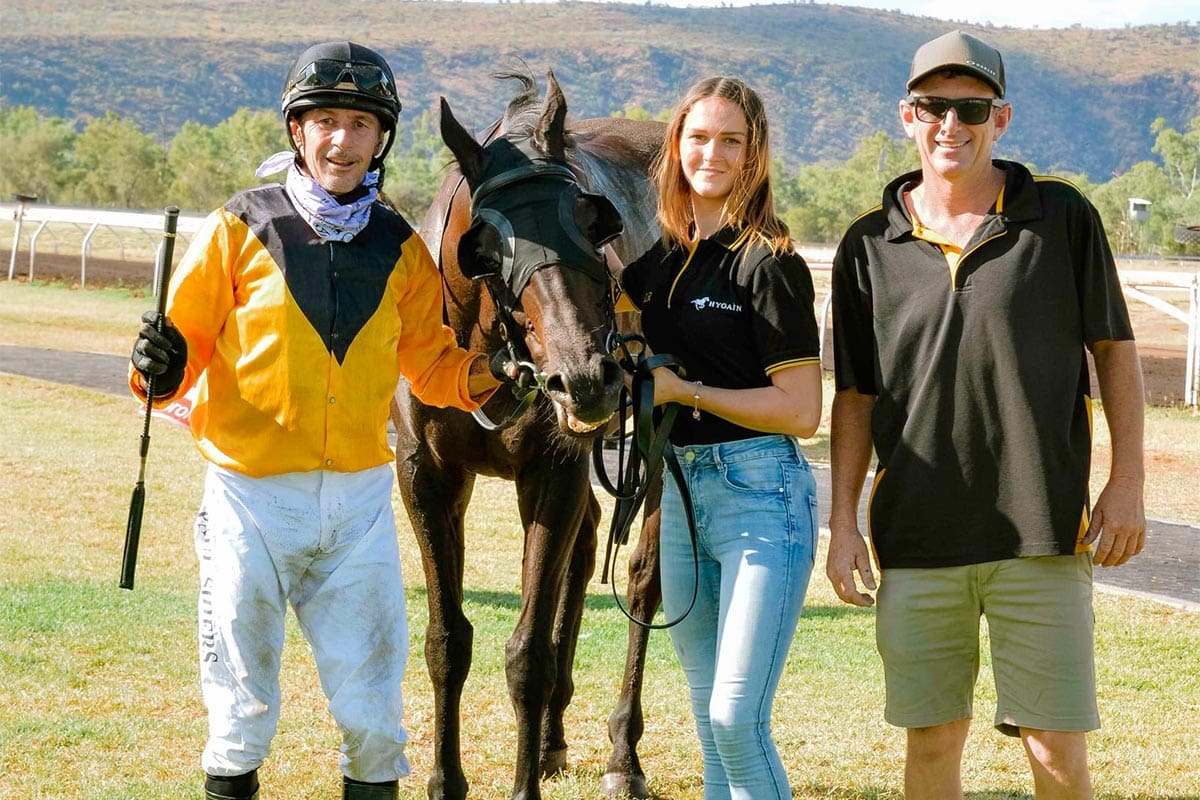 It didn't take 18-year-old Darwin apprentice Jade Hampson long to experience the highs and lows of horse racing.
After winning her first race in her first race ride on the Tayarn Halter-trained Pointo's Pick at Fannie Bay on April 14, Hampson fell from her mount in the fifth and final race on the Darwin Turf Club's Anzac Day program.
Piloting the Peter Stennett-trained Koa ($7.50) in the Thank You Defence Personnel 0-58 Handicap (1100m), Hampson tumbled from the four-year-old gelding a short time after jumping from the outside gate in the six-horse field.
"The horse put in a rough stride about 50m after the start," Thoroughbred Racing Northern Territory chief executive officer Andrew O'Toole said.
"It was proven after looking at the head-on stewards vision that Koa clipped his near side fore with the offside fore of the horse inside him, which was Jarrod Todd's mount Chief Mondo.
"Basically in rugby parlance Koa suffered a bit of an ankle tap, put in a bit of a short stride, got a little unbalanced and unfortunately Jade was unable to stay with him.
"The ambulance staff were obviously quickly on deck with Jade – she had a bang to her knee and an ankle.
"They examined her on course and took her to hospital for observation. She was totally conscious throughout.
"Jade actually got up after the fall and the ambulance crew told her to get back down again.
"Anyway, she went off for x-rays and a CT and it showed up that she had three small fractures in her right ankle.
"That necessitated her being placed in a moon-boot, she's on crutches, and I guess she'll be out for two to three months depending on the extent of the fractures.
"It's just a real shame as it was only her second day's riding.
"Jade was going great. Had a full book of five rides on Monday and had three thirds earlier in the day.
"In the last race she has a fall on a horse she rides in track work on a regular basis.
"It wasn't as if it was a foreign horse to her."
Apart from her win on her first day as a rider, Hampson also finished second in her two other rides.
The race on Monday ended up going to the Garry Lefoe Jnr-trained First Crusade (Paul Shiers), who made it back-to-back wins in his second Northern Territory start.
A $17 hope on debut against 0-58 class over 1100m on April 14, the three-year-old gelding started as a $1.95 favourite on this occasion and could not have been more impressive saluting by four lengths.
First Crusade previously raced in south-east Queensland and on the NSW far north coast for one win in seven starts.
Meanwhile, former Queensland sprinter Poupee (Sonja Wiseman) clearly has talent after making it three wins from as many starts at Fannie Bay with victory in the Anzac Day Handicap (1100m) on Monday.
After three wins on the Sunshine Coast, as well as a further 18 starts in Brisbane, the four-year-old mare has clicked since transferring from the Stuart Kendrick stable to Darwin trainer Tom Logan.
Debuting in the Top End in late March, Poupee ($1.75 fav) posted two wins against 0-70 class over 1100m and then 1000m before rolling his two rivals Bel's Banner ($2.75) and Kronos ($6.50).
Sitting five lengths adrift in third place turning for home, Poupee seemed to cruise into top gear quite effortlessly to win by four lengths.
"She is going great. Running good times. She is not only one dimensional as she sat off the fast speed behind Bel's Banner and Kronos," O'Toole said.
"Under minimum of urging, Sonja Wiseman gave her a bit of a slap early in the straight – she's picked up really well to pass Bel's Banner to win well.
"I understand Tom is going to probably give Poupee a month between runs – maybe give her another run on May 28 and then a bit of a freshen up for a major sprint or two during the Darwin Cup Carnival.
"She's an exciting young horse.
"Tom is doing a really good job with his small team and obviously Sonja, as we know, she's on fire at the present time."
The bookies were cheering when the Phil Cole-trained pair Northern Factor (Vanessa Arnott) and Brother Bassy (Adam Nicholls) prevailed.
Northern Factor ($18) basically led throughout to take out the Two Up TROBIS Class 2 Handicap (1300m) by a narrow margin to make it two wins in 30 starts.
After seven runs in South Australia for Michael Hickmott's Murray Bridge stable, the five-year-old mare arrived at the stable of Kerry Petrick in Alice Springs in January last year and in seven starts finished second on three occasions.
Petrick then raced Northern Factor in Darwin and she saluted at her second start by taking out a 1300m maiden in late June.
Northern Factor had another 11 starts for Petrick for three placings before debuting for the Cole stable in March and posting a surprise win at the third attempt.
Brother Bassy ($15) was making his second start in the Top End and was happy to take a sit before finishing strongly in the home straight to win the Light Horseman 0-64 Handicap (1200m).
Debuting in the north on April 14, the five-year-old gelding finished third behind Poupee in the Ladbrokes Live Betting 0-70 Handicap (1000m).
He had 20 starts in NSW for three wins for Scone trainer Cameron Crockett before winding up in Darwin.
Victory in a 1280m maiden in Muswellbrook in March 2020 was followed by another win against 0-58 opposition at the same track the following month before a win at Tamworth (0-66) over 1600m in January last year.
Despite running at Randwick, it took Brother Bassy another 10 starts to win his fourth race despite finishing second a further two times in NSW.
Yet another new face to Darwin, the Nicole Irwin-trained Redwinelover (Sonja Wiseman) took out the Lest We Forget 0-54 Handicap (1200m) at its second start at Fannie Bay.
The three-year-old filly ($3.20 eq fav) bounced back to form after a first-up seventh against Class 2 opposition (1000m) on April 7 having brought respectable winless form from South Australia.