Duo Shiers & Halter look to improve on Alice Springs Cup Carnival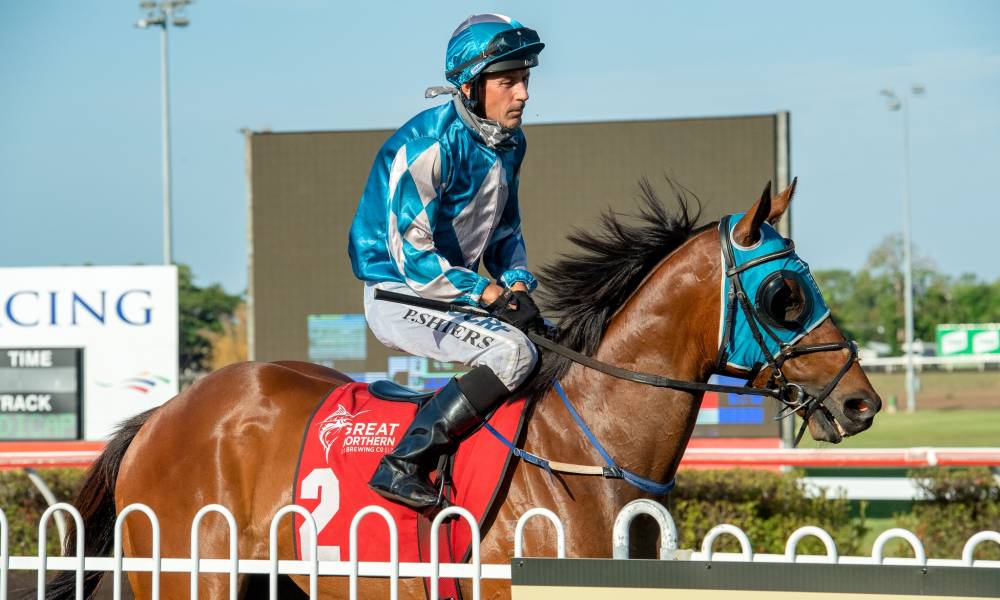 On the final day of the Alice Springs Cup Carnival on May 1, Eastwood and I Am The Fox finished second in the two feature races.
Eastwood led the field half way down the straight and victory in the $100,000 Pioneer Sprint (1200m) appeared imminent before the Phil Cole-trained Smuggling swooped to seal back to back wins in the race.
About 40 minutes later, I Am The Fox looked set to go back to back in the $110,000 Ladbrokes Alice Springs Cup (2000m) before he was swamped by the Gary Clarke-trained Count Of Essex in the closing stages.
Eastwood and I Am The Fox are engaged in the two feature races on Saturday and Monday before the curtain falls on the 2022 Great Northern Darwin Cup Carnival.
Hopefully for connections, both horses will get the rub of the green on this occasion.
For Eastwood, an eight-year-old gelding, he will get another opportunity to claim victory in the $135,000 bet365 Palmerston Sprint (1200m) on Saturday – he finished fourth in the race last year behind the Chris Nash-trained Mayameen.
For I Am The Fox, a nine-year-old gelding, he is out for redemption in the $200,000 Great Northern Darwin Cup (2050m) after being considered a strong chance in last year's race before finishing a disappointing eighth behind the Nicole Irwin-trained Highly Decorated.
Paul Shiers rode both horses that day in Alice Springs when they finished second and he will once again partner both horses on Saturday and Monday.
Eastwood, who finished a narrow third in the 2020 Palmerston behind Gary Clarke's Enigman, arrived in the stables of Top End trainer Tayarn Halter in July 2019 and in 20 starts in the NT boasts a record of six wins, eight seconds and two thirds.
He started his career in Adelaide before relocating to Singapore, and had 10 starts in Victoria upon returning to Australia before winding up in the tropical north.
Lumping 59.5kg in this year's edition of the Palmerston, the Bel Espirit gelding will jump from barrier eight in the 12 horse field and was a last start second behind Devil's Temptation, who will also start in the Sprint, over 1200m at weight-for age level on July 16.
In his only other run following the Pioneer Sprint, Eastwood finished third behind leading Palmerston Sprint hopes Syncline and Easy Beast in open company over 1100m on July 2.
"He's tracking along nicely," Halter said of Eastwood.
"He's carrying a big weight and it's a very good field.
"We've got him as good as he can be, but obviously it's really tough racing.
"I'm not concerned about barrier eight, it's probably a good barrier for him because sometimes if he tends to be slow away at least he gets the chance to find some footing.
"If he jumps well, he'll just have to try and get a position in there somewhere."
With 47 career starts which has yielded 12 wins, 12 seconds and two thirds, Eastwood has seen it all before and according to Halter he will just take it in his stride this weekend.
"He's just as honest as the day is long, he's a tough old horse," she said.
"He's got a good horse's weight.
"That will be to his disadvantage against some of these – they've got light weight against him."
Halter, who won the Palmerston in 1994 with The Universe, said that it was too hard to single out the "ones to beat" in this year's feature NT event for the sprinters.
"It's too hard to pick," she said.
"There's a lot of good horses on light weights.
"In races like this, a lot of it is luck in the run because any one of them can win it."
Meanwhile, I Am The Fox, who transferred from the Garry Lefoe Jnr stable to the Halter yard following the Alice Springs Cup, has only had one start since returning from the Red Centre.
That was in the $50,000 Metric Mile (1600m) last Saturday where he finished behind Living The Dream, the $3 favourite for the Darwin Cup with top Australian bookmakers, and Starouz, who will also line up in the Cup.
In his only lead up race after winning the 2021 Alice Springs Cup, the Foxwedge gelding finished second behind Highly Decorated in the Chief Ministers Cup (1600m) – three weeks before the Darwin Cup.
He carried 57.5kg in the Cup last year, and on Monday he will lump 60kg.
I Am The Fox, a solid performer in NSW and Victoria in years gone by, has had 64 starts for 15 wins and 15 minor placings and his record at Fannie Bay currently stands at 24-7-2-5.
Halter said the horse needed the run in the Metric Mile adding that he probably peaked with 100m to go.
"He'll improve from that," she said.
"The horse has come through the run really well.
"But again you're talking big weights against a lot of chances with light weights."
Similarly with the Palmerston, Halter agreed that the Darwin Cup field was "a cracker".
"Rob Gulberti's horse Living The Dream in the Metric Mile was an excellent run first up," she said.
"He went to the line solid.
"Gary Clarke's horse Playoffs was impressive on debut as well.
"You could throw a dart at them and any one of them could win.
"It's very competitive racing, so I wouldn't like to be tipping anything.
"I just think that again you've got a lot of quality horses.
"Weight stops trains, you've got a lot of smart horses on light weights and luck in running will play a big part in all of their chances."
Mighty Murt, who has left his mark in Darwin and Alice Springs these past 12 months, lines up in the Palmerston Sprint as well for Halter despite producing indifferent form of late.
He will be ridden by last year's Darwin Cup winning jockey Jessie Philpot from Alice Springs.
"He's on a very light weight (54kg) and he loves the 1200m," she said.
"He's an up and coming young horse, so I guess it's just whether he's there yet.
"Might be next year's horse, but if they're stopping at the finish he'll be finishing hard."
Halter can't wait for the big racing this weekend.
"Every trainer likes to have a runner in the Sprint and the Cup," she said.
"And to have two nice horses going into them is good as well.
"To also have a light-weighted horse is good because light-weighted horses are always a chance.
"I won the Palmerston with The Universe and I've been trying to win another one ever since.
"I've won some Bridge Toyota Cups, plenty of St Patrick's Day Cups.
"And I was a fourth and a fifth in the Darwin Cup.
"The fourth was my first ever runner, that was Harrebs Time in 2017.
"The fifth was Rosherville in 2020.
"This will be my third Cup runner."
Finally, what would it mean to win the Darwin Cup or the Palmerston Sprint this weekend – if not both races.
"Everything, just like any trainer – you always like to win features," she said.
"I'd like to get winners on Sprint Day and Cup Day, it would be fantastic.
"I've been running a few seconds lately, so a couple of wins would be nice.
"We'll be there doing our best."