Villiers Stakes
Group Two Betting Guide
| | |
| --- | --- |
| Location: | Royal Randwick, NSW |
| Prize Money: | $250,000 |
---
The Group 2 Villiers Stakes is a $250,000 open handicap for three-year-olds and older held every year at Royal Randwick.
The Villiers Stakes is one of the features of Sydney's Summer Racing Carnival.
The race is a Group 2 event but is steeped in history with winners including Aqua D'Amore, Doncaster Mile winner Happy Clapper and Sky Boy.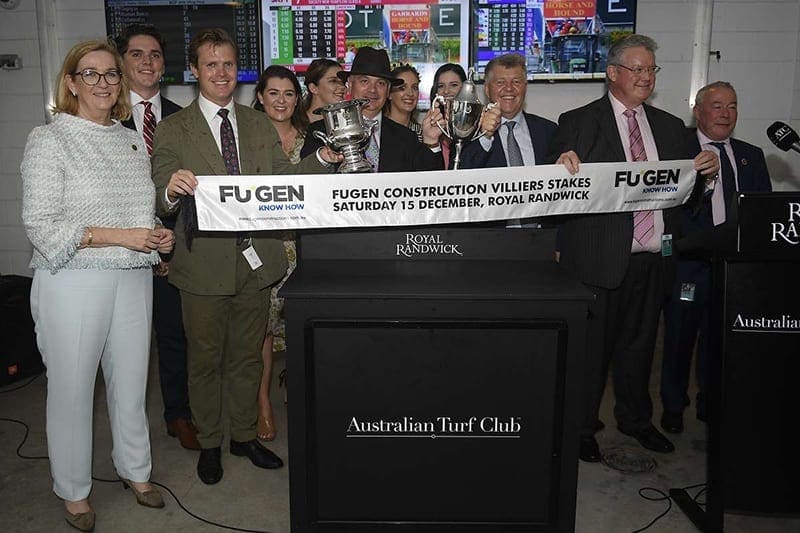 2019 Villiers Stakes betting odds
There are no odds available for the 2019 Villiers Stakes.
Check back closer to the race date for updated markets.

Best Villiers Stakes bookmakers
The Villiers Stakes is one of Randwick's last major races of the year and the bookmakers roll out markets early for their clients.
Click on any of the banners below for reviews on Australia's best online bookmakers.

Sport Table
Villiers Stakes History
The first winner of the race was Two Up in 1892
In 2001, 2011 and 2012 race was held at Warwick Farm
The race was run over 1400m in 2008 because of a rescheduled calendar after an outbreak of equine influenza in NSW
2018 Villiers Stakes result

1st – Sky Boy ($3.20)
2nd – Aloisia ($17 SP)
3rd – My Nordic Hero ($9 SP)
Past Villiers Stakes winners
| Year | Winner |
| --- | --- |
| 2018 | Sky Boy |
| 2017 | Crack Me Up |
| 2016 | Sense Of Occasion |
| 2015 | Happy Clapper |
| 2014 | Rudy |
| 2013 | Ninth Legion |
| 2012 | All Legal |
| 2011 | Monton |
| 2010 | Dances On Waves |
| 2009 | Palacio De Cristal |
| 2008 (Dec) | Something Anything |
| 2008 (Jan) | Honor in War |
| 2006 | Utzon |
| 2005 | Aqua D'Amore |
| 2004 | Ikes Dream |
| 2003 | On A High |
| 2002 | Boreale |
| 2001 | Carael Boy |
| 2000 | Grey And Gold |
| 1999 | Final Fantasy |
| 1998 | Referral |
| 1997 | Arletty |
| 1996 | Touch Of Force |
| 1995 | Heres The Prince |
| 1994 | Aunty Mary |
| 1993 | Cobbora |
| 1992 | Soho Square |
| 1991 | Shining Wind |
| 1990 | Post Elect |
| 1989 | Spot The Rock |
| 1988 | Tumble On |
| 1987 | Card Shark |
| 1986 | Roman Artist |
| 1985 | Dinky Flyer |
| 1984 | Rising Prince |
| 1983 | Northern Reward |
| 1982 | Hussars Command |
| 1981 | Zing Along |
| 1980 | Tuna Too |
| 1979 | Kings Ideal |
| 1978 | Dear John |
| 1977 | Hot Diggity |
| 1976 | Top Wing |
| 1975 | St Martin |
| 1974 | Americano |
| 1973 | Oncidon |
| 1972 | Torumba |
| 1971 | Tumberlua |
| 1970 | Silver Points |
| 1969 | Sir To Me |
| 1968 | Domino King |
| 1967 | Maigret |
| 1966 | Nandaroo |
| 1965 | Castanea |
| 1964 | Gay Song / Blue Era |
| 1963 | Key |
| 1962 | Emboss |
| 1961 | Gene San |
| 1960 | Grenoble |
| 1959 | Comte De Paris |
| 1958 | Caesar |
| 1957 | Top Ruler |
| 1956 | Empire Link |
| 1955 | Lazy Day |
| 1954 | Kev Mar |
| 1953 | Raconteur |
| 1952 | Carioca |
| 1951 | Mercury |
| 1950 | Field Boy |
| 1949 | Veiled Art |
| 1948 | Filipino |
| 1947 | Barnsley |
| 1946 | Native Son |
| 1945 | Bernborough |
| 1944 | Precise |
| 1943 | Sir Neith |
| 1942 | Riverton |
| 1941 | Yaralla |
| 1940 | Rimveil |
| 1939 | Rodborough |
| 1938 | Fakenham |
| 1937 | Ramdin |
| 1936 | Kings Head |
| 1935 | Golden Chance |
| 1933 | Closing Time |
| 1932 | Magnetic |
| 1931 | High Disdain |
| 1930 | Pavilion |
| 1929 | Habashon |
| 1928 | Reonui |
| 1927 | Zuleika |
| 1926 | Queen Alwyne |
| 1925 | Hemisphere |
| 1924 | Balbus |
| 1923 | Mont Clair |
| 1922 | Wish Wynne |
| 1921 | Sail On |
| 1920 | Fluency |
| 1919 | Anyhow |
| 1918 | Rebus |
| 1917 | Cetigne |
| 1916 | Wedding Day |
| 1915 | Lord Nagar |
| 1914 | Challenge Crosse |
| 1913 | Popinjay |
| 1912 | Embracer |
| 1911 | Myra Bluan |
| 1910 | Lady Ruenalf |
| 1909 | Miss Flaneur |
| 1908 | Virtu |
| 1907 | Kyeadgerie |
| 1906 | Luciana |
| 1905 | Refrain |
| 1904 | Cherson |
| 1903 | Air Motor |
| 1902 | Kinglock |
| 1901 | Sir Leonard |
| 1900 | Fulminate |
| 1899 | Coralie |
| 1898 | Satan |
| 1897 | Loch Marie |
| 1896 | Vivian |
| 1895 | Ordnance |
| 1894 | Moorefield |
| 1893 | Bliss |
| 1892 | Two Up |