Thurlows enjoying Glory Days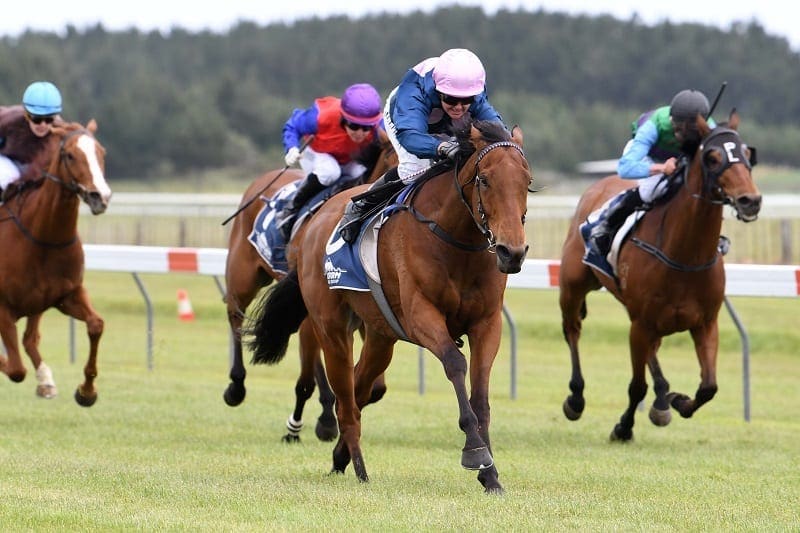 Waverley farmer and part-time horse trainer Bill Thurlow thinks Glory Days might be the best horse he's trained.
The six-year-old Red Giant mare earned favouritism for Saturday's Listed Wanganui Cup (2040m), with a hat-trick of wins culminating in a home town victory in the Waverley Cup (2200m) last start.
"We haven't raced a huge amount of horses because we sell a lot of the young ones, she's still got to go and do it but at this stage I'd say potentially she's the best we've had," Thurlow said.
"We've had a couple of other handy stayers, Referred ran second in the New Zealand Oaks (Group 1, 2400m) and Yours won eight races and ran fourth in a New Zealand Cup (Group 3, 3200m), but he wasn't quite top-class."
Glory Days is on a path towards the Group 3 City of Auckland Cup (2400m) at Ellerslie on New Year's Day and after weighing up his options Thurlow has opted to use Saturday's race as her lead-in rather than the Group 3 Skycity Hamilton Waikato Cup (2400m) on December 15.
"She's a horse that doesn't need a lot of work and she's better with her races spaced, so I would be happier to give her three weeks between runs after this run," he said.
"There's no lead-up race going the Ellerslie way around at all, so going to Waikato wouldn't make a difference because we would be going the same way around as here."
Glory Days has been patiently handled by Thurlow, she had her first start as a four-year-old and has only raced 18 times since, for eight wins and six placings.
"She's a mare that's taken a long time to mature," Thurlow said.
"There's not a lot of her and in her younger days she probably wasn't 100 percent right mentally either.
"She did a good job earlier on over 1400m and a mile and we've always been mindful of her wanting to get over ground but she just wasn't strong enough.
"We let her develop and tell us when she was ready to go further and she was sort of telling us that after her second start this season.
BEST ONLINE BOOKMAKERS FOR NEW ZEALAND RACING
"She's a bit quirky, every time you get on her back she wants to go and do it and there's no half measures so we have to be a bit careful of that or she will over-do herself.
"She doesn't take a lot of work, she just sort of keeps herself fit, she's not too hard to train to be honest."
Glory Days is one of twelve horses in training at the Thurlow family's Stainley Park which they operate alongside their farming business.
"Only three of them are at racing stage and the rest of them are young unraced horses," said Thurlow, who pinhooked three-time Group 1 winner Gingernuts.
"There's a couple for clients that we won't be trading but with our own horses we race what's left if we don't sell them, that's what we have to do really to pay the bills.
"Two thirds of our business is still farming. We've got a dairy farm which I have some guys on and we run a couple of sheep and beef grazing blocks and the home block.
"Once we've finished the horses in the morning we have breakfast and then head out to the farm. My daughter Emma and the boys look after the horses in the afternoon which is good, but it still takes up a lot of our time."
Glory Days is raced by Bill's brother Grant, his wife Patricia, and his neighbours and fellow farmers Brent and Sue McAree.
"Grant used to be a farmer but he's into Kiwifruit now and living the life at The Mount (Maunganui), while we're out on the farm doing all the work," Thurlow said.
"He had bought a couple of horses and had a bad run for a number of years, everything he put his hands on was no good.
"I was talking to Gloria Kenny one day and she said I've got three in the paddock here if you're interested in leasing them and I took two of them and they've since exercised their right of purchase on her and they're very happy."