Sandhu has high hopes for Lofty Strike in Oakleigh Plate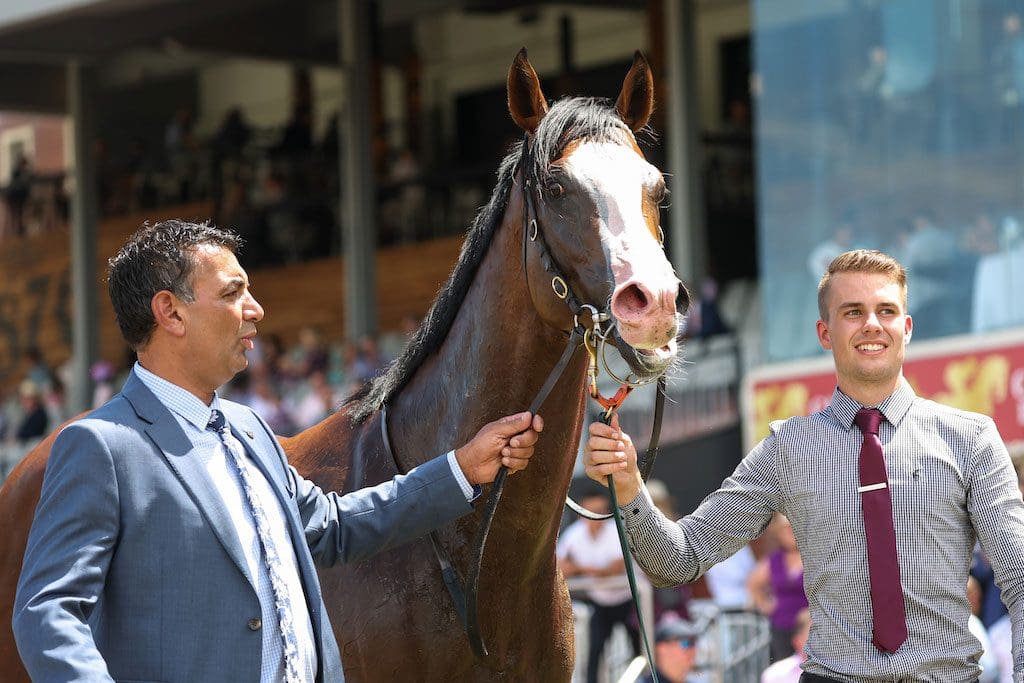 From the very first day Julius Sandhu worked with Lofty Strike he knew he had a colt with maturity far beyond his years.
And that could give him an edge over his opponents in the pressure-cooker atmosphere of the Oakleigh Plate, where he will start from barrier 11 at Sandown on Saturday.
The three-year-old is paying $10 to win the Group 1 sprint over 1100m, with the Henry Dwyer-trained Asfoora pegged as a $5 favourite across betting sites.
He displayed an outstanding late turn of foot to win his last start – the Rubiton Stakes – over the same distance by three-quarters of a length on February 11.
This means physically the $280,000 purchase by the Paul Lofitis-managed Lofty Thoroughbred Group from Corumbene Stud at the 2021 Magic Millions Sale is ready to step up to elite company.
But, according to Sandhu, he also has the mentality to handle the extra pressure.
"Right from the day I got him, the first day I took him up to the track I still remember walking up with him," he told HorseBetting.com.au.
"We walked past the swimming pool and there were three horses who went absolutely pear-shaped in the pool.
"They were playing up, carrying on, and kicking and screaming.
"As a two-year-old, he just turned and looked at them and just kept walking like nothing happened.
"You know instantly then that you're dealing with a horse who's got a mental capacity to deal with pretty much anything."
READ: Newitt chirpy about Lofty Strike ahead of Oakleigh Plate
Sandhu said that early behaviour – which Lofty Strike has only built on – was more akin to a tried veteran than a juvenile yet to run in a maiden.
"He is seriously mentally mature. You would never know he's a two-year-old," said Sandhu, who began his association with thoroughbreds in Bangalore over 30 years ago.
"His behaviour is like a 10-year-old who's been there and done that. And that's his biggest attribute.
"He deals with pressure. He's that relaxed when he goes about doing his stuff."
An $8 winning chance for the Rubiton Stakes, Lofty Strike would have surprised many racing fans not only with his incredible turn of foot inside the final furlong.
It was also the way he overcame the heat – when some thought he was nervously sweating – which was another classy aspect of his win.
"Most people looked at him on the day and said 'he's a bit hot', but it had nothing to do with him being mentally worked up," Sandhu said.
"It was a warmish day and he was excited to be at the races. He was first-up on a big open track, and he was just up and about.
"And he proved that on race day.
"He's a big, imposing animal. But his mental strength is second to none."
2023 G2 Rubiton Stakes (1100m) – Lofty Strike (1st)
Lofty Strike has some highly sought-after pedigree to go with his impressive physical and mental attributes.
He is by Australia's champion sire of 2017-2020, Snitzel, and from Overreach, who won the 2013 Golden Slipper.
"You take the pedigree – that's a no-brainer," Sandhu said.
"At the end of the day you're dealing with a horse who is a blueblood.
"(Snitzel) is one of the best stallions that Australia has ever produced.
"He's out of a Golden Slipper-winning mare, so you don't get a pedigree much better than that.
"That was the first box that was ticked."
Another thing in Lofty Strike's favour is how good his trackwork has been this week.
Sandhu and jockey Craig Newitt were delighted with his session at Sandown on Tuesday.
"He's a fitter horse now, and he's taken genuine improvement from that (last-start) run," the Cranbourne-based conditioner said.
"His gallop (on Tuesday) morning indicated that he's improved quite noticeably, and he's dropping 2 ½kg (down to 53kg).
"So everything points to the fact that the race is well and truly within his grasp.
"You never take a Group 1 race for granted, but he's going into that race with a live chance.
"He'll need a little bit of luck. But we'll start with a decent-enough alley and let's hope that helps him out a bit."
Lofty Strike also worked well leading into his Rubiton Stakes victory.
This was despite not being set for the Group 2 sprint worth $300,000.
"His work into it was genuine and he was good," Sandhu said.
"He wasn't really screwed down, so he left room for improvement going into the Group 1.
"The Rubiton Stakes was not his grand final. I think it was the way he did it that surprised me and Mr Lofitis."
Lofty Strike ran a course-record time of 1:02.82 in his Rubiton Stakes triumph two weeks ago.
And despite his breathtaking near last-to-first finish inside the final furlong, Sandhu believes his three-year-old might have had a little more to give after crossing the line.
"He (Newitt) had one crack on the back and he reached the course record," the former assistant to Mick Kent said.
"Not many can do that first-up. So that run will probably go down as one of the better first-up performances in a Group 2.
"From that perspective, it's really exciting to think of what's possible with that run under his belt."
Despite rising at 3am to care for his horses every day, Sandhu has a genuine love for what he does.
"My passion is working with horses," he said.
"The glamour side is what I get to experience when I get to the races, and the rest of it.
"But the real work is what happens every morning at the stable.
"That's what I get up for. I wake up at three o'clock in the morning because I love working with the horses."
Sandhu's stable staff reflect his attitude – they also love the work.
"My staff are hand-picked. I don't have people in my stable where it's a job," he said.
"I have people in my stable who have the same drive and passion with the horses, and love spending time with them.
"It's love – it's not a job. Mr Lofitis told me this one day – 'find something you love and it's not a job and you'll never again work a day in your life'.
"I'm humbled and privileged to do what I do because I'm living a dream."
Newitt also loves riding for a dedicated horseman such as Sandhu.
"He's very passionate and he knows his horses inside-out," the 33-time Group 1 winner said.
"I haven't had a lot to do with him the past few months, but he's very astute in what he does.
"He knows where his horses are at and he's happy. That makes me happy."