Redzel rewards owners with powerful win in Darley Classic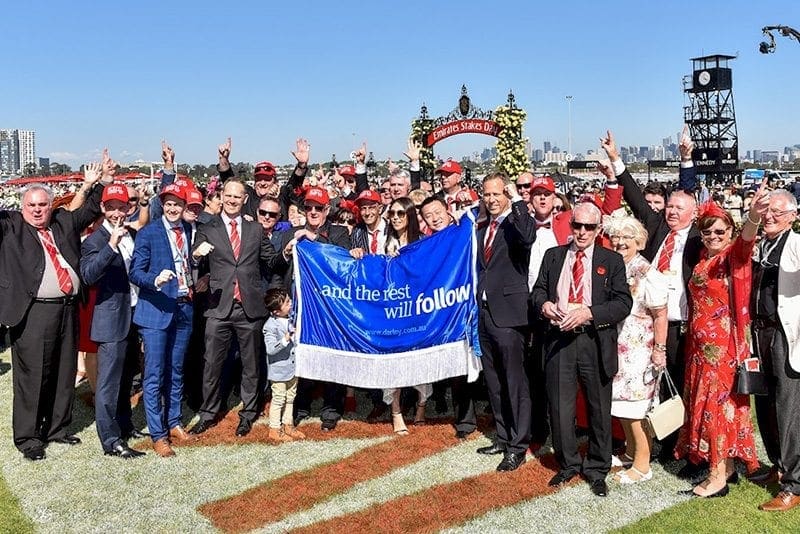 CO-OWNER of Redzel, Tim Cheng, has declared Redzel has to be considered the world's best sprinter after its powerful win in the Darley Classic.
The general manager of his own software company, Cheng purchased a five percent share in the five-year-old gelding for close to $9000 alongside another 16 people from all walks of life, and after its sixth-straight win and second consecutive $1 million plus race, it's fair to say the investment has paid off.
Cheng told HorseBetting.com.au that it made the win all the more sweeter by the fact he was able to enjoy it with so many people.
"A win's a win, but when you can share it with 30 to 40 other people, it's something special."
In what has become a common theme for Cheng and other members of the gelding's team, a bright red suit was donned to support their superstar.
"The Everest was the first time, then again today at the Darley," Cheng said of the red suit.
"It's been a good luck charm, so I think it'll stick around."

In a loud and boisterous crowd of owners, the understated software manager said he was content keeping an eye on the statistics and times as the race unfolded.
In direct contrast to the bright red suit, Cheng was happy to let his co-owners soak up the limelight rather than seek the camera time.
Speaking about the race itself, Cheng said he never worried about the fast-finishing Terravista as the line approached.
"I'm a big follower of sectional times and I was watching Kerrin rate him and at the 600m to the 400m he got a cheap sectional, so I knew he'd offer a kick.
"Nothing runs him down anymore, he's a bulldog, so I wasn't worried either."
There is no question after claiming The Everest and the Darley Classic that Redzel is the best sprinter in Australia, but the owners believe there's none better in the world.
"For sure," Cheng said when asked if Redzel is the best sprinter in the world.
"At the moment he's got to be. Wet or dry, it doesn't matter.
"The track conditions just do not matter. He doesn't have to lead either, he can sit off the pace, but just the sectionals he puts together and the momentum he builds up, he just breaks them."