Project record dominant win at Ellerslie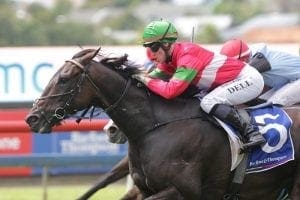 Te Kauwhata trainer Tony Cole claimed the family bragging rights back from son Cody when his progressive galloper Project stormed home to win over 1400m at Ellerslie on Saturday.
The senior Cole had watched his son take out a stakes race with speedy filly Astor on the first day of the Auckland Cup Carnival last week and thought he had better pull his socks up and show there was some fight left in the old dog yet.
Project, who was bred by Cole, had been impressive when winning a special conditions maiden race over a similar distance at Ellerslie on New Year's Day and loomed as one of the main chances in an even contest on the weekend.
Rider Chris Dell had ridden a copybook race on Project on New Year's Day and he produced a similar performance on Saturday to take the spoils. Settled comfortably in midfield during the early running Dell didn't panic when tearaway leader Sound Works tried to steal the race on the home corner as he established a six-length break on his chasers.
Angled across heels for a clear run, Project sprinted quickly to close down the pacemaker in the closing stages before easing clear to win by half a length from Sound Works and the fast finishing Buy Me A Rock.
"He's unbeaten over 1400m, which is his pet distance, and he likes to win on premier days," said an excited Dell after the race.
"I ended up further back than I intended but I sat quietly on him and came out around the corner. It seems to be the best place out a little wider.
"He relaxes and good horses can take you places.
"He is a nice horse."
Cole was full of praise for Dell's effort as he has stuck by the rider after supporting him throughout his apprenticeship.
"I stuck to him when he was starting out and we used his claim all throughout his apprenticeship," he said.
"Chris is dedicated and if I say be at the track at five o'clock he's there at five o'clock and that is something that every trainer needs."
Cole also explained how he came to breed the Lucky Unicorn four-year-old after training the gelding's mother, Penumbra.
"I got the mother as a bad debt and he is her first foal," he said.
"I'm very proud of the little fella as he is so tough. At the 300m mark he was going nowhere yet in the last 100m he grew another leg.
"I'm not sure what to do with him next, but it would be good to find another $50,000 race."
The victory took Project's career record to three wins and four placings from just the 10 starts with just over $72,000 in stakes earnings.