No plans to leave Alice Springs for Philpot after 100th win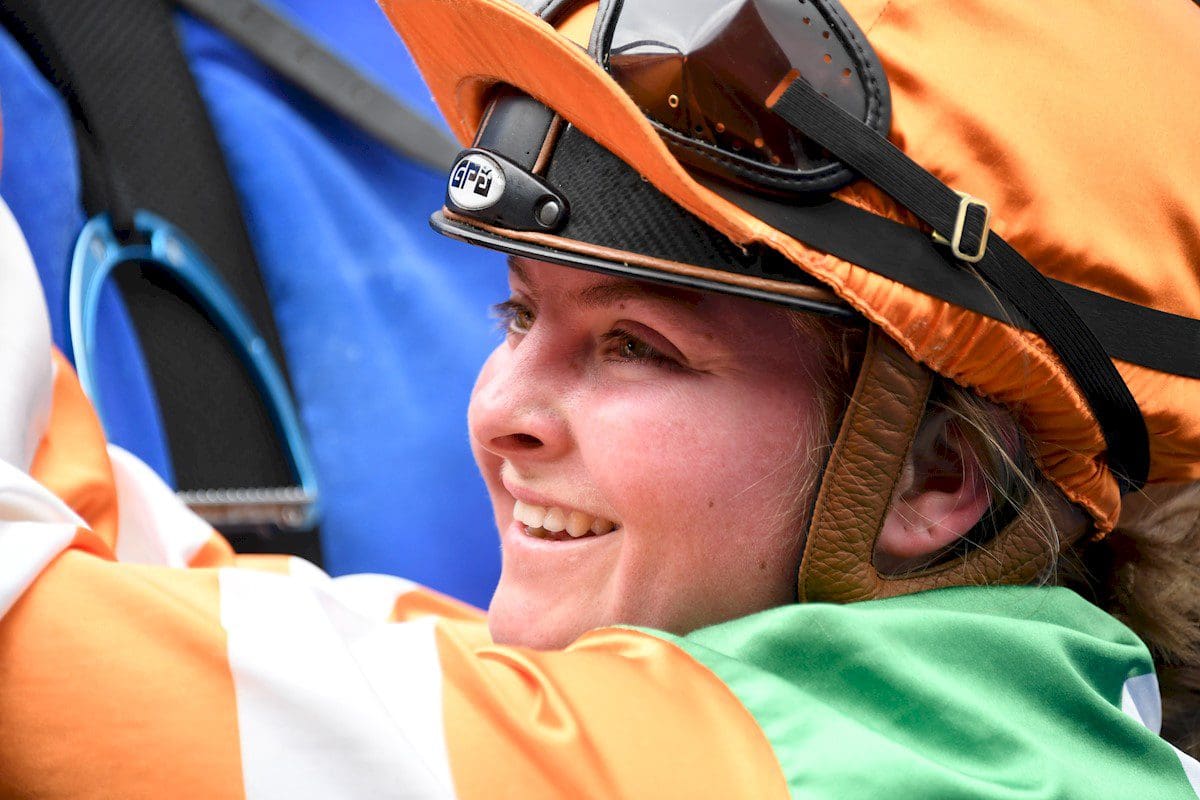 It took her a while, but Darwin Cup-winning jockey Jessie Philpot achieved a significant career milestone last Saturday.
The former Queensland hoop, who has also ridden in Canberra, Tasmania and Victoria in the past, booted home her 100th winner at Alice Springs.
That was aboard the Greg Connor-trained three-year-old gelding Flying Start in a maiden in the opening race on the program at Pioneer Park.
"It certainly was a thrill. It took a long time though, but I finally got it done," the diminutive 27-year-old said.
"Injuries and moving around a lot didn't help, and there were a lack of opportunities.
"I was actually aware of the milestone because when I discovered it I think it took me about another three weeks to ride another winner."
Philpot, who ended up riding a double last weekend, grabbed the headlines when she won the 2021 Darwin Cup (2050m) at Fannie Bay last August on the South Australian galloper Highly Decorated from the Nicole Irwin stable.
It was also the first time a female jockey and trainer had combined to take out the Northern Territory's biggest race.
The unheralded five-year-old gelding arrived in the Top End from Murray Bridge as a 45 rater before winning a string of feature races during the Darwin Cup Carnival.
"I rode him in his first start in Darwin when he beat a couple home to finish third," Philpot said.
"He actually won his next start with Alice Lindsay in the saddle – but Alice couldn't commit to the ride and Nicky asked me if I wanted to ride him.
"I said 'yeah, I'll ride him', and then he won and then he won again and again and again."
He won his next six races, including the Adelaide River Cup on the Northern Territory's only grassed surface.
"It was a very good experience," Jessie said.
"Nicky and the owners kept me on him – that was probably the best part about it because loyalty is hard to come by these days, I guess.
"He's a tiny little horse, you'd think that he was a little pony because there's not much of him.
"He just loves the dirt.
"Going into the Cup we were sort of like, well the 2050m was obviously a huge question mark for everyone.
"So we weren't quite sure whether he would get the trip, and there was no pressure going into it which was really good because he had done so much already.
"We were just going to be happy that he ran in it and got home safe – and he ended up winning which was a bit of a bonus.
"Something I will never forget."
Philpot confirmed that Highly Decorated would be returning to Darwin for the 2022 Cup Carnival.
"I'm not sure what the plans are yet with him," she said.
"Obviously there will be limited races for him because he will be highly graded.
"From what I hear he is doing well, he's had a good spell and he's gotten bigger – he's filled out a bit."
So did Philpot ever envisage becoming a jockey growing up in Far North Queensland?
"Not really, but the more I rode and got into trackwork I decided I liked it," she said.
"I did a couple of jump outs, liked it even more so I continued on.
"I always rode horses as a kid – we always had ponies and that.
"When I got old enough I started helping mum and dad with strapping, and taking horses to the races.
"Mum and dad were jockeys, and dad trained for many years.
"I was then old enough to ride trackwork, so yeah, I slowly progressed into it."
Philpot started riding the bush circuit around Brisbane in 2015, winning her first race in Gympie, before she got her first taste of Central Australia.
"I reckon I rode in Alice this time about three years ago," she said.
"Most trainers are looking for apprentices who can claim.
"I had a 3kg claim at the time, so I ended up getting a call up and got a few rides.
"I'd never really ridden on an oil track and I didn't really like it all that much.
"And I said that I would probably never come back. But, yeah, I love it now."
Battling to get rides in Victoria at the time, Philpot made the big decision to pack up and relocate to Alice Springs.
"I only relocated last year – I had come out of my apprenticeship," she said.
"It's a bit tough in Victoria.
"I got an offer to work for Greg Connor and I've been here for just over a year now.
"He's great to work for and they've taken me in like family, so that makes it a lot easier.
"I wouldn't say it's a lifestyle for everyone, but the Carnivals are a good experience in Alice and Darwin.
"It was definitely an eye-opener for me, but it's always good when you're riding a few winners here and there.
"Travelling to Darwin for rides is just something you've got to do. You get to sleep on the plane.
"I've become a part of Alice now. Everyone is really nice and from a social aspect we always find something to do.
"I don't like the heat too much, so that's perhaps the only downfall. I'm slowly adjusting to it."
With the 2022 Alice Springs Cup Carnival starting on Saturday, Philpot and her fellow female jockeys dominated the action at Pioneer Park last weekend riding seven of the eight winners on the program.
"Yeah, we had a pretty good day last Saturday," Philpot said.
"We all get along, so we're all cheering each other on.
"It makes for a good atmosphere among the girls back in the rooms."
And a horse from the Greg Connor stable who could bring Philpot success during the Cup Carnival?
"Greg has actually got a few good horses coming through at the moment, but I'd have to say that Miles Prower – he seems like he is going to be a nice horse," she said.
And Philpot is in no hurry to leave the Red Centre.
"No set plans at the moment. Got no real reason to leave Alice," she said.
"So I will just poke along, get through the Carnival and see where it takes me.
"I have family in Queensland and I'm from there, so eventually one day I will make tracks back to Queensland – but there is certainly no rush."