Music Magnate to resume in Expressway Stakes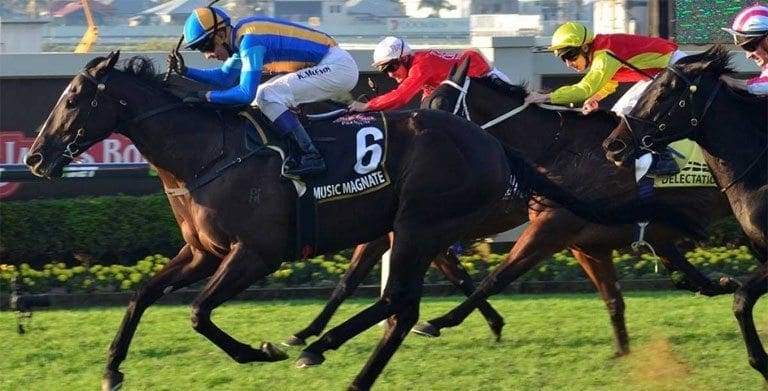 MUSIC Magnate will return to the track in this Saturday's Expressway Stakes at Rosehill after spending the last nine months on the sidelines.
The Bjorn Baker-trained five-year-old hasn't raced since contracting a virus in the 2016 Stradbroke Handicap, which caused havoc in Baker's stable.
The Group 1 Doomben 10,000 winner has won both trials since resuming this preparation and Baker believes its best races are ahead of it.
"I think there are more Group ones left in him," Baker said. "He is one of those horses that you really look forward to getting back to the races.
"The way he has won his trials has been very good but you want to see how they perform under the pressure of a race. Kerrin McEvoy has been very happy with him.
"There are quite a few options for him going forward but starting now we can pick what will be best for him."
Music Magnate has won only won one of four fresh-up starts, but Baker is confident his runner is in great shape this time around.
"He has got better and stronger with every preparation and I think this is the best he has been," Baker said. "We will wait to see what he does on Saturday and then decide whether to step him up in trip or stick to the sprints."
Cartwright has nothing to hide according to lawyer
Josh Cartwright has turned over his phone and financial records to stewards and his lawyer Wayne Pasterfield believes it will clear him of any misconduct.
Pasterfield talked with Cartwright, who has been stood down after pleading guilty to reckless riding on January 14, and stated the jockey is showing remorse for his actions.
"I have had a three-way conversation with Josh and Adelaide chief steward Johan Petzer when he handed the records to the stewards on Thursday. There is nothing in those records which support any of the rumours going on about the race," Pasterfield said.
"Josh is very remorseful and disappointed about his actions. He has made efforts to apologise to everyone directly involved in this matter and is being fully co-operative with the stewards. He has nothing to hide and a full investigation will show that.

"The evidence is very clear but we will show that this is completely out of character for Josh."
Pasterfield believes Cartwright is suffering enough punishment from the rumours surrounding his reasoning for cannoning into his opposition.
"He is still being punished every day by the rumours about what might or might not have happened. This was just a moment of madness by a young man at the end of his tether," Pasterfield said.
"He has owned up to his action by pleading guilty to the charge. He was a 22-year-old kid, who had just had enough. He is prepared to take his punishment."
It's unlikely that Cartwright will have the trust of his fellows jockeys, which could put an end to his career.
"Josh has made an investment in the industry and we want him to be able continue in the sport," Pasterfield added.
El-issa on cloud nine after Randwick win
Bobby El-issa didn't think he would ever ride at Randwick again after battling cancer last year, and his win aboard Super Star Bob on Saturday put him on cloud nine.
It was only a Class 2 Highway Handicap, but El-issa couldn't contain his excitement following the race.
"What a feeling – I haven't ridden a winner at Randwick since I was a kid," El-issa said.
"I rode a winner (at Canterbury) the other day but these are Group ones to me because I never felt I would ride here again.
"I ride work here and you look at the grandstand at track work every morning and you just want to be seeing all this.
"I just want to get on a good horse and show what I can do."
Super Star Bob remained unbeaten when winning at odds of $10 at Bet365.com and trainer Matthew Dale has a big opinion of the gelding.
"I said to a few people off screen I think in 12 months time this will be the best horse to come out of the race but whether it is today or not (I don't know) but it was today," Dale said.
"I've always had a good opinion of the horse but like I stated in the press I thought he was one run away from today. But the way he paraded in the yard I said to the owners 'I think he might be more ready than I thought'.
"We didn't put Bobby on because the horse is called Super Star Bob and that happened by default and it's just a good story."
El-issa was confident going into the race, believing it was lengths better than stablemate Clipper.
"He is a nice horse this bloke," El-issa said.
"I knew today he would be a contender seeing as though the stablemate (Clipper) was favourite and I thought this horse had 3-4 lengths up his sleeve on that horse.
"He is a big, strong horse but he is still very immature in the mind."