Hot King Prawn likely to spell after remaining unbeaten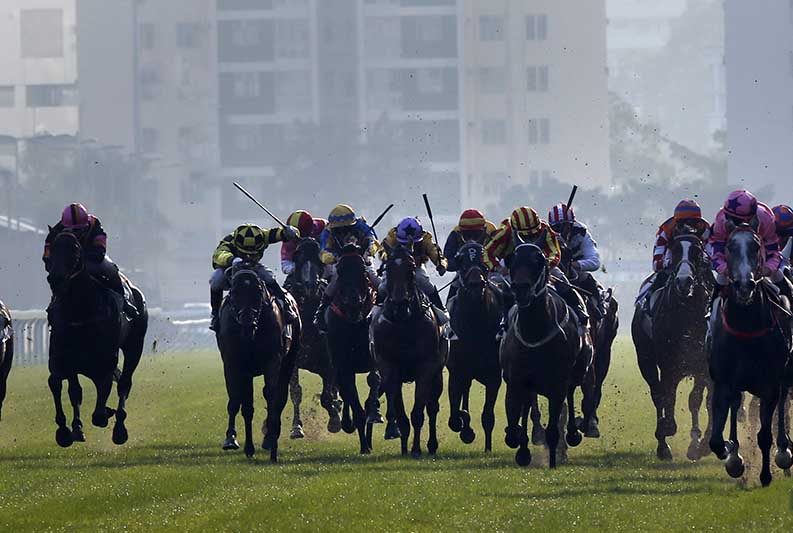 THE future looks bright for emerging Hong Kong star Hot King Prawn, but it's likely that punters won't see the grey again for at least a few months.
Trainer John Size was thrilled with its win in the Class 3 Middle Handicap at Sha Tin on Sunday to remain unbeaten, but he's not willing to risk it in the upcoming Griffin Trophy on December 23.
"I think he'd probably win the Griffin Trophy, but I'm not going to go against my usual training patterns just to win one race," Size said. "I'm a bit too conservative for that. There's no point extending him out in distance just because the race is there.
"He's facing Class 2 now, so I'd say the likelihood is I give him a break before I attack Class 2. I would like to give him a few months to develop a bit more. I'd say the only way he races again in the next couple of months is if I can find an easy Class 2, and as we just saw, there's not many of them."
The three-year-old was the $1.40 favourite at CrownBet.com.au and its 2.25-length win was a seasons-best time for the 1000m. Hot King Prawn scorched the turf in 56.03 and winning jockey Zac Purton was impressive with the win, given that it got pressured throughout.


"He was actually better today going flat out the whole way than he is if you sit up on him," Purton said. "I was surprised that Encore Boy served it up to me as much as he did, but all it did was that it showed my fellow has more left in the tank.
"He had to keep rolling early to maintain his position and he was getting crowded for room, but once Encore Boy dropped off, he just picked the bit up and surged and clicked himself into another gear."
Purton said the son of Denman could stretch out to 1200m without much problem.
"He's such a relaxed horse that I don't think the 1200m is going to be a problem," the Australian rider said. "John's a master at picking out the right race, so I'll leave the race planning up to him."
One Sunday winner which will be heading to the Griffin Trophy is the Michael Freedman-trained Sparkling Dragon, which won the Class 4 Granville Handicap over Win Beauty Win.
"I stepped him up to 1400m because this race was restricted to three-year-olds only," Freedman said. "So it set up well for him and I was keen to have a look at him at 1400m, with the Griffin Trophy over that trip in three weeks' time. He's still quite new and even though he's won twice by leading, I'd love to ride him in behind one day.
"For a young horse having his second start, carrying 133lb and leading all the way, it was a good tough effort. I haven't been here long but they tell me they don't do that too often. I've got a lot of time for him and I think he can continue to progress through the grades."