PUNTERS love betting on the Group 1 Cantala Stakes at Flemington because it has been taken out by some of the greats of Australian racing.
The 1600 metre race for horses aged three years and older is worth a total prize purse of $1 million and it gives not only the horses, but also the punters a chance to score some more cash on Derby Day.
It changed its name from the Emirates Stakes to the Cantala Stakes in 2016 and it changed dates from the last day of the carnival to Derby Day.
The market for the Cantala Stakes usually opens in the months leading up to the race and all our recommended bookmakers offer win, place and each way markets.
Sign up to Sportsbet.com.au for their upcoming Cantala Stakes promotion.
The 2017 Cantala Stakes will be known as the Kennedy Mile.
2017 Kennedy Mile result
1st – Shillelagh
2nd – Tom Melbourne
3rd – Wyndspelle
2016 Cantala Stakes result
1. Le Romain – $14.60
2. McCreery – $7
3. Tivaci – $9.50
Quinella – $161.70
Trifecta – $8971.60
First Four – $9535.60
Cantala Stakes race history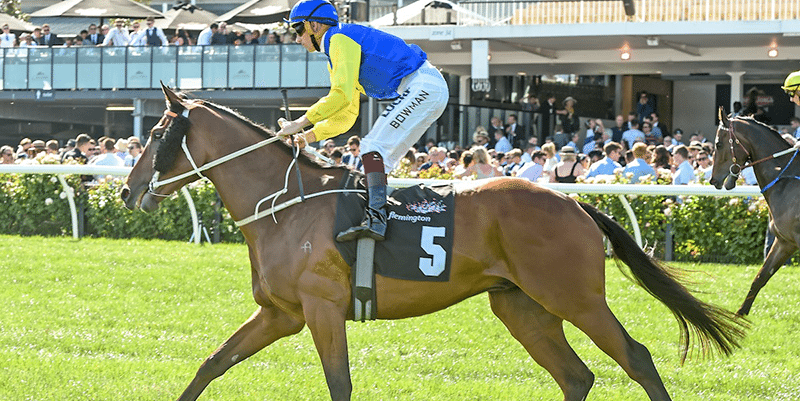 The Cantala Stakes hasn't always been under that name, as principal sponsor Emirates only came on board in 1998.
Prior to the sponsorship of Emirates, the race was sponsored by company's such as Ampol, Honda, Nissan, Chrysler and its current name of Cantala.
With the former international banner of Emirates, and their involvement in world racing, the Cantala Stakes attracts big attention from Australians and even race goers and punters in Europe and Asia.
The race was first run in 1881 where it was won by Courtenay and it has been run every year since, even throughout the war periods.
Some real champions of the turf have etched their name on the trophy, and also etched their name into Australian racing history.
Vain was a winner in 1969 and champion Gunsynd followed suit two years later to win the 1971 edition of the then called George Adams Handicap.
In recent times, the winning names on the list don't feature some of the world's best milers, but the race is continually growing in stature and the increase in prize money in 2014 was a big stepping stone to attracting international horses.
Recent Cantala Stakes winners
Winners of the Cantala Stakes are usually horses that keep their form throughout the Melbourne Spring carnival and often they are used to doing plenty of travel.
The stress of racing during the carnival is high and these horses stand above the rest at this distance as tough, gritty runners that want their big Group 1 win.
This gives punters a good opportunity to back a fairly-price runner in what is usually an even field.
2017 – Shillelagh
2016 – Le Romain
2015 – Turn Me Loose
2014 – Hucklebuck
2013 – Boban
2012 – Happy Trails
2011 – Albert The Fat
2010 – Wall Street
2009 – All American
2008 – All Silent
2007 – Tears I Cry
2006 – Divine Madonna
2005 – Valedictum
2004 – Sky Cuddle
Other notable winners:
2000 – Testa Rossa
1995/1994 – Seascay
1989 – Better Loosen Up
1973 – Taj Rossi
1971 – Gunsynd
1969 – Vain
1966 – Storm Queen
Cantala Stakes winning payouts
2014:
Hucklebuck – $10.40/$3.60
Lucky Hussler – $3.10
The Cleaner – $2.40
Quinella – $42.20
Trifecta – $695.50
First Four – $7849.90
First Four's are great multiple bets which often pay out big money as seen above. Punters must select the first four runners home in their selected race, but they can box as many runners as they want.
2013:
Boban – $3.70/$1.80
Smokin' Joey – $4.80
Speediness – $2.70
Quinella – $42.50
Trifecta – $883.00
First Four – $6365.30
2012:
Happy Trails – $13.10/$4.10
Fawkner – $2.10
Secret Admirer – $4.10
Quinella – $34.80
Trifecta – $990.40
First Four – $12912.10
In 2012, the Quaddie pool which involved the Group 1 Cantala Stakes was guaranteed to reach A$3.5 million which attracted punters from all around the world.
Massive pools are the norm during the Spring Carnival so sign up to our recommended bookmakers for the biggest and best deals.
Finding the right bookmaker
The Cantala Stakes and most big Group one races held in Australia will have markets framed for them months out from the race by the big corporate bookmakers. For Australians this means we have a handful of really positive options to bet on the biggest race meetings.
Horsebetting.com.au is a big fan of Crownbet.com.au because it is Australian-owned, has a great team behind it, have competitive thoroughbred odds and constantly offer promotions. Having said this there is not too great a difference between the competing bookmakers on Australian shores.
While we point out the similarities between the corporate bookmakers in Australia that does not always make their odds the same. Leading into a recent Melbourne Racing Carnival one of the team at Horsebetting.com.au had been harping on about the form of a certain horse for months. He kept going on about the unlucky runs, the slight injuries, the poor rides etc. Turns out the horse ended up winning a group 1 one race and our friend had backed it at the lucrative odds of 70-1 a few months before, despite the horse paying just $3.50 the win on the Tote. While out staffer had backed the horse at Sportsbet at 70-1 several other bookies had the eventual winner at 18-1. It pays to check your odds.
Sign-up bonuses are another feature of online bookmakers, they generally work int he form of match bets. This means if you deposit a certain amount of money, the bookie will match it 100% or sometimes even 200% up to a certain amount. The bonus range can vary greatly with William Hill, at the time of writing, having a $700 bonus for new customers, while Luxbet has just a $75 bet for AUD customers.