Ella Clarke, Dakota Gillett looking to carry family legacy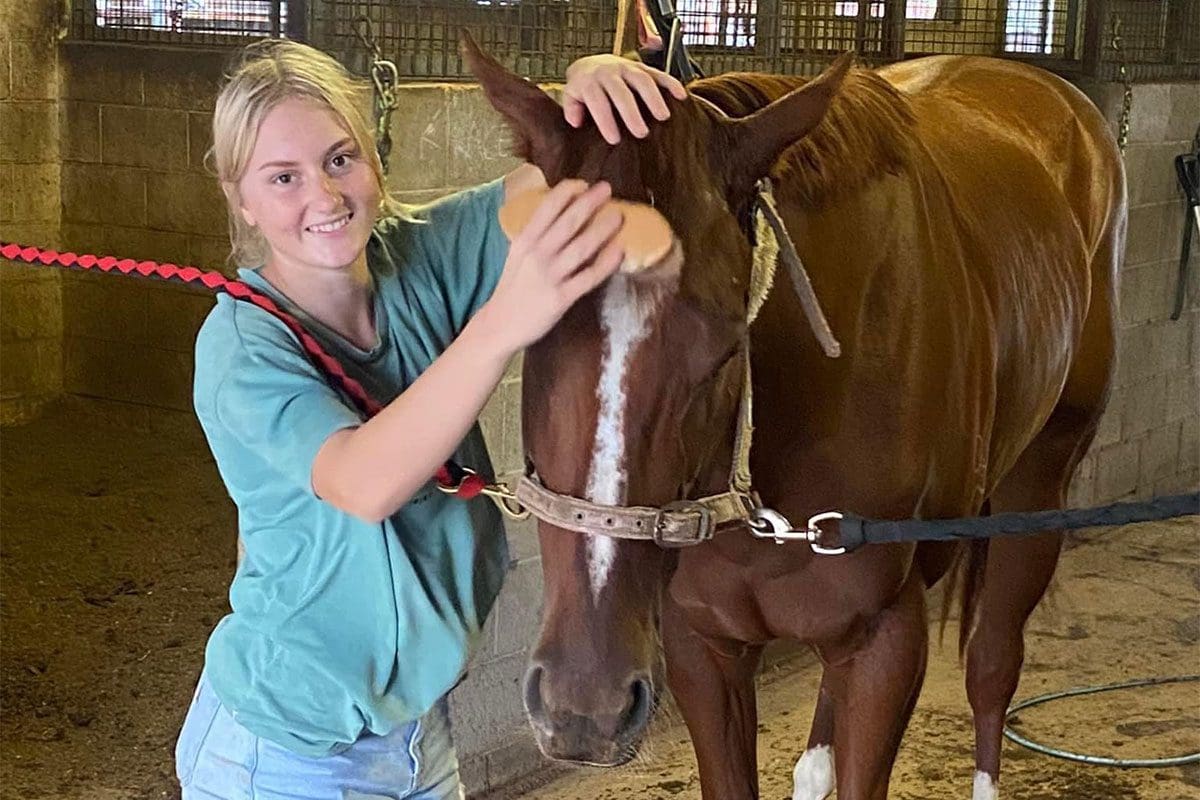 In Northern Territory racing circles, the name 'Clarke' in Darwin is just as synonymous as the name 'Gillett' in Alice Springs.
Gary Clarke has been the champion trainer in the Top End for the past nine years and is set to win the title for the 2021/22 season as he holds an unassailable lead.
Terry Gillett, who is a former jockey like Clarke, leads the way in his quest to win the Alice Springs trainers' premiership for the second year in a row – a title he has also won on six previous occasions.
The Clarke and Gillett dynasties are set to continue with the daughters of both trainers aiming to establish a career in the racing industry.
Clarke's daughter Ella, 25, is already up and running as a trainer, while Gillett's daughter Dakota, 16, is well on the way to becoming a jockey.
Ella Clarke, with her beaming smile, is a regular attraction on race day at Fannie Bay having spent many years strapping for her father.
Dakota has been a prominent figure on race day at Pioneer Park in the Red Centre in recent years strapping for her father, but unlike Ella the teenager has had to travel interstate in her quest to start her official riding career.
In fact, Dakota was signed up as an apprentice with her dad.
Ella currently has two horses in her stable – Son Of Utred and Pop Magic – with both having achieved a win already – the former in October and the latter on Saturday.
Pop Magic, a three-year-old gelding, snuck home in an 1100m maiden from the fast-finishing Akoni trained by – you guessed it – her dad.
"We were both talking our horses up to each other on Friday night," said a laughing Ella.
"Dad nearly knocked me off – if there was any further his horse would have got me, but I was glad the finish line was there.
"I was pretty happy – I boasted to him a little bit.
"He was very happy for me, just a bit of banter and competitiveness between both of us."
Following in dad's footsteps, Ella is clearly aware of the career path she has elected to pursue.
Ella is filling big shoes and that life as trainer can test your nerves, but she is enjoying the ride so far.
"I grew up in the industry," she said.
"I've had a few jobs and I've always sort of fell back in to the racing industry.
"I know it like the back of my hand.
"I do have another job that I just do during the day to keep busy, but I also help dad and do stuff like keeping all his horses intact while training my own as well.
"It's a big industry, but I'm learning new things every day."
With a successful trainer in her corner, you would think that the only way is up for Ella.
And she has nothing but admiration for her dad, as well as mum Sharlene.
"Dad tells me anything I want to know, but he has this big thing that everyone finds their own way to do stuff as well," she said.
"Any advice, he has always given me.
"Mum is very hands on as well.
"They give me advice every day with anything I need to know."
Looking ahead, Ella has simple objectives at this stage.
"The short-term goal was to beat dad in a race – I've got that one," she laughed.
"Just want to build my stable at the moment and keep learning.
"As for long-term, eventually take over from dad.
"He's nearly ready to give it up."
Meanwhile, Year 11 student Dakota Gillett has always envisaged becoming a jockey.
There was a period that she too contemplated following her dad and mum Leanne as a trainer, but she had always set her sights on becoming a jockey.
"I've always been interested since a young age with dad and Malcolm Johnston, my uncle, riding," she said on Tuesday.
"It's always been a passion of mine ever since I was little.
"Every time you have those little dress ups as to what you want to be when you're older I used to always dress up as a jockey and go to school.
"I got into riding track work at 14 – it just started from there.
"I wanted to do training for a while there, but I realised how hard the training game was – so I thought riding suited me a bit better."
Dakota started to get serious about becoming a jockey when she was 15 and was hopeful of getting a licence, but unfortunately the age limit had changed and she had to wait another year.
And Dakota's parents have supported her all the way.
"Dad has helped me ever since I first started riding at 14 – he has always stood by me with all the training," she said.
"We have the mechanical horse at home that we train on each night.
"I couldn't ask for better parents."
To improve her riding skills and technique, Dakota has had to train interstate and you can only admire her dedication as she is dealing with school studies as well.
She admitted that travelling everywhere can be tough.
"I had to go to Townsville – unfortunately the trails got cancelled in Townsville, so I went to Rockhampton," she said.
"And I've been to Balaklava and I'm going back to Townsville on Wednesday, and then to the Gold Coast on Monday.
"I'm still at school at the moment, I'm finishing Year 11 and 12.
"Basically, my school work can go on to line – I can do it all on-line and I get to email teachers back and forth, so I can do it all on the travel."
Dakota can't wait to start her career in the saddle and is unsure when she will be able to ride for the first time in Alice Springs.
"I'm still keen – I don't think anything could put me off my first ever race day ride," she said.
"It's definitely going to be a thrill.
"We're not 100 per cent sure when that will be yet – we're still waiting.
"Once I go away for my trials at Townsville and the Gold Coast then we'll get dates and everything.
"Hopefully, I'll be on my way to having my first ever race start on one of dad's horses."
Whereas Ella had short and long term goals, Dakota has had her ups and downs in her quest to forge a career as a jockey.
"The hardest thing would have to be getting the confidence working towards your goal because sometimes you go 'oh, it's getting a bit hard' and then you've got to remember the goal and what you're actually striving for," she said.
"The best part would have to be riding my favourite filly Dakota Lee and riding That's Justified in some trials in Alice Springs."
Dakota Lee, who is one of stable stars for Terry Gillett and was named after his daughter, has already made a name for herself in Alice Springs with the three-year-old every chance to make her next appearance in Brisbane.