| | |
| --- | --- |
| Date: | Saturday, October 12, 2019 |
| Location: | Caulfield Racecourse |
| Prize Money: | $2 Million |
| Distance: | 1,600m |
The Caulfield Guineas is one of the highlight races on the Australian racing calendar and it has long been a stallion-making race.
The Group 1 mile (1600m) is currently worth $2 million and is held every October at Caulfield Racecourse in Melbourne. A race only for three-year-olds, the Caulfield Guineas is considered a make-or-break race for some juveniles which are hoping for a career at stud.
Some of the world's greatest stallions have won the Caulfield Guineas which makes it a highly sought-after race for trainers, owners and punters who like to bet on a good horse.
Redoute's Choice, Show A Heart, All Too Hard and the mighty Lonhro have all gone on to good stud careers which makes the Caulfield Guineas a must-win race. It also resonates well with punters which love betting on horses that have been publicly hyped.
Where punters can bet on the Caulfield Guineas
The Caulfield Guineas is a major betting race and our bookmakers typically get markets up months in advance. The bookies will often offer futures, fixed win and fixed place markets which will be available throughout the year and punters can find the best value with the bookmakers listed below.
2019 Caulfield Guineas betting odds
There are no current odds available for the Caulfield Guineas.
Horse Betting will update this page as soon as markets open.
How to find the winner of the Caulfield Guineas
It's natural for punters to navigate towards the favoured runners, and that's not a bad strategy when betting on the Caulfield Guineas. The three-year-old group 1 has a great record with favourites, with five winning over the past 10 years.
The list of favourites to win is a long list, featuring 11 runners from the last 33 years alone and it's a great form guide for racing to come.
Press Statement, Long John, Helmut, Whobegotyou, Weekend Hussler, Show A Heart, Redoute's Choice, Encounter, Our Maizcay, Mahogany and Red Anchor all won as the bookmakers' favourite. There have been favourites to lose, of course, but they have still performed very well.
The Ken Keys-trained Rich Enuff finished second in 2014 behind Shooting To Win. Pierro was the biggest upset of Caulfield Guineas history when it ran second behind All Too Hard paying only $1.22, but All Too Hard proved its worth further down the track.
Future champion stallions have also failed to win. Encosta De Lago was a defeated $1.55 favourite with Exceed And Excel running sixth as the $2.50 favourite.
Punters will be happy to know that only one of the last 10 Caulfield Guineas favourites have failed to finish in the top three. That's a consistent statistic and a reason why punters love betting on this race.
For the punters wanting to back a long shot, nine horses have paid over double figured for the win with an average win price of $53.44. That tells us when you're looking for the upset, look very wide.
2018 Caulfield Guineas result

1st – The Autumn Sun ($1.80)
2nd – Vassilator ($11.10)
3rd – Oohood ($2.20)
Recent Caulfield Guineas runnings
Champion colt in the making The Autumn Sun came into the Guineas as a short priced favourite and won in brilliant fashion. Coming three wide at the mid-way stage of the race the Autumn Sun looked to be doing additional work in the run but as the straight approached the Waller runner separated from the field to record a commanding victory.

Mighty Boss caused a mighty upset in 2017 when winning at odds of $78. The Mick Price-trained runner wasn't expected to win as the well-fancied Catchy, Kementari and Royal Symphony took most of the action, but it was too strong along the inside of runners. New Zealand jockey Michael Walker was able to sneak along the inside to upset the field. The three well-favoured runners finished just behind the leader.

Read race report

.

John and Wayne Hawkes were well and truly on the way back to the top of the training pile when Divine Prophet won the Caulfield Guineas in 2016. With gun hoop Dwayne Dunn onboard, Divine Prophet, a $7 chance, had too much toe from an inside barrier to win from swooper Seaburge ($31) and Hey Doc ($11). It was a great effort for Divine Prophet to turn the tables on Impending, which had beaten him last start in Sydney.

Read a full report

.

Winner Press Statement paid just over $2 when defeating the likes of Lizard Island, Ready For Victory and future top-liner Tarzino. Out of the 2015 Caulfield Guineas also came the highly-performed Rageese, Tulsa, Dal Cielo and Odyssey Moon which made up one of the best fields of all time. Press Statement continued on with its career in good fashion with Tarzino having won major races in both Melbourne and Sydney since.

Shooting To Win gave Peter And Paul Snowden a memorable victory. The newly-formed training partnership scored with their Northern Meteor colt, beating the hot favourite Rich Enuff by a short margin. The form out of this race hasn't been as strong as other year's, but Wandjina and Almalad have gone on to good careers for trainer Gai Waterhouse.

It was all about Long John. Trained by Peter Snowden who was Sheikh Mohammed's Australian boss. One of the best form races that season, the Caulfield Guineas featured future

Cox Plate

champion Shamus Award, Australian Horse of the Year winner Dissident, talented Kiwi El Roca and Charlie Boy.

Only eight runners lined up in 2012, but the first two home will remain in Australian racing folklore for a long time. Pierro was unbackable at $1.22 on the win market and after missing the jump there were plenty of nervous punters. The Hawkes-trained All Too Hard stalked the pace and looked gone with 100m to go, but it picked up Pierro late and stormed to victory by a half-length. Both All Too Hard and Pierro would soon go to stud and become successful stallions.

Peter Snowden captured another title with Helmut in 2011. The impressive colt held off a gallant Manawanui to score by a neck and although it had some problems running straight throughout its career, it was too good for them in the Caulfield Guineas.
Guide to the Caulfield Guineas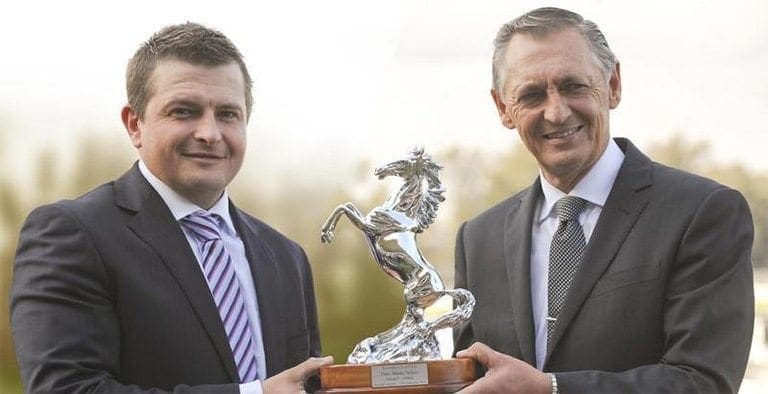 There are many lead-up races to the Caulfield Guineas, but none more so than the Caulfield Guineas Prelude. The aptly-named race is run over 1400m two weeks before the Guineas with seven winners coming out of the Prelude since 2000.
Three horses have done the double: Helmut, Anacheeva and Wonderful World, so look for horses that are running on well in the Prelude for the best betting guide.
The Bill Stutt Stakes is also a good guide with two Caulfield Guineas winners having won the Bill Stutt as their lead-up race. Whobegotyou and Helenus used this schedule and it proved to be a good tactic.
Jockey Kerrin McEvoy is a jockey to follow in the Caulfield Guineas. The hoop as won two and placed in three from only 10 starts. That's a good record so keep note of which horse he is riding come October.
Luke Nolen, Damien Oliver and Noel Callow also have good records in the jockey ranks.
We have discussed the success of Peter Snowden and with a good, young team coming through his stables, it will pay to follow him every year. Training with his son Paul, the Snowden's know how to handle young horses and betting on them is a good way to make money in the Caulfield Guineas.
The Metropolitan past winners list

| | |
| --- | --- |
| Year | The Metropolitan Past Winner |
| 2018 | The Autumn Sun |
| 2017 | Mighty Boss |
| 2016 | Divine Prophet |
| 2015 | Press Statement |
| 2014 | Shooting To Win |
| 2013 | Long John |
| 2012 | All Too Hard |
| 2011 | Helmet |
| 2010 | Anacheeva |
| 2009 | Starspangledbanner |
| 2008 | Whobegotyou |
| 2007 | Weekend Hussler |
| 2006 | Wonderful World |
| 2005 | God's Own |
| 2004 | Econsul |
| 2003 | In Top Swing |
| 2002 | Helenus |
| 2001 | Lonhro |
| 2000 | Show A Heart |
| 1999 | Redoute's Choice |
| 1998 | Kenwood Melody |
| 1997 | Encounter |
| 1996 | Alfa |
| 1995 | Our Maizcay |
| 1994 | St. Covet |
| 1993 | Mahogany |
| 1992 | Palace Reign |
| 1991 | Chortle |
| 1990 | Centro |
| 1989 | Procol Harum |
| 1988 | Vitalic |
| 1987 | Marwong |
| 1986 | Abaridy |
| 1985 | Drawn |
| 1984 | Red Anchor |
| 1983 | Beechcraft |
| 1982 | Grosvenor |
| 1981 | Binbinga |
| 1980 | Sovereign Red |
| 1979 | Runaway Kid |
| 1978 | Manikato |
| 1977 | Luskin Star |
| 1976 | Surround |
| 1975 | Sou'wester |
| 1974 | Kenmark |
| 1973 | Grand Cidium |
| 1972 | Sobar |
| 1971 | Beau Sovereign |
| 1970 | Dual Choice |
| 1969 | Vain |
| 1968 | Rajah Sahib |
| 1967 | Dark Purple |
| 1966 | Storm Queen |
| 1965 | Star Affair |
| 1964 | Yangtze |
| 1963 | Time And Tide |
| 1962 | Coppelius |
| 1961 | King Brian |
| 1960 | Lady Sybil |
| 1959 | Prince Lea |
| 1958 | Wiggle |
| 1957 | Tulloch |
| 1956 | Hot Spell |
| 1955 | Caranna |
| 1954 | King Boru |
| 1953 | Barfleur |
| 1952 | Bayside |
| 1951 | Hydrogen |
| 1950 | Merry Scout |
| 1949 | Iron Duke |
| 1948 | Phoibos |
| 1947 | Hororata |
| 1946 | Praetor |
| 1945 | Attley / Royal Gem |
| 1944 | Kintore |
| 1943 | Lawrence |
| 1942 | Great Britain |
| 1941 | Tea Cake |
| 1940 | Lucrative |
| 1939 | High Caste |
| 1938 | Nuffield |
| 1937 | Ajax |
| 1936 | Beechwood |
| 1935 | Young Idea |
| 1934 | Theo |
| 1933 | Palphar |
| 1932 | Liberal |
| 1931 | Ammon Ra |
| 1930 | Green Wave |
| 1929 | Pentheus |
| 1928 | Balmerino |
| 1927 | Avant Courier |
| 1926 | Rampion |
| 1925 | Manacre |
| 1924 | Heroic |
| 1923 | King Carnival |
| 1922 | Soorak |
| 1921 | Demetrius |
| 1920 | Midilli |
| 1919 | Artilleryman |
| 1918 | Eusebius |
| 1917 | Thrice |
| 1916 | Ettefred |
| 1915 | Patrobas |
| 1914 | Blague |
| 1913 | Andelosia |
| 1912 | Burrawang |
| 1911 | Woolerina |
| 1910 | Danaus |
| 1909 | Malt King |
| 1908 | Parsee |
| 1907 | Master Foote |
| 1906 | Booran |
| 1905 | Lady Wallace |
| 1904 | Demas |
| 1903 | Sweet Nell |
| 1902 | Strata Florida |
| 1901 | Ibex |
| 1900 | Kinglike |
| 1899 | Tremarden |
| 1898 | Bobadil |
| 1897 | Aurum |
| 1896 | The Officer |
| 1895 | Wallace |
| 1894 | Cobbity |
| 1893 | Patron |
| 1892 | Autonomy |
| 1891 | Strathmore |
| 1890 | Annesley |
| 1889 | Rudolph |
| 1888 | Volley |
| 1887 | Carlyon |
| 1886 | Maddelina |
| 1885 | Ringmaster |
| 1884 | Sandal |
| 1883 | Sardius |
| 1882 | Fryingpan |
| 1881 | Wheatear |