Bendigo celebrates Arthur Pace & Colsridge emotional win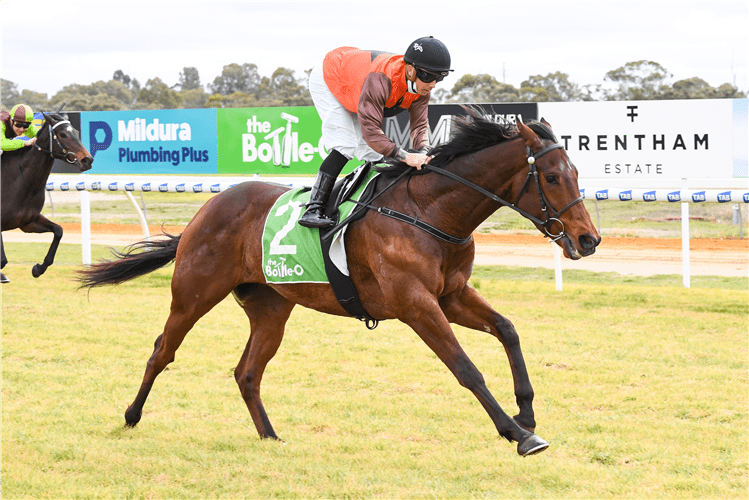 It may not have been the feature race of the day, but Colsridge certainly proved to be the most popular win amongst locals at Bendigo's Golden Mile Race Day on Saturday when taking out race 4, the $130,000 Immix Metal Recycling BM84 Handicap (1100m).
Colsridge is trained by Bendigo hobby trainer Arthur Pace, who sadly lost his wife, Helen, little more than a month ago.
Pace and his daughter Courtney also part own the gelding.
Colsridge is the veteran trainers stable star and was named by his breeders, well-known Bendigo racing identities Allen and Val Browell, in honour of their son, Colin who passed away in 2005 at the age of 33 after battling leukemia.
At the end of Colin Browell's career as a jockey, the last winner he rode was a horse by the name of Pindi Ridge at Kilmore in 2001. Pindi Ridge was also trained by Arthur Pace.
Allen Browell trained Colsridge's dam, Two Hills, a metro winner by Hillman.
"She had three foals for three winners. This one is named after Colin, our son, and the Ridge part of it is Pindi Ridge, who was the last winner that Colin rode and Arthur trained it. So, they've called him Colsridge, which is fantastic," Val explains.
Gaining a run as second emergency and with a starting price of $26 with Unibet, the five-year-old son of Canford Cliffs (IRE) was settled back in the field by Harry Coffey before coming six wide around the turn and displaying a magnificent turn of foot to run down his rivals in a dominant 1.25-length emotion charged victory.
Coffey struggled to contain his emotions in the post-race interview.
"I'll try not to get emotional," he said.
"I don't really worry too much when I win a race because that's what we're expected to do.
"That's our job, but the Pace family, they're rippers. I love riding in their colours and the fact that Arthur lost his wife (Helen) and the whole family lost their mum a couple of weeks ago – it might have been a month ago now – is shocking.
"But what do you do? You keep getting up out of bed and work your horses and why wouldn't you when you've got one like that that can let rip down the outside.
"It's a massive thrill for me. Their family's watched my career and given me every opportunity that they possibly could my whole riding career. It's because when I was a young boy, Dad (Austy) used to train here at Bendigo and he used to tie up next to Arthur.
"It was plain and simply shit when they lost their beautiful mum, so this horse has made some of the hard times a little bit easier today."
Coffey said Colsridge has the ability to win better races.
"It was a good win, I was actually quite taken by it," he said.
"Just coming back, I was trying to gather my thoughts, I was a little bit overwhelmed.
"I thought, 'you're just a beautiful animal', the way he was striding back.
"I rode him at Wangaratta last prep and he ran enormous. It was probably a little bit hidden because it was just a 64 at 'Wang', but I was really excited to get on his back today.
"It's quite an awesome trait to be able to sit worse than midfield and let rip down the outside and that's what he's been able to do."
Colsridge had a relatively late start to his racing career, debuting as a four-year-old last January. In his seven career starts he has three wins and two placings.