Wodonga Turf Club delivers winter numbers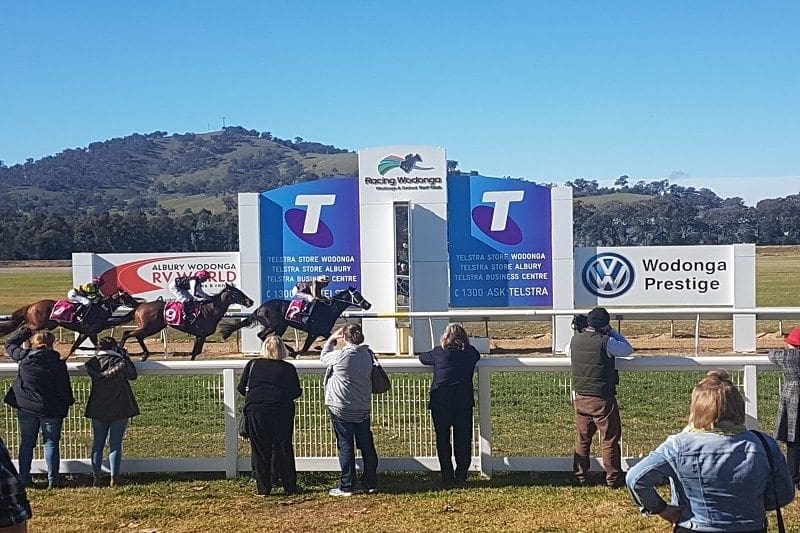 IT is not common for a winter meet in country Victoria to draw a healthy crowd, but the Wodonga Turf Club's (WTC) decision to align their Saturday meeting with the Australian Cancer Council has paid dividends for both parties.
Saturday is Breast Cancer awareness day at the WTC, which has given both racing in the region and a noble cause some much needed attention.
General Manager of the Wodonga Turf Club Tom O'Connor said the WTC took the chance to enhance a commonly slower race day in the middle of winter by assisting a worthy venture.
"Being a winter race meeting it's obviously a little bit quieter, so we thought we'd try a new initiative," O'Connor told HorseBetting.com.au.
"We've invited some local people that have been effected by breast cancer and we've created a cellar door atmosphere up on our deck area today – we've got about 100 people up there – and they get the opportunity to enjoy themselves on what is a magnificent winter's day."
O'Connor said the numbers on track were much better than predicted.
"We've got a lot of people through the gates early," the GM explained.
"On a day like this you typically get a lot of owners, trainers and die-hard punters turning up to the races as we're competing with local sports, but for the connections it is good to see a bit of a bigger crowd show up."

While numbers on course were terrific on course early in the day, the meet would have been considered disappointing if the racing was substandard.
A big 10 race card that had plenty of quality horses running around delivered a terrific day of action for the patrons.
O'Connor said it is a glowing endorsement for the WTC that not only was Wodonga able to host a huge day of racing, but it also benefitted connections of the horses who typically have to either race their horses on dirt tracks or put them out for the winter if they do not qualify for city meets.
"It's important for the industry," he said.
"It's really important for the owners and trainers to be able to get on grass, which is fairly important for everyone involved.
"It makes it a lot more enjoyable for the horses, and if we can play that roll in facilitating a quality race meet in the middle of winter on a good grass track it's certainly great for the industry and a great tick for Wodonga."