Western Express on track as Size aims a 10th shot at Yasuda Kinen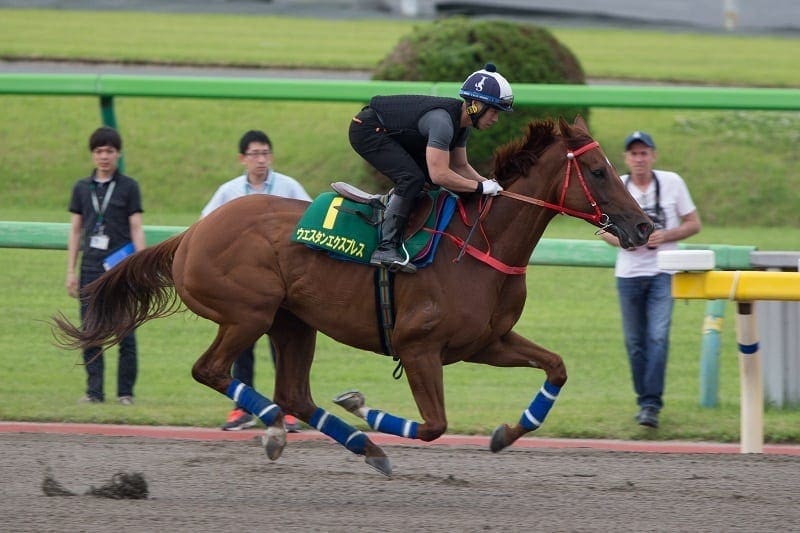 John Size will take a 10th shot at winning the Group 1 Yasuda Kinen (1600m) on Sunday (3 June) and this time his hopes rest on Western Express, a talented yet unheralded second seed in the Hong Kong "miler" ranks this term.
The race that anoints Japan's spring king at the distance has been a late-season target for Hong Kong horses ever since Winning Partners rocked up to beat two home in 1994. A total of 37 Sha Tin-based gallopers have tried the test, two have won (2000 Fairy King Prawn, 2006 Bullish Luck) and four have placed: Size's best result from nine previous runners remains the first, Armada's second place in 2008.
"I now have lots of experience but maybe not more knowledge," Size quipped with a self-deprecating smile when the gathered media pressed him about his Yasuda Kinen record this morning, Thursday, 31 May.
In Western Express, the handler believes he has a horse with both the constitution to perform overseas and the form in the book to merit a place in the field. In both of Hong Kong's premier mile races this term, the Group 1 LONGINES Hong Kong Mile and the Group 1 Champions Mile, only Beauty Generation has had the chestnut's measure.
"He showed me in December that he was good enough for this race and when he repeated that performance last start he confirmed the impression," Size said.
"He's had 10 races this season but because of his constitution he's able to handle that, he's a strong boy, he has strength within himself and seems to be able to cope, so far – he's bigger than your average horse. He's normally very honest and does his best, any energy he's got he'll use it."
Western Express weighed in at 1,236lb this morning – 11lb up on his last racing weight but 21lb down on his Hong Kong Mile weight – before heading trackside for a workout, his ears and eyes alert with curiosity.
Six laps of the trotting ring preceded a stretch-out on the dirt track; moving at a trot to the exit of the home straight, breaking to a controlled canter and then quickening from the 800m for a fast hit-out up the home straight. A gentle lob back around wrapped up the session.
"Normally, when a horse is new to an environment they naturally look around and don't always concentrate when you want them to gallop – they have no company, so they can be too relaxed and lazy. I asked my riding boy to make sure he does his work properly, that he travels strongly and finishes his work off with some purpose. I think he achieved that," Size said.
"He's been in good shape and seems to have travelled well. Because of his size, he has a good appetite and he's strong, so travelling suits him ok. He's won weighing a heavy weight and he's won on a light weight, and I think the light weight comes as the season progresses: it doesn't really concern me and it doesn't worry the horse either, he eats his food and drinks his water."
The Encosta De Lago five-year-old heads into Sunday off a five-week stretch since his last run.
"He had an easy time after the Champions Mile, which was a strong run; three weeks after the race he had a gate trial, so he's done a little bit of work before he arrived so that he doesn't have to do too much here," Size said.
"It's hard to gauge any improvement since his last run but his health is good and we'll find out on race day if there's been improvement or not."
Western Express started at odds of 20/1 for the Champions Mile and Size expects a similar situation this time.
"I assume he'll be a longer-priced horse, so maybe he'll be good value for anyone having a very small bet," he said.