Transgender jockey Tyler Leslight scores first win at just third race ride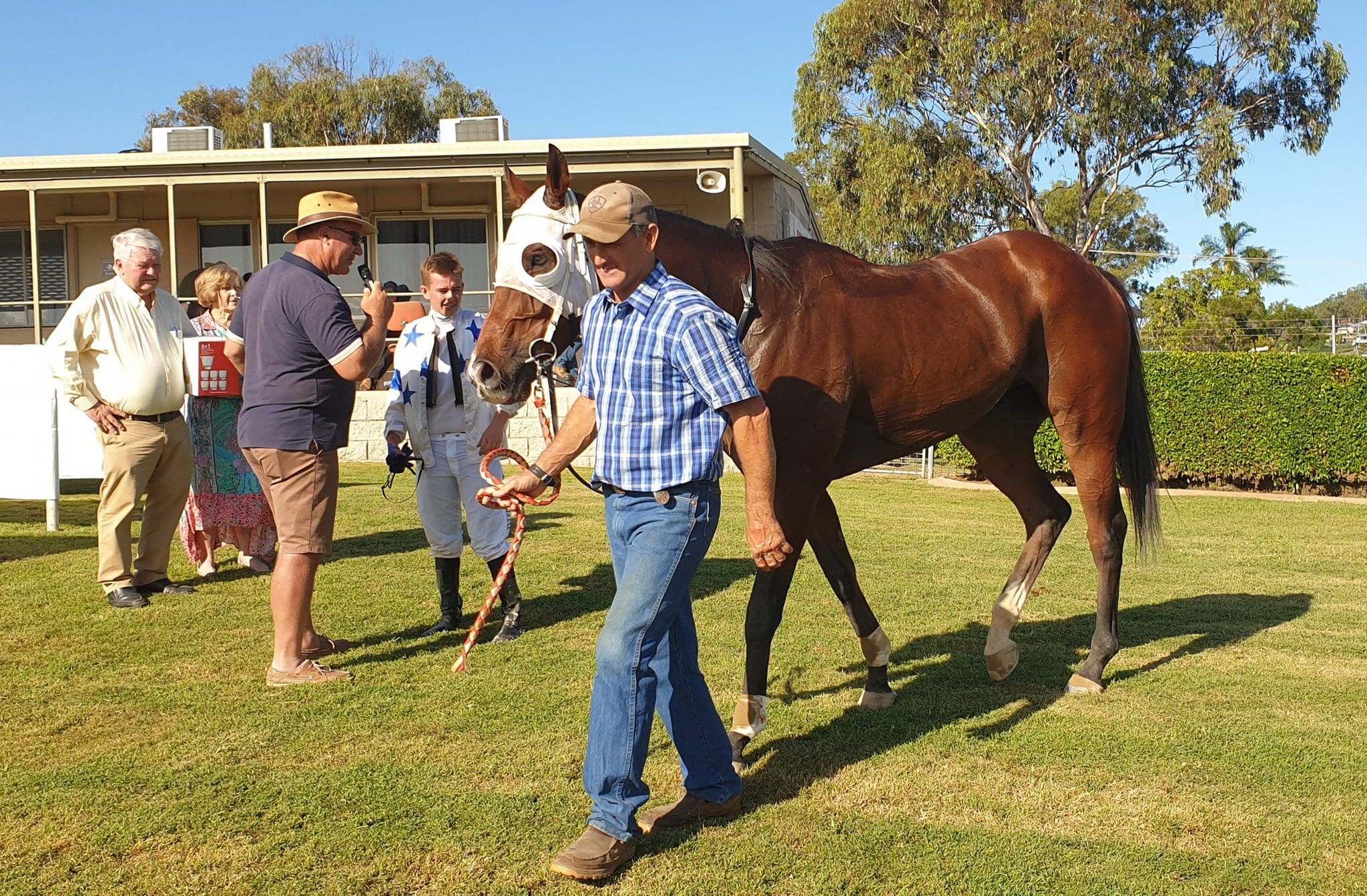 It was the story of the master and his apprentice on Saturday at Gladstone when Queensland country racing's cult hero Fab's Cowboy won his 47th race and handed apprentice Tyler Leslight his first win at just his third official race ride.
Leslight is also Australia's first openly transgender jockey.
Having his 124th start, the now 10-year-old Fab's Cowboy may never make the list of Australian track champions, but he has a record to envy and admire.
Moranbah-based Bevan Johnson has trained the horse throughout his whole career for the Currin family.
"He doesn't know how old he is, and we don't tell him, that's probably the secret, he still bounces around like Muhammed Ali and he's never had an unsound day in his life, never had an issue," stable representative Mel Johnson said after his 46th win last month.
"We have had him since day dot.
"He's a quirky horse for sure.
"The simple thing is that he craves carrots, but he just seems to have a fair idea when he is going to win, that's what it is.
"When you saddle him, he will stretch out his front legs and bow down and touch the ground, he knows he's good and lets everyone know but I've never seen a horse do that, when you see him have that big stretch, it's game on."
Fab's Cowboy takes his name from his breeder Fabian Currin, the last horse he bred before he died and he knew it was going to be a good one.
Daughter Elizabeth Currin races the horse with her cousin, Longreach grazier and children's book author Paul, who broke the son of Greenwood Lake in, but didn't race him until he was a four-year-old.
"Apparently this boy didn't have a great start to life, his mother ran him off his legs in the heat as a foal, but it made him tough, he needed electrolytes to keep him going back then," Johnson said.
They (The Currins who were running the Meroondah Station out of Longreach at the time), were struggling with the drought before sending Fabs to the Johnsons.
"It was all time and affordability, when the horse walked into our place he was in pretty poor condition, it's a credit to them for keeping him alive, they were losing cattle at the time, but he was looked after, he was raw boned when we got him, but you could always see he would fill out to be a good type.
"We learned quickly never judge a book by its cover, we put him in the top paddock when he arrived." Johnson said.
Not surprising, Johnson said, "One thing we have learned is how to travel.
"I think we have raced on 80 tracks in Queensland, but we have learned to space our trips and are very kind to the horses, we keep them happy and eating and drinking but probably no more than five hours on the float at a time.
"It's just something we have to be used to in Queensland."
The champion horse on Saturday delivered Tyler Leslight with his first winner. A feat the 22-year-old has been working towards for many years.
Originally from the Murwillumbah area in northern NSW, Leslight has travelled the countryside attempting to find his path in the racing industry as well as employers and participants that will accept him for who he is.
The young hoop decided to make the Queensland move a couple of years ago after working in several Victorian stables where he was aiming to work his way up from stable hand to track work rider. While many promised him opportunities, they never eventuated.
Leslight was embraced by racing community in the Darling Downs, with his bosses Stacey Mesken, Tony and Maddysen Sears, as well as fellow hoops Rhiannon Payne, Tessa Townsend and Montanna Savva all wrapping their arms around him.
Despite his young age, Leslight recognises that telling his story might help others within the industry, as well as people from all walks of life.
Some family members no longer speak to him, but they were replaced by his positive support network around Toowoomba where most understood his background and transformation in recent years because they had the conversation with him and accepted him for who he is.
"The term we use is that I was assigned female at birth and when I was 16, I decided to medically transition and now I identify as male," Leslight explains.
"I try and not make it about me, I try and make it a bigger thing for the industry and other people.
"Being the first (openly transgender jockey in Australia) is kind of nice, it has not been an easy road, it has been hard, I have lost a lot of people along the way.
"But I have also gained a great support system around me.
"It is hard to prove yourself a bit more on top of being just a normal apprentice."
"In racing, people do not care what colour skin you have or what sexual orientation you are, it is all about your ability to ride a horse and your horsemanship – that is all that matters," he said.
"I do not go out of my way to tell people that I am transgender but I turn up and want to work.
"I have got nothing to hide and I see my position now as using this as an opportunity to make it easier for other people in my position that want to get involved in racing," he said.
"If you have got a question, I would prefer you come up to me and ask instead of making assumptions or gossip around.
"I am more than welcome to help educate people, you aren't telling them anything, you are just educating them so they know and understand going forward.
"I am involved with social media and there are so many people around in my position and those people have so little worth and they think they will never be able to amount to anything in life.
"Hopefully me doing this, it does not matter what industry you are in, you can do it, you need to be true to yourself and work hard.
"You can't be that person that thinks they can't have something, if you work hard for something you can achieve anything."
After being unhappy as a teenager, now as a 22-year-old man living and working in racing, he has never been happier.
"Honestly I ride horses every day for a living, and I have got great people around me that are willing to help me," he said.
"Even if you lose people in your social life or your family life, at the end of the day, if they do not want to support you in your life and your decisions, then they are not worth having anyway.
"I may have lost a couple of family members due to their judgements, but you need to surround yourself with people that support you."
---